7 Chanel Flap Bags That Aren't as Expensive as The Classic Flap
Disclaimer: This article contains affiliate links. We may receive a small commission if you make a purchase through one of these links. Please read our Affiliate Disclosure for more information.
Craving that iconic Chanel classic flap bag? We know the feeling! Despite its timeless appeal, however, it's no secret that this chic handbag comes with a hefty price tag. If you purchase this classic design brand new, it can easily set you back more than $8,000.
And, if you're hoping to grab a bargain on the resale market, be prepared to splash out upwards of $6,000 to get your hands on this coveted design!
Originally designed by Coco Chanel in the early 1900s and later re-crafted by Karl Lagerfeld in the 1980s, the classic flap features diamond quilted stitching produced from the finest lambskin or caviar leather.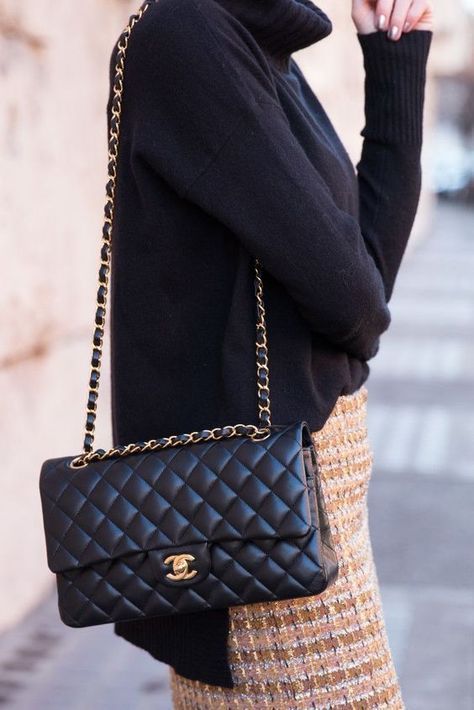 Touches of true elegance, such as the "Mona Lisa" smile pocket and a zip compartment, originally created for love letters, imbue every limited edition piece with a hint of vintage cachet. With its double flap closure, metal chain with intertwined leather and renowned burgundy colour interior – there's no doubt why the Classic Flap Bag remains at the height of fashion.
Luckily for us, Chanel has created a plethora of other beautiful flap designs over the years that are just as timeless and elegant as the classic flap but won't make such a dent in your bank account.
Chanel Flap Bags That Aren't as Expensive as The Classic Flap
Here are 7 of the most affordable Chanel bags to consider if you're looking for an alternative to the Classic Flap.
Chanel Chocolate Bar Flap
The Chanel East West flap bag, affectionately known as the Chocolate Bar flap, is a trendy take on the iconic classic flap. The gorgeous bag sports the hallmark quilted stitching in an alluring parallel pattern that mimics a chocolate bar, hence its name!
With a strap designed to be worn as a shoulder bag, this timeless fashion piece can be found in various colors – making it easier to find the perfect match for any wardrobe. Its easily recognizable design makes this one of Chanel's must-have bags and guarantees to be an eye catcher wherever you go.
Browse Chanel Chocolate Bar Flap Bags on Fashionphile.
Chanel Diana Flap Bag
An iconic tribute to an iconic style icon, the Chanel Diana Bag is a showstopper. This beautiful heirloom-worthy piece takes cues from the classic flap, with a trim detail framing the iconic CC logo. Whether you sling this beauty over your shoulder via a long strap or double it up like its revered predecessor, you can be sure that this flawlessly vintage bag (think '80s chic) will last through the ages and become a forever favorite.
If you're searching for an elegant leather accessory to accompany any look, then look no further – the Diana Flap bag has got you covered.
Browse In Chanel Diana Bags on Open for Vintage.
Chanel In The Business Quilted Flap Bag
Here's one you probably didn't know about. If you're a fan of Chanel and a lover of options, then the Business Quilted Flap Bag is exactly what you need. This is no ordinary handbag; instead, it has diamond quilting that's smaller on the flap and larger on the body of the bag, giving off an air of luxury and class in one.
Besides being larger than most classic flaps – and at a price point much friendlier to your wallet – it also offers a long double strap perfect for carrying around with ease.
Last but not least, this eye-catching accessory even comes with a usable back pocket – ideal for tucking away your phone. Talk about practicality with style!
Browse In The Business Quilted Flap Bags on Fashionphile.
Chanel Mademoiselle Flap Bag
The Chanel Mademoiselle Flap Bag strikes the perfect balance between classic structure and a modern-day attitude. Resembling the well-known Diana flap bag, this timeless piece features a wider base which provides added storage for those who like to have everything at arm's reach.
With its iconic double strap design and versatility in the way it can be worn, this is the perfect bag for anyone looking to add that chic yet effortless vibe to their everyday ensemble.
Browse Chanel Mademoiselle Flap Bags on Open for Vintage.
Chanel Boy Bag
Love it or hate it, the Chanel Boy Bag is here to stay. With an edgier and wider silhouette than the ever-popular Classic Flap, the price difference between the two is remarkable. You can find these luxurious bags for only a fraction of a classic flap's cost – shop smart and you may be able to purchase one for only a couple thousand dollars.
For those daring fashionistas looking for that bold statement piece, this might just be your ticket to standing out from the crowd.
Browse Chanel Boy Bags on Fashionphile.
Chanel Re-Issue 2.55
If you're looking for timeless sophistication and a signature style, the Chanel Re-Issue 2.55 is your perfect accessory. This bag is essentially a replica of Coco Chanel's first classic flap design – with a few updates. The most notable difference being the switch of the original Interlocking CC shape clasp to Mademoiselle Lock closure.
Although pricier than your average purse, it's still cheaper than its classic counterpart, making it one luxury investment that will stand the test of time.
Browse Chanel Re-Issue 2.55 Bags on Fashionphile.
Chanel Full Flap Bag
Boasting the same diamond-quilted leather and durability as its more expensive counterpart, the Chanel Full Flap bag is a stylish yet economical way to upgrade any classic look. With a full size flap and turn-lock closure, it securely holds your essentials and still has room for larger items when needed.
Whether you're out for dinner or shopping with your squad, you can be sure that this timeless piece will seamlessly accompany any outfit – making it your perfect accessory.
Browse Chanel Full Flap Bags on Open for Vintage.
Affordable Alternatives to the Chanel Classic Flap Bag
It's no secret that the iconic Chanel Classic Flap bag is a stylish and luxurious must-have, yet its hefty price tag can be out of reach for some shoppers. But don't fret – there are plenty of alternatives that will still give you that classic Chanel look without emptying your wallet.
For instance, the In The Business Quilted Flap Bag is a great option if you are looking to save some cash while still giving off an air of luxury and class. Or perhaps the Chanel Mademoiselle Flap bag or Chanel Boy Bag are more to your taste?
Whichever you choose, you can be sure that it will remain an investment piece for years to come.