The 8 Best Gucci Bags on the Resale Market Right Now
Disclaimer: This article contains affiliate links. We may receive a small commission if you make a purchase through one of these links. Please read our Affiliate Disclosure for more information.
There's no denying that Gucci bags are having a moment right now. Whether you're looking for a logo-print canvas tote or a vintage-inspired leather handbag, the options are endless (and often expensive). But if you're willing to invest in a designer bag, why not go for one that will hold its value?
Here, we rounded up eight of the best Gucci bags to buy on the resale market so you can be sure your investment will pay off in the long run. Trust us, these pieces are timeless and definitely worth the splurge.
Why Buy a Second-Hand Gucci Bag Instead of a New One?
If you appreciate quality, style, and luxury without the hefty price tag, then it's time to consider buying a second-hand Gucci bag. From the classic Jackie Hobo to the Marmont shoulder bag, there's no shortage of Gucci pieces that will serve your wardrobe for years to come.
The beauty of choosing pre-loved is that you can find pieces by the iconic Italian label no matter what your budget may be while supporting sustainable consumption and extending the life-cycle of fashion. With a little research, you can ensure your second-hand bag is authentic and in great condition so you look chic and sophisticated on every occasion.
The Best Gucci Bags on the Resale Market Right Now
When buying second-hand, there are certain key pieces you should look out for; Marmont shoulder bags, Dionysus GG Supreme bags and GG Supreme canvas totes are all great options that will never go out of style. Not only do these classic pieces get better with age, but they can also be easily found on second-hand websites at hugely discounted prices.
Here are some of the best Gucci bags to buy on the resale market right now.
Marmont Shoulder Bag
If you're looking for a designer bag that's sure to stand the test of time, look no further than the Marmont Shoulder Bag. Best known for its smooth calfskin leather and aged gold chain shoulder strap complete with a matching leather shoulder pad, this luxurious accessory will take your wardrobe to the next level.
Incorporating their iconic interlocking GG logo at the flap, this beautiful creation opens up to reveal a microfiber interior with a patch pocket. Perfect for any occasion, Gucci's Marmont Shoulder Bag in black or cream is a timeless piece that's sure to turn heads.
Browse Gucci Marmont Shoulder Bags on Fashionphile.
Dionysus GG Supreme Bag
If you want to push the boundaries of luxury, look no further than the Dionysus GG Supreme Bag. Combining practicality with a modern twist, this edgy accessory features an adjustable and detachable shoulder strap so it can be carried crossbody or in the crook of your elbow.
Crafted from a durable GG Supreme canvas and trimmed with smooth leather details, this bag offers plenty of room for all your essentials. With its signature Tiger head-shaped closure, the Dionysus GG Supreme Bag is an investment piece that will last you a lifetime.
Browse Dionysus GG Supreme Bags on Fashionphile.
GG Supreme Canvas Tote
Combining timeless style with practicality, the GG Supreme Canvas Tote is an excellent addition to any wardrobe. Crafted from Gucci's GG supreme monogram coated canvas, this stylish piece features practical brown leather strap handles and a secure top zipper.
Open the zip to reveal a luxurious beige microfiber interior that adds a touch of class to your everyday look. Whether it's for a day out shopping or simply as an essential accessory on your travels, this tote should definitely be on your wishlist.
Browse GG Supreme Canvas Tote bags on Fashionphile.
Soho Disco Bag
The Gucci Soho Disco Bag is the epitome of casual-chic. Crafted from textured calfskin leather, it offers the perfect balance between form and function. The shoulder strap can be adjusted to suit you, while the iconic interlocking GG logo and polished gold knobbed leather tassel zipper pull stick with Gucci's signature style.
But don't let its cute exterior fool you: this bag is practical too, opening up to reveal a fabric interior equipped with pockets for carrying essentials around with ease. For an easy, effortless look, the Soho Disco bag is a great choice.
Browse Gucci Soho Disco bags on Fashionphile.
GG Supreme Jackie Hobo Bag
Originally produced for Jackie Kennedy in the '50s, this timeless design is crafted from soft and flexible leather that has stood the test of time. Drawing from traditional colours, the elegant hobo bag features classic brown on beige GG canvas, complete with a signature red and green web stripe and brown cowhide leather trim.
Opening to reveal a beige fabric interior, it is punctuated by a gold tone piston lock and features one zippered pocket so you can store your essentials safely and stylishly. Undeniably sophisticated, it will add an air of understated luxury to any outfit.
Browse GG Supreme Jackie Hobo bags on Fashionphile.
Sylvie Shoulder Bag
Make a bold statement with the Gucci Sylvie Shoulder Bag. Crafted from refined calfskin leather, the structured bag exudes class and elegance with its eye-catching gold chain link strap and prominent front flap adorned with an iconic red and green web stripe.
Add to that the chain buckle lock closure for added security, and you have a timeless classic that will complete any outfit with finesse. Look inside to discover the microfiber lining interior: perfect for keeping your prized possessions safe and sound.
Browse Gucci Sylvie Shoulder Bags on Fashionphile.
Padlock Bag
If you're seeking a signature bag to add to your collection, the Gucci Padlock Bag should most definitely be on your wishlist. This timeless design features a chain shoulder strap and unique slide lock closure engraved with the Gucci logo, ensuring that its stylish presence is noticed in any fashion ensemble. With a microfiber interior, a single patch pocket also adds functional storage for your valuables. Invest in this luxurious arm candy for an act of classic sophistication.
Browse Gucci Padlock bags on Fashionphile.
Soho Chain Bag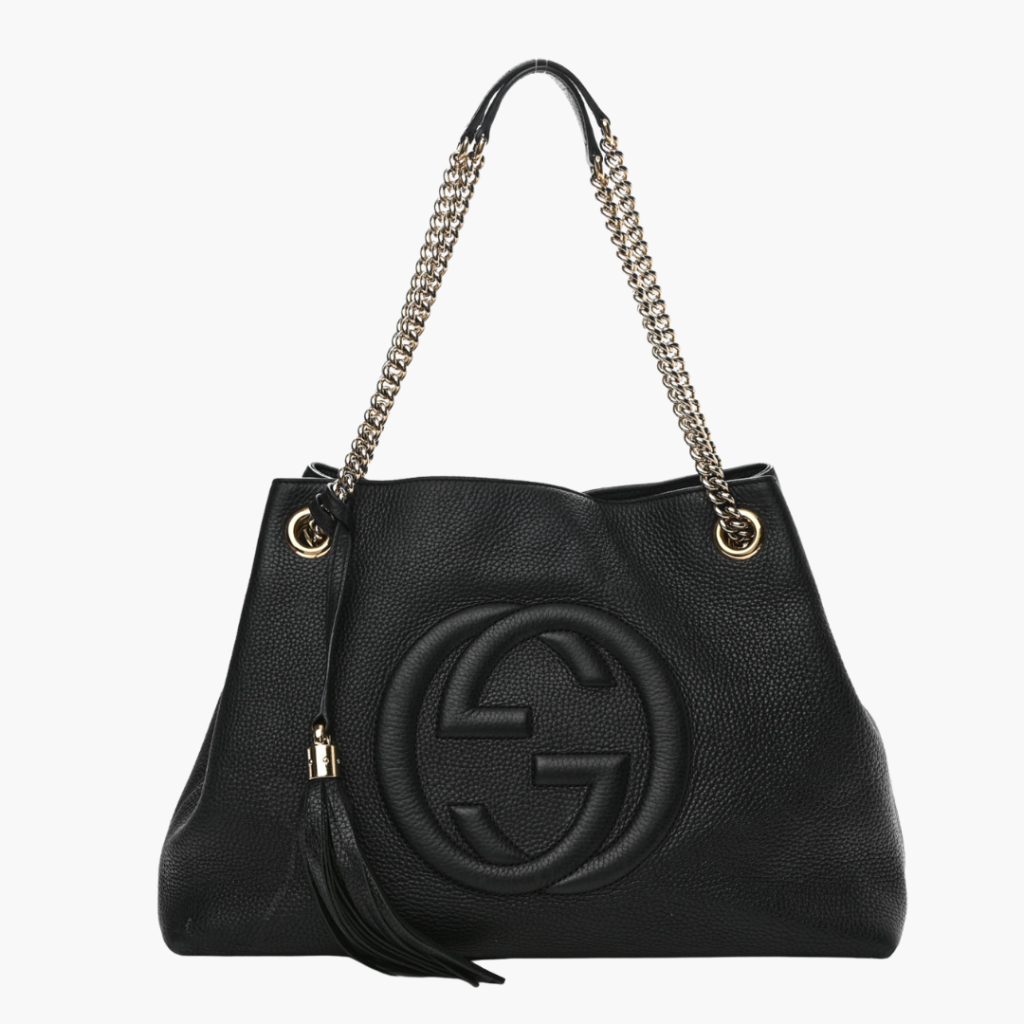 Luxe and oh-so versatile, the Gucci Soho Chain Shoulder Bag is crafted from textured calfskin leather and graced with a quilted front interlocking G logo for a signature touch. The polished chain link shoulder straps are complete with chic shoulder pads for extra comfort, while the delicate tassel adds an undeniable hint of sophistication.
Open the top to reveal a linen fabric interior lined with pockets – perfect for providing organisation on-the-go. For a statement piece that effortlessly blends style and practicality, the Gucci Soho Chain Shoulder Bag is made for you.
Browse Gucci Soho Chain bags on Fashionphile.
The 8 Best Gucci Bags on the Resale Market Right Now
Whether you are looking for a timeless and classic tote or something with more of an edge, Gucci undoubtedly has what you need. From the Jackie Hobo Bag to the Soho Disco Bag and Sylvie Shoulder Bag, our selection of 8 top-quality bags are sure to become your new go-to arm candy.
Whatever your style, these luxurious items will most certainly add an air of elegance to any look. So, if you are ready to invest in a timeless classic with lasting quality and style, consider one of these 8 best Gucci bags on the resale market right now.