The Best 5-Star Hotels in Dubai for Honeymoon
Disclaimer: This article contains affiliate links. We may receive a small commission if you make a purchase through one of these links. Please read our Affiliate Disclosure for more information.
Looking for the best place to stay in Dubai for your honeymoon? Then look no further than the city's best 5-Star hotels. From luxurious suites with private balconies and 24-hour butler service to world-class restaurants and spas, these hotels offer everything you need for a truly romantic getaway. So whether you're looking to splurge or just want the very best that Dubai has to offer, be sure to check out our list of the best 5-star hotels in Dubai for your honeymoon.
Why Dubai is the Perfect Honeymoon Destination
If you're looking for the perfect place to kick start your married life, look no further than beautiful Dubai. With its stunning beaches and pristine skyscrapers that light up overnight, this perfect honeymoon spot offers a respite from the hustle and bustle of city life. From romantic sunset cruises to days spent in luxury resorts, Dubai is sure to provide an unforgettable experience for couples seeking a dream honeymoon.
You can take part in various water sports while spending time admiring the beauty of its architecture or explore unique culture with traditional eateries, markets and museums. Whatever you choose to do, you can feel free to relax knowing that you're making memories in one of the world's most iconic cities.
The Best 5-Star Honeymoon Hotels in Dubai
Dubai is widely known as one of the best cities for romantic getaways and honeymoons, and it's no wonder why. In this dazzling metropolis, you can find some of the best 5-star hotels in the world that can provide a truly luxurious and memorable experience.
Whether you're looking for a romantic spa retreat, a beachy escape, or just a luxurious suite to call your own, our pick of the best 5-star hotels in Dubai for honeymoon provides top-notch amenities and unparalleled luxury that are sure to make your romantic getaway an unforgettable occasion.
Bulgari Resort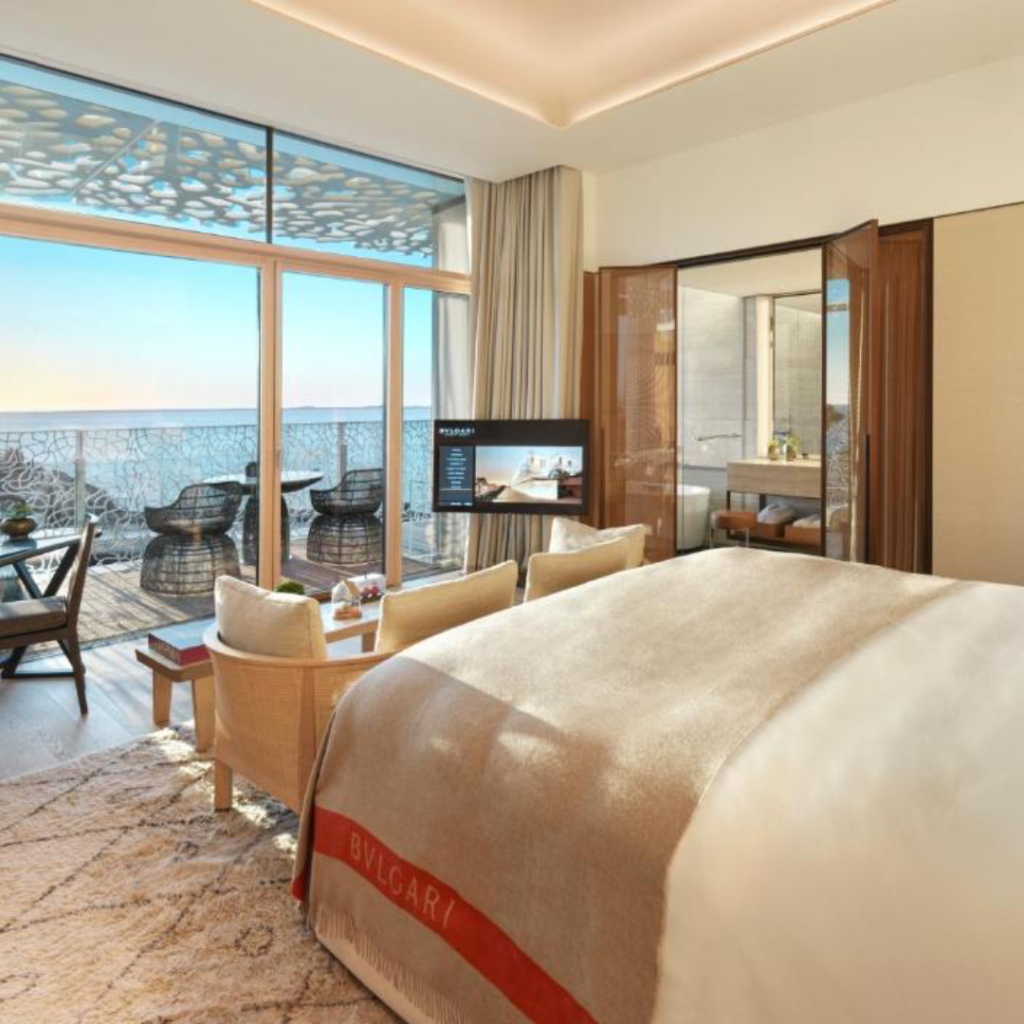 The Bulgari Resort is the pinnacle of luxury when it comes to honeymoon destinations. Boasting its own private marina and world-renowned Yacht Club located on the manmade Jumeira Bay, partners can revel in the awe-inspiring views over the sea.
Expect more than meets the eye with its range of amenities, from Ristorante by Niko Romito for a special culinary experience, relaxation in La Spiaggia beach club's outdoor pool and unforgettable spa sessions that boast an impressive 1,700 square yard premises. Luxurious details are around every corner at Bulgari Dubai Resort; it truly is a one-of-a-kind getaway.
Check the latest rates at Bulgari Resort on Booking.com.
One & Only The Palm Dubai
For a honeymoon that could be taken straight from the glossy pages of a fashion magazine, One & Only The Palm Dubai is the perfect luxurious beachfront retreat. Set on the iconic and picturesque Palm Jumeirah, this opulent resort features a manor and grand villas enveloped by lush gardens and stunning golf views. Rooms here are truly spectacular, with plush furnishings, grand bathrooms with free-standing tubs and verandas boasting gardens or gulf views; while some come complete with private butlers.
And no exclusive experience would be complete without exquisite dining options; One & Only The Palm offers two restaurants crafted by renowned chef Yannick Alléno as well as an overwater lounge brimming with city views. To make your stay even more memorable there are also spa facilities, a gymnasium, a private beach, marina, and two stunning pools alongside tennis courts.
Check the latest rates at One & Only The Palm Dubai on Booking.com.
W Dubai
W Dubai is the perfect location for a romantic getaway for two. This exotic, luxurious beach escape caters exclusively to adults, so you and your partner can revel in both relaxation and seclusion. Rejuvenate with a calming W treatment at the Bar-B Spa and soak up views of the Palm Jumeirah vista from the infinity pool.
Enjoy live entertainment while you unwind, or make use of 24-hour room service and front desk assistance when needed. Accommodations feature all the necessary amenities to ensure your utmost comfort, including air-conditioned rooms with desks, kettles, mini-bars, safety deposit boxes, flat-screen TVs and private bathrooms.
Check the latest rates at W Dubai on Booking.com.
Four Seasons Resort Dubai at Jumeirah Beach
Located directly on Dubai's iconic Jumeirah Beach, the Four Seasons Resort exudes modern Persian opulence. Perfect for a romantic honeymoon, this luxurious resort features upscale rooms with beautiful furnishings. Each room boasts a furnished balcony offering views of the Arabian Gulf or the city skyline, plus intricately designed mosaic bathrooms with custom toiletries and elegant freestanding tubs. For added convenience, rooms also come complete with sofas, free Wi-Fi, iPad minis and flat-screen TVs.
When it's time to dine, guests can enjoy a selection of 10 exquisite restaurants and bars—while drinks are available from any of the three divine pools (one being an indoor pool). After indulging in some delicious food, unwind at the lavish spa or head over to the 24-hour gym for an invigorating workout session. If you're looking for far more active activities there is kayaking, paddle boarding and tennis available all day. Four Seasons Resort truly has something to offer everyone and ensures that a stay is nothing less than sumptuous without fail.
Check the latest rates at Four Seasons Resort on Booking.com.
The St. Regis Dubai, The Palm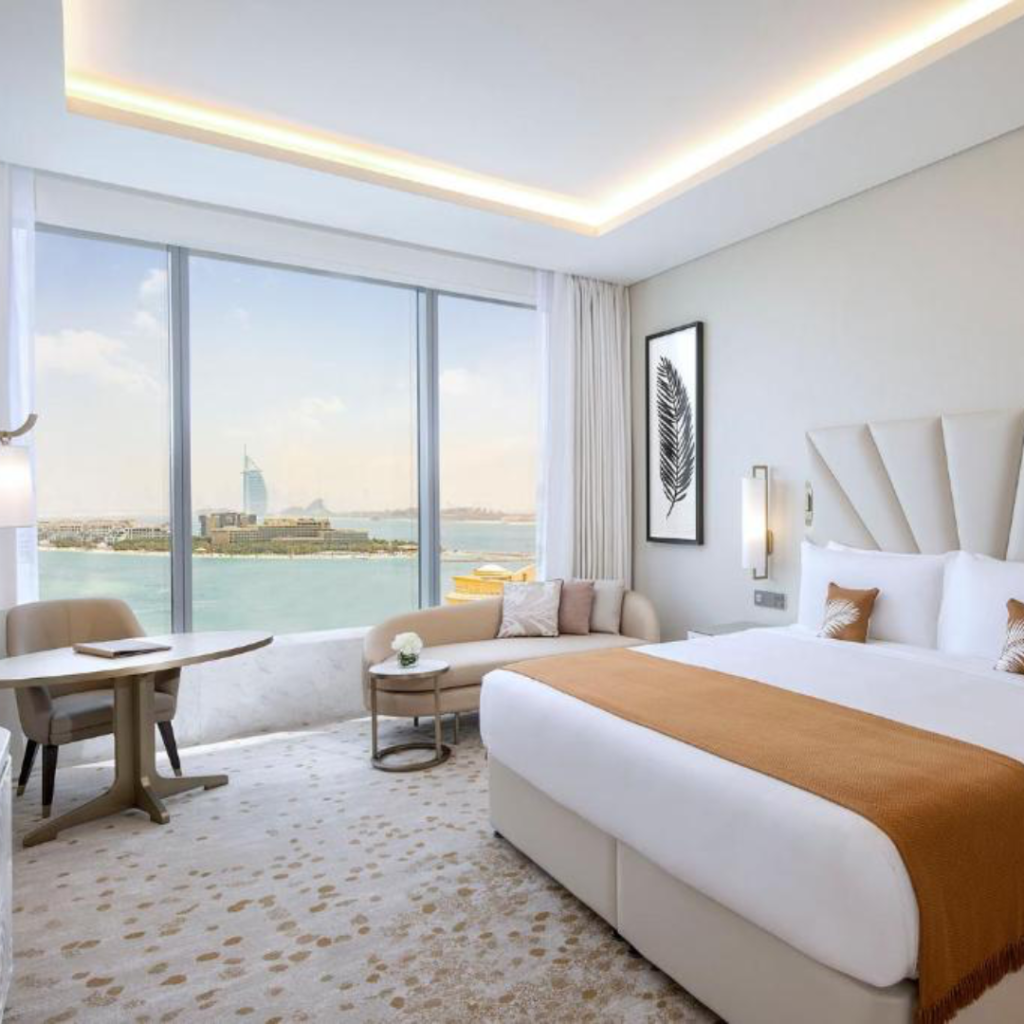 The St. Regis Dubai, The Palm is the epitome of luxury and romance: the perfect spot for a honeymoon getaway. As soon as you step into the airy elegant rooms, you'll be treated to that unmistakable 5-star experience with Wi-Fi, flat-screen TVs, minibars, tea and coffee-making facilities, and comfortable sitting areas, many featuring beautiful views of the gulf.
Plus there's 24/7 butler service and in-room dining for when you want to revel in luxury together with privacy. Dining just got classier too with their sophisticated seafood restaurant. But that's not all, this hotel also has a spa, salon and gym as well as an outdoor pool with a hot tub and poolside bar so that can enjoy your honeymoon in complete relaxation.
Check the latest rates at The St. Regis Dubai on Booking.com.
Mandarin Oriental Jumeira, Dubai
When seeking an unforgettable honeymoon destination, look no further than the sparkling jewel of the Persian Gulf: The Mandarin Oriental Jumeira, Dubai. Located on the breathtaking Jumeirah Beach and set against an azure canvas, this vibrant and posh hotel creates a luxurious hideaway for you and your special someone.
Each room features marble bathrooms furnished with TVs, Wi-Fi and Nespresso machines – while some of the more upgrade accommodations offer balconies, sitting areas and views of the Gulf. Unwind in style with exclusive access to a private lounge if you're staying in one of the hotel's club rooms or suites – some complete with steam rooms – before indulging in delicious cuisine from either their Japanese or Portuguese restaurant, informal eatery or grand 24-hour lounge that are all accessible from their unique terraces.
Finish off each night with a refreshing dip in their pool as it provides impeccable views of the Gulf, not to mention its own poolside bar. After relishing in relaxation activities like visiting their spa or gym facilities, bask in comfort knowing that all your romantic needs were met at The Mandarin Oriental Jumeira.
Check the latest rates at Mandarin Oriental Jumeira on Booking.com.
Five Palm Jumeirah Dubai
Boasting beaches, blue waters and luxurious vibes, the Five Palm Jumeirah Dubai is perfect for the modern honeymooner seeking a touch of class. With sophisticated rooms boasting free Wi-Fi, flat-screen TVs, tea and coffee makers and cocktail bars, each with a balcony providing stunning views of the Gulf; upgraded 1 bedroom suites for that extra bit of luxury come with living areas, private pools, hot tubs, outdoor showers and kitchens.
In addition to its abundance of amenities; there are three chic restaurants, two cafes and three bars on offer. An indulgent spa along with a gym and three outdoor pools plus a serene private beach area complete this idyllic destination.
Check the latest rates at Five Palm Jumeirah Dubai on Booking.com.
Atlantis, The Palm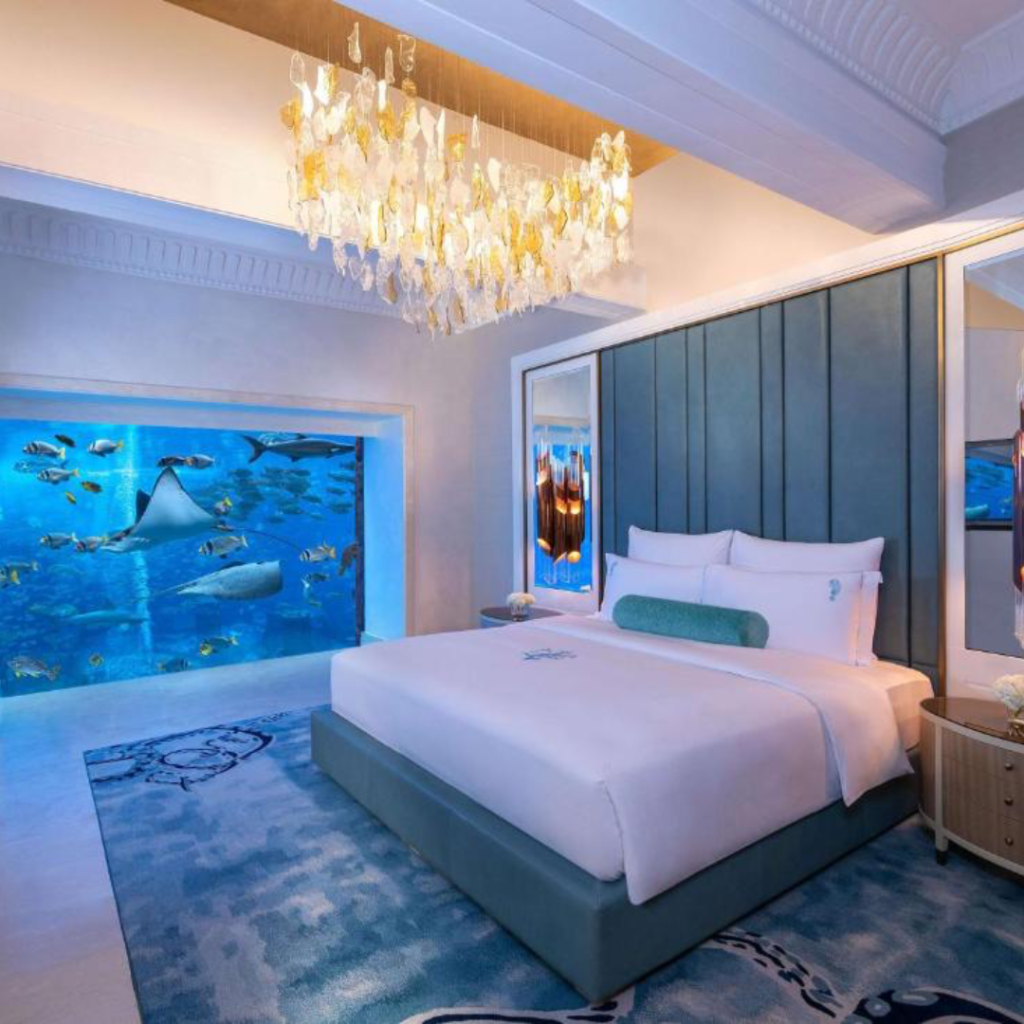 For a luxurious ocean-themed escape, the five-star Atlantis, The Palm resort is the ultimate honeymoon destination. Positioned gracefully on the serene Palm Jumeirah island, this refined resort boasts superior flat screens and Wi-Fi, as well as striking gulf or island views from each contemporary room. And if you're looking to make your getaway even more special, upgrade to one of the suites that boast added luxuries such as butler service, private hot tubs and awe-inspiring views of the aquarium marine life.
Gourmet experiences can be enjoyed in this enviable enclave too with upmarket Chinese, Japanese-Peruvian and Italian cuisine all presented in dramatic settings while an aquarium and a water park enrich the leisure offering at this world-renowned hotspot.
Check the latest rates at Atlantis, The Palm on Booking.com.
Dubai Honeymoon Hotels
When it comes to honeymooning in Dubai, there are a number of incredible luxury hotels to choose from. Whether you're looking for an intimate poolside bar and lounge or access to exclusive spa facilities, each hotel has something special to offer couples on their romantic getaway.
From The St Regis Palm Jumeirah and the Mandarin Oriental, to Five Palm Jumeirah and Atlantis The Palm; no matter what your budget is, you can be sure that your dream honeymoon will come true here in this magical city. So why not start planning now? Book one of these luxurious hotels today and make memories that will last a lifetime.