The Best Honeymoon Hotels in Positano
Disclaimer: This article contains affiliate links. We may receive a small commission if you make a purchase through one of these links. Please read our Affiliate Disclosure for more information.
For couples seeking a more secluded and romantic honeymoon, there's no better destination than Positano. This picturesque Italian village is home to several cozy boutique hotels, ideal for spending a peaceful and intimate honeymoon. Many of these boutique hotels offer amenities such as spacious terraces with panoramic views of the Tyrrhenian Sea, lush gardens, delicious locally-sourced meals prepared by celebrated chefs, and attentive service that assures couples can truly enjoy their getaway.
Ending each day wrapped in the warmth and comfort of their chic and charming abode, newlyweds won't find a better place to start their life together than being located in one of these special boutique hotels in surreal Positano.
Why Positano is the Perfect Honeymoon Destination
The charming, Amalfi Coast village of Positano is the absolutely ideal destination for lovebirds seeking an unforgettable first vacation together as husband and wife. Picturesquely located between emerald hillsides and the luminous Mediterranean Sea, this enchanting place boasts breathtaking views at every turn. Its wealth of luxury accommodations offer couples a taste of pure bliss – whether that be perched atop the cliffs in all their splendor, or tucked away in quiet coves with spectacular private balconies.
Yet no honeymoon would be complete without getting out and about to explore; here, couples can take romantic boat trips along stunning coastal routes, go boutique-hopping to find one-of-a-kind souvenirs, or savor magical evenings of sumptuous seafood feasts prepared by local chefs. Positano is guaranteed to fill your honeymoon with indelible memories – in true Italian style.
Honeymoon Hotels in Positano
If you're looking for the best place to stay during your honeymoon, look no further than these luxurious hotels. From beachfront properties with incredible views to historic palaces with world-class amenities, there's something for everyone in Positano. So start planning your dream honeymoon today and check out our list of the best honeymoon hotels in Positano.
Il San Pietro di Positano
With its beachside locale, Il San Pietro di Positano is the ultimate destination for honeymooners looking to be swept away. Its picturesque setting along the dramatic Amalfi coastline, combined with luxury suites and amenities make it a dreamy escape. Stylishly decorated rooms offer flat-screen TVs, free wifi and balconies for incredible views.
Upgrade to enjoy additional living spaces complete with cozy sofas. Breakfast is free, while poolside dining from two upscale restaurants is available, as well as room service for meals in bed. Guests can also enjoy a private beach and on-site activities such as tennis and a full spa boasting services including Turkish baths and massage therapy. All told, Il San Pietro di Positano offers an experience that dreams are made of!
Check the latest rates at Il San Pietro di Positano on Booking.com.
Le Sirenuse
Le Sirenuse in Positano exudes romance and sophistication, offering a luxurious getaway to newlyweds. From the ornate handmade floor tiles to the antique touches in each room, couples will find solace in their chic accommodation, complete with Wi-Fi and flat-screen TVs. Sink into enveloping comfort in the whirlpool baths, take in sweeping views from private terraces, or indulge with a selection of suites featuring living areas.
The hotel also has an array of additional features to cater to your needs; savor a delicious breakfast buffet or feast on Mediterranean delicacies at the acclaimed restaurant. In search of something more relaxed? Don't miss out on satisfying afternoons enjoying cocktails at the poolside bistro as you watch alpenglow reflecting off the sea. A spa and pool are also on-site for added convenience.
Check the latest rates at Le Sirenuse on Booking.com.
Villa Treville
Get away from the hustle and bustle of life in an elegant refuge at Villa Treville, where luxury suites provide sanctuary to admire stunning views of the Tyrrhenian Sea. Along with a wealth of amenities such as Wi-Fi, flat-screens and living areas, upgraded suites feature unique extras such as terraces and plunge pools.
Enjoy Mediterranean cuisine while relishing breathtaking sea views from the restaurant's outdoor terrace. Couples on honeymoon can take advantage of special features like private gardens, hot tubs and sundecks. For those wishing to stay active, there is an exercise room. With its picturesque vistas and attentive service, Villa Treville is an alluring destination for those wishing to break away from it all.
Check the latest rates at Villa Treville on Booking.com
Albergo Miramare Positano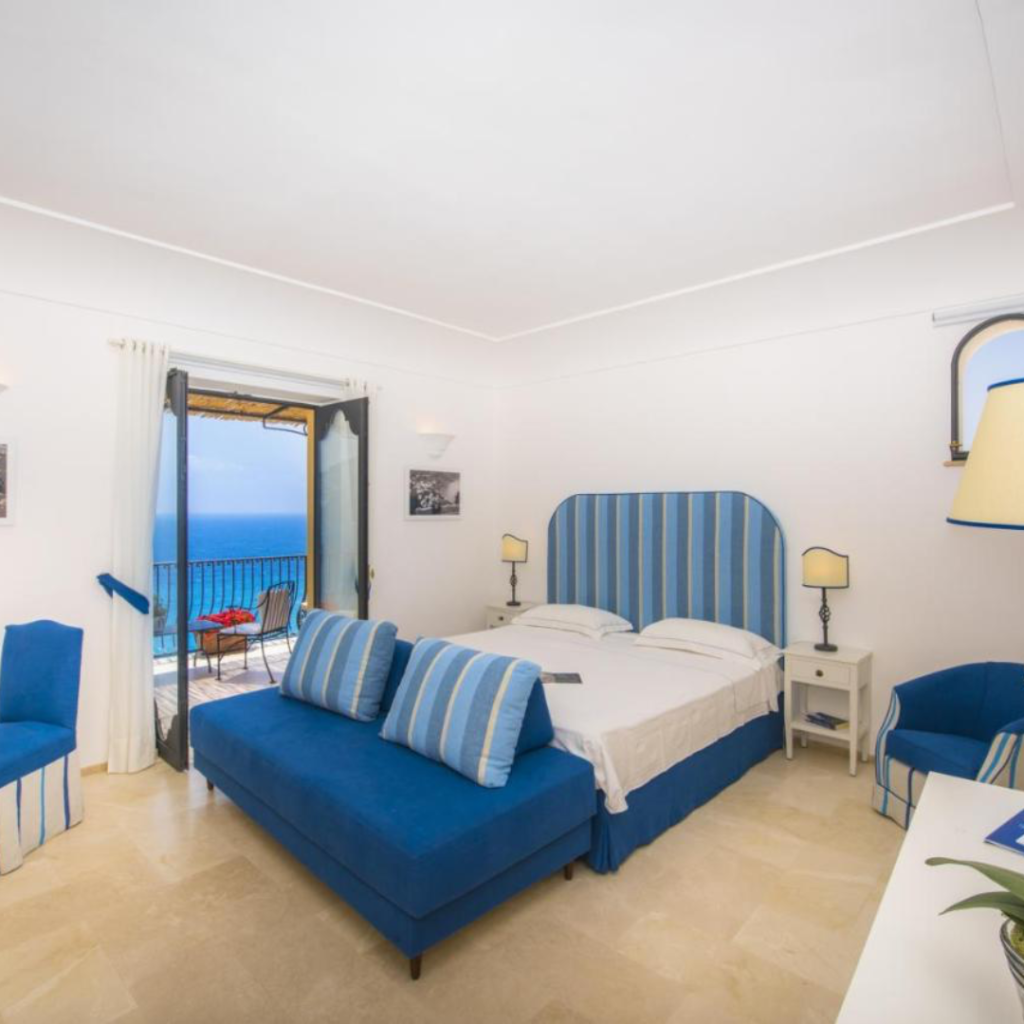 With panoramic views of the picturesque Mediterranean Sea, Albergo Miramare Positano is a chic yet informal option for couples hoping to embark on a relaxed honeymoon. This charming hotel boasts antique furnishings, tile flooring and a variety of cozy rooms each with their own ensuite bathrooms and amenities such as satellite TV and mini-bars, while suites come with additional sitting areas; many also boast sofabeds.
Guests will have access to a restaurant as well as parking and breakfast options. Plus, Positano Spiaggia beach is just 6 minutes away by foot and the Church of Santa Maria Assunta is a mere 5-minute walk away – so relaxation can be found in abundance here.
Check the latest rates at Albergo Miramare Positano on Booking.com.
Villa Yiara
For those looking for a romantic getaway, Villa Yiara Positano offers all the peace and tranquility of being on the Amalfi Coast, only it's way more private. With charming 4-star studios offering views of the gorgeous Tyrrhenian Sea and balconies or patios, you'll have a fantastic time spooning up against your loved one while taking in the sight.
Plus, each room comes equipped with a TV and fridge to help ensure maximum relaxation as well as free WiFi so you can share your special memories with friends and family. To further seal the deal and touch your heartstrings, breakfast is included. For newlyweds who want to make their dream vacation come true, look no further than Villa Yiara in Positano.
Check the latest rates at Villa Yiara on Booking.com.
Imperati Suites by Alcione Residence
Imperati Suites by Alcione Residence in Positano offers honeymooners a luxury escape with sea views and all modern amenities. Couples can opt for one of the impressive suites, fully equipped with a balcony, air conditioning, flat-screen TV and private bathroom with luxurious showers and complimentary toiletries.
To make the trip even more comfortable, the B&B provides guests with complimentary WiFi throughout their stay and a continental breakfast. With so much pampering on offer, Imperati Suites is sure to make your dream honeymoon come true.
Check the latest rates at Imperati Suites by Alcione Residence on Booking.com.
Hotel Palazzo Murat
Hotel Palazzo Murat in Positano is a paradise for newlyweds looking to create lasting memories. Built in an 18th-century palazzo amidst beautiful botanical gardens, it is the epitome of fine Italian living just a five-minute walk from a stunning beach. The rooms boast restored antique furniture and refined design accents that bring the captivating beauty of Positano to life. Every guest can enjoy a private terrace, free Wi-Fi, iPod docks and flat screen TVs.
To upgrade your experience, be sure to select a room with a four-poster bed. There are also plenty of complimentary amenities such as a buffet breakfast served in an extravagant restaurant with majestic garden terraces, as well as an outdoor pool for basking under the Mediterranean sun. All this makes Hotel Palazzo Murat a truly magnificent start to any honeymoon.
Check the latest rates at Hotel Palazzo Murat on Booking.com.
The Best Honeymoon Hotels in Positano
No matter your style, budget or preferences, Positano has a perfect honeymoon destination for you. From the chic and informal Albergo Miramare to luxury suites at Imperati Suites by Alcione Residence, newlyweds can find exactly what they need to make their dream vacation come true. For those who prefer something more private, Villa Yiara offers stunning sea views in an intimate setting with all modern amenities.
And if opulence is what you seek then Hotel Palazzo Murat's 18th-century palazzo amidst beautiful botanical gardens will not disappoint. Whichever of these hotels you choose for your honeymoon getaway, you're sure to have an unforgettable experience that will stay with you for years to come.