5 Best Hotels in Malibu California
Disclaimer: This article contains affiliate links. We may receive a small commission if you make a purchase through one of these links. Please read our Affiliate Disclosure for more information.
There's a sort of worn-in, salty charm to Malibu. Known as the "Most Beautiful Place in the US," you'll find this seaside city in the low-lying hills between Los Angeles and Santa Monica. It's a place that's easy to think of as a bit like a small town. There are no high rises or mega-malls here. For the most part, you'll find rows of oceanfront houses belonging to some of the biggest names in entertainment.
But rest assured, Malibu has plenty more to offer than just celebrity homes. From the beautiful beaches and world-famous surf spots to top-notch restaurants and luxury hotels, there really is something for everyone.
Malibu Hotels
If you're looking for a place to stay in Malibu, California, you'll find plenty of hotels to choose from. Whether you're looking for a luxurious spa getaway or a laid-back beach vacation, you'll be able to find a hotel that meets your needs.
So let's get into it! Here's our pick of the Best Hotels in Malibu California.
Malibu Beach Inn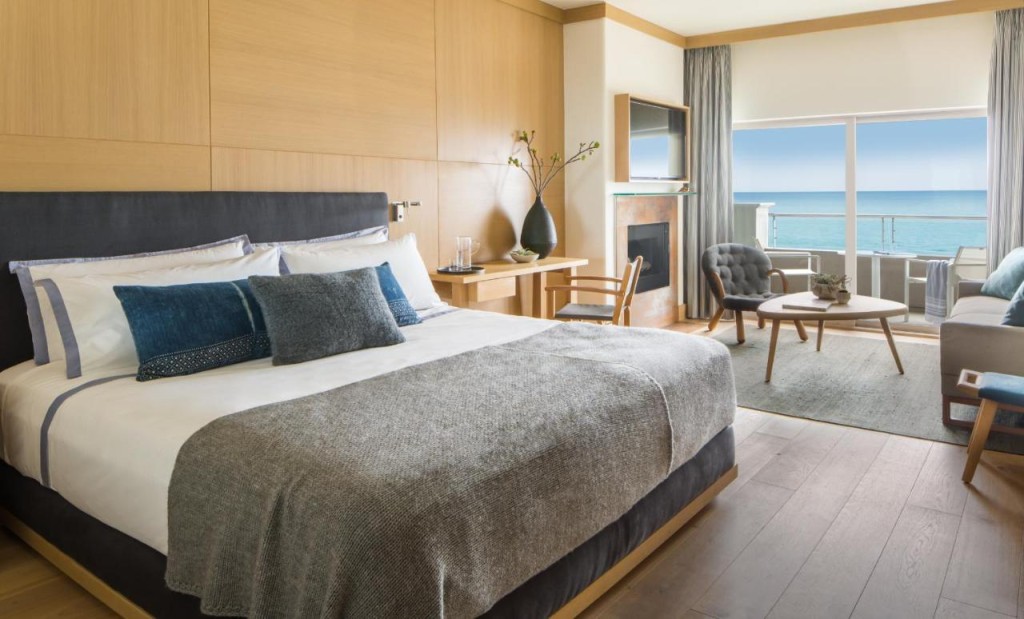 First on our list of the best hotels in Malibu is the charming Malibu Beach Inn.
This well-appointed, luxury beachfront hotel is located right in the heart of Malibu, just a two-minute stroll from Nobu and a stone's throw from Malibu Pier.
All 47 rooms at Malibu Beach Inn have a magnificent view of the ocean. Each room is decorated with custom white oak furniture and the warm sea blues and greys accent the ocean outside. Beds are covered in oversized pillows and luxurious linens, and the gas fireplace is perfect if you're staying in Malibu during the chilly winter months.
The in-room amenities are very good. In your room, you'll find a Nespresso machine and motion-activated lighting. The toilet lid will even rise mysteriously when you enter the bathroom and the seat will warm up whenever you sit down. Fancy AF.
The hotel restaurant is located on a deck, overlooking the ocean. A wide selection of delicious breakfast items are available for morning meals.
During the day, you can order food to enjoy on the beach. A waiter will even set up with your own private dining area with a table, umbrella, and chairs.
Book a room at Malibu Beach Inn now starting from $695 a night.
Surfrider Malibu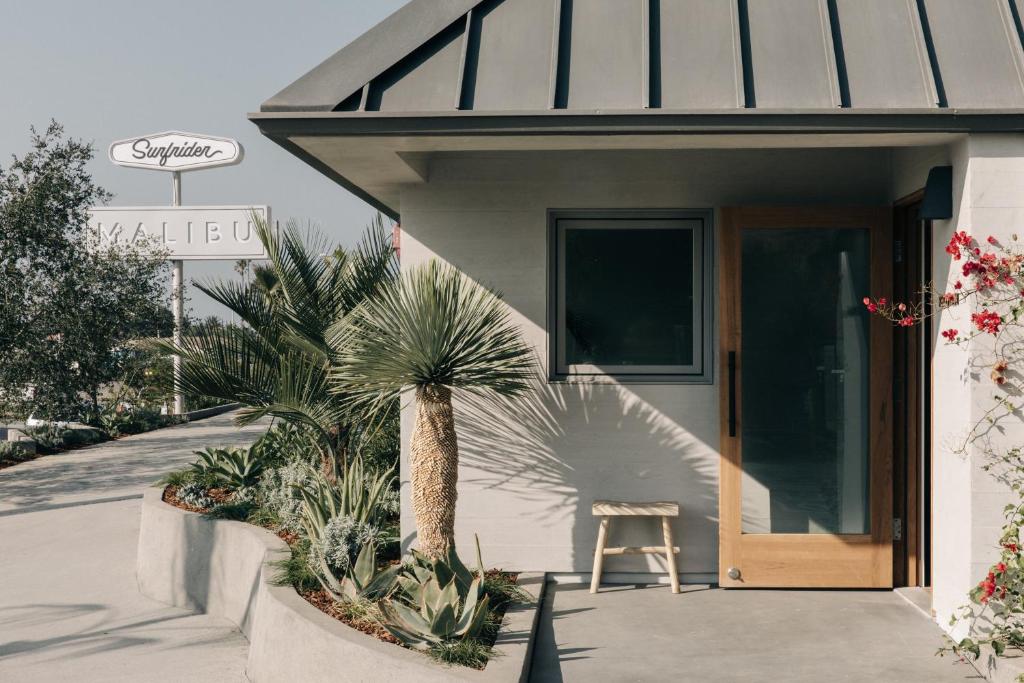 Next on my list of the best hotels in Malibu is the iconic Surfrider Malibu.
For a base in Malibu, it doesn't get much better. It's just minutes from Malibu Pier and Surfrider beach is right across the street.
The vibe here is a vision of the surfing lifestyle. The hotel infuses an eclectic mix of surfboard art, classic furniture, and unique country-inspired decor into a luxurious atmosphere that invokes the spirit of the beach.
The 20 rooms at Surfrider Malibu are modern, chic and comfortable. Each guest room comes with a lovely use of a white and natural palatte combined with hardwood floors and sand coloured rugs.
The hotel's popular rooftop bar offers breathtaking views of the ocean. This is a great spot to enjoy drinks, perhaps under the stars or by the fire pit. The food menu includes fresh ingredients and healthy options like the popular vegan 'Earth Bowl'.
If you're looking to venture out for food, Nobu restaurant is just down the street and Malibu Farm Cafe is a 5-minute walk away.
Book a room at Surfrider Malibu now starting from $459 a night.
Calamigos Guest Ranch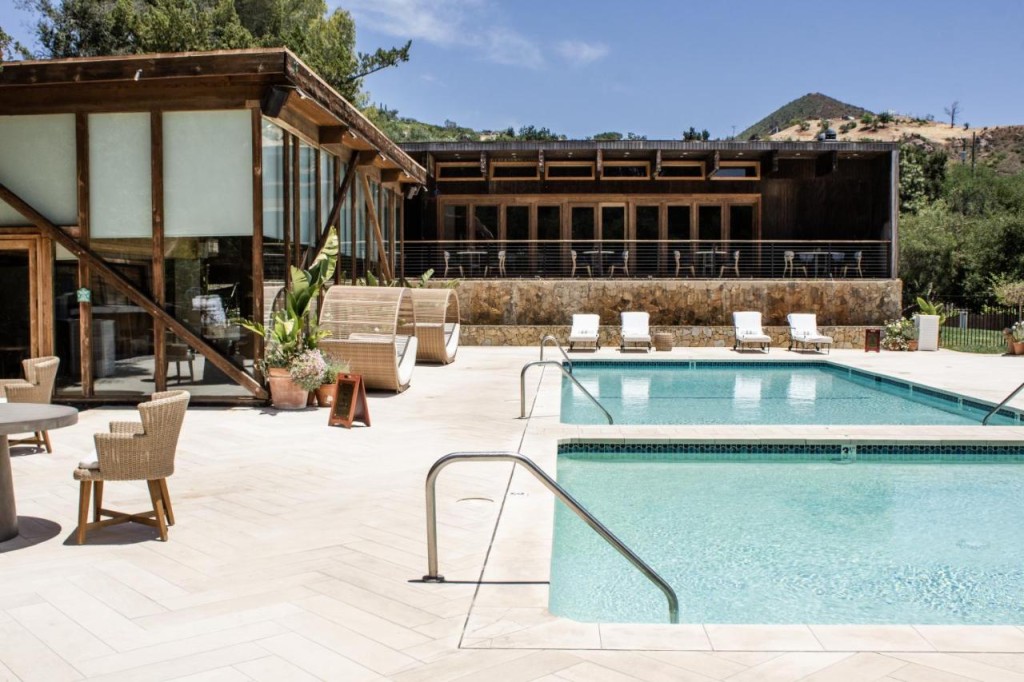 If you're searching for a romantic getaway in Malibu, don't go anywhere but Calamigos Guest Ranch.
A 12-minute drive up from Zuma Beach will take you to this exclusive resort in the Santa Monica mountains. It's the ideal location for couples looking for a little privacy and beautiful views of the surrounding mountains.
The Ranch is made up of a handful of cottages and bungalows sprawled across 200-acres of farm land. The rustic vacation rentals were built in 1947 and have been family owned and operated ever since.
You'll also find a vineyard onsite and organic gardens growing strawberries, herbs, and more.
Beyond swimming in the three swimming pools and eating at the five available restaurants, you can also make use of the Calamigos Beach Club in the heart of Malibu. A regular shuttle is provided between the Ranch and the Beach Club where you can enjoy cocktails as well as water sports like surfing and paddle boarding.
Book a room at Calamigos Guest Ranch now starting from $663 a night.
Hotel June Malibu
Last on my list of the best hotels in Malibu is Hotel June Malibu.
Located right off the Pacific Coast Highway, this trendy bungalow resort is perfect for travelers who want to enjoy the spoils of Malibu without the hefty price tag of resorts like Malibu Beach Inn and Calamigos Guest Ranch. The only downside? It's a 5 minute drive away from the beach so you won't get those picture-perfect ocean front views.
Hotel June Malibu was originally built in the 1950s, but has since been reimagined by Folklore, a renowned hospitality company. The resort is now affectionately referred to by many as a 'grown-up summer camp'.
The 13 bungalows sit along a garden path, each with a private terrace and hammock outside. Inside you'll find big comfortable beds, vintage mismatched pieces of furniture and an ice chest full of healthy local snacks and ice-cold kombucha – this is California after all.
There is also an outdoor yoga cabin for stretching and meditation.
The staff at Hotel June Malibu are eager to help with all your needs. They can help organize and plan your itinerary, show you around town, or even assist you in booking those hard-to-get reservations at places like Nobu.
For breakfast, there a simple menu of muesli, berries, and yogurt, with coffee and tea. However, if you're looking for something more substantial there are plenty of good options nearby, such as Café Habana and Lily's, which are right around the corner.
Book a room at Hotel June Malibu now starting from $465 a night.
Hotels in Malibu California
Malibu is a stunning location and the perfect place to stay for a vacation. If you're looking for an amazing hotel to stay at, these hotels in Malibu are sure to please. Whether you're looking for beachfront property or something more secluded in nature, there's definitely a hotel in this list that will fit your needs.
So what are you waiting for? Pack your bags and head on over to Malibu!
Enjoyed our guide to the 5 Best Hotels in Malibu California? Take a look at our other California Hotel Guides here.