5 of the Best Hotels in Montepulciano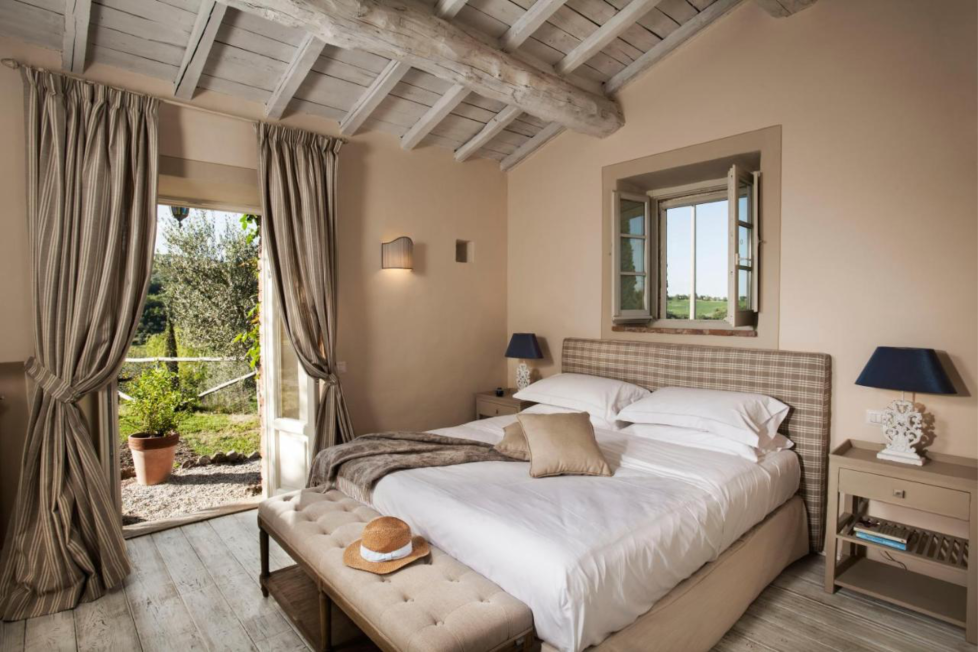 Disclaimer: This article contains affiliate links. We may receive a small commission if you make a purchase through one of these links. Please read our Affiliate Disclosure for more information.
If you're looking for the best hotels in Montepulciano, look no further. From luxurious 5-star properties to charming boutique hotels, we've got the inside scoop on where to stay in this picturesque Tuscan town. Whether you're visiting for the world-famous wine or the stunning Renaissance architecture, be sure to book one of these top hotels for an unforgettable trip.
The Best Hotels in Montepulciano
Famed for its sought-after red wines, this small town in the Tuscan region of Italy boasts some truly remarkable accommodations. Whether you're looking for a luxurious hillside chateau or an intimate, family-run hotel, there are a plethora of options to choose from in Montepulciano.
Unlike several of its counterparts in the area, hotels here prioritize innovation and top-notch service – all while exuding a certain je ne sais quoi in terms of charm and sophistication. So if you're looking for an unforgettable Italian escape, look no further than our pick of the best hotels in Montepulciano.
Salcheto Winehouse 
Salcheto Winehouse in Montepulciano is the ultimate luxury accommodation for wine connoisseurs seeking peace and relaxation. Surrounded by breathtaking vineyards, this 13th-century farmhouse presents stylish rooms with air conditioning, flat screen TVs and free WiFi.
Pamper yourself with a dip in the external heated hot tub or enjoy a sweet buffet breakfast followed by a wine tasting in their cellar – filled with traditional products made from grapes grown in their vineyard. Enjoy your stay at Salcheto WineHouse knowing you are surrounded by the region's finest wines.
Check the latest rates at Salcheto Winehouse on Booking.com.
Villa Cicolina
For those looking for a picture-perfect escape to an authentic Tuscan paradise, The Hotel Villa Cicolina has it all. Located in beautiful Montepulciano, this remarkably charming venue offers luxury and character that's hard to come by elsewhere. Guests staying here can enjoy amenities like the outdoor pool and terrace, as well as stunning views of the historic walls and cityscape.
Inside, its cozy interiors are decorated with bright hues, traditional furniture pieces and paintings featuring vistas of the rolling hills of this beloved region. With plenty of exquisite accommodation options & attentive service, The Hotel features all one needs for a truly exceptional holiday experience.
Check the latest rates at Villa Cicolina on Booking.com.
Lupaia
Situated in the enchanting countryside, Lupaia in Montepulciano is the perfect choice for travellers with an appreciation of the finer things. This elegant stone building serves as a contemporary haven with its tastefully appointed rooms offering modern amenities such as flat-screen televisions, mini bars and safes. Plus, select guestrooms offer luxurious bi-level living areas and entrancing outlooks of the surrounding landscape.
Gastronomic offerings are available at the charming restaurant – complete with a fireplace – whilst guests can also enjoy al fresco dining on one of the terraces. With further features such as gardens and an outdoor pool, visitors to Lupaia are promised a restorative retreat in Montepulciano.
Check the latest rates at Lupaia on Booking.com.
Residenza Stuart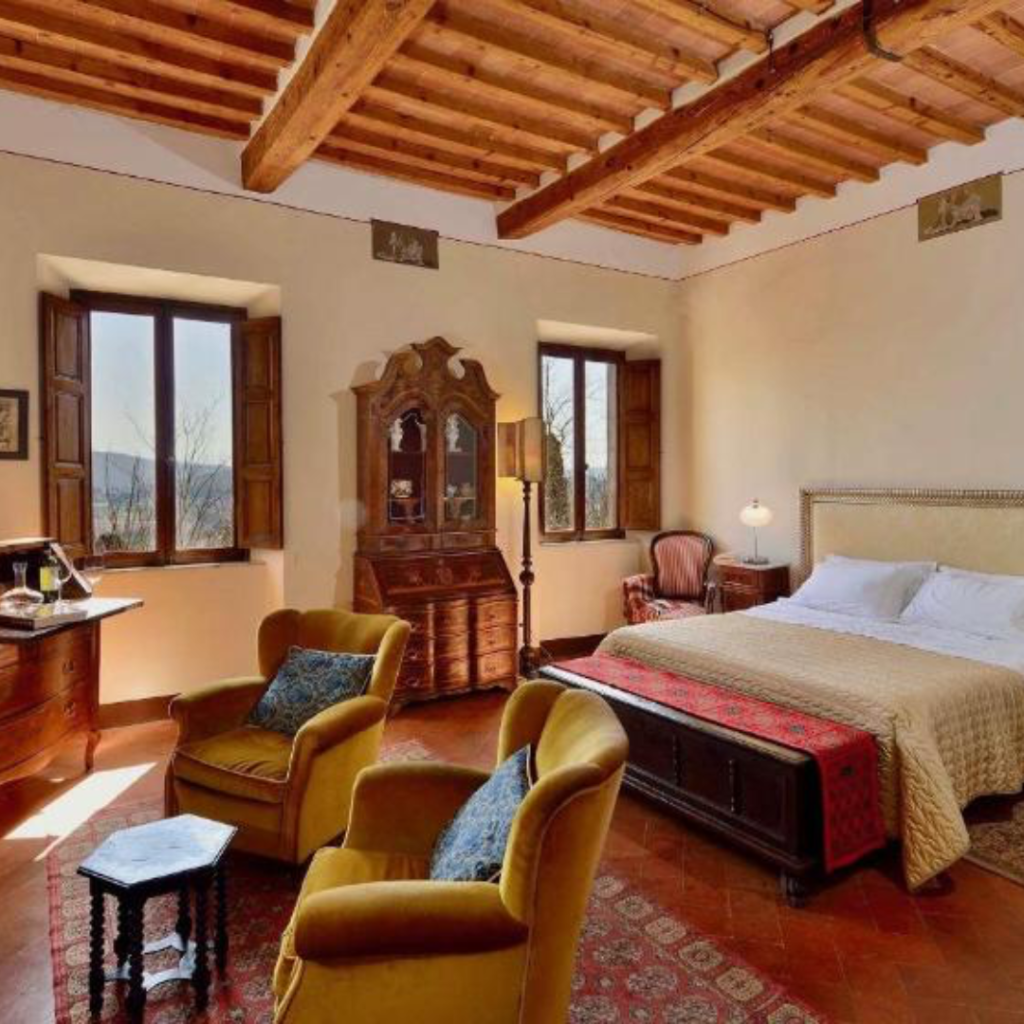 Residenza Stuart in Montepulciano is the ideal accommodation for travelers seeking a luxurious yet homely getaway in the Tuscan countryside. This charming 2 bedroom apartment within a restored tuscan farmhouse offers all guests a picturesque garden, delightful vineyard views and complimentary WiFi. From flat-screen TVs to fully equipped kitchens, Residenza Stuart provides everything required for an unforgettable stay.
Whether you are looking for a place of solace thanks to its terrace and vineyard views to detach from reality or more of an adventurous escape with family or friends, Residenza Stuart has something special that will make it feel like your own Tuscan paradise.
Check the latest rates at Residenza Stuart on Booking.com.
Villa Poggiano
Staying at the stunning Villa Poggiano in Montepulciano is an experience like no other. Set on 6 hectares of picturesque parkland, this 18th-century villa was converted into an enchanting family-run hotel for visitors to enjoy. The accommodations range from cozy rooms to warm suites, each decorated with unique touches such as antique furniture, paintings and tapestries.
Enjoy views of the lush gardens and pool from your room window and get some tranquility with a stroll in the annexes looking onto the vineyard and olive grove. Extra perks include treats like welcome drinks and truffle picking occasions. Furthermore, if you're feeling ambitious, cooking classes or wine tours are also available.
Check the latest rates at Villa Poggiano on Booking.com.
Montepulciano Hotels
Montepulciano is a truly unique destination, with no shortage of luxury accommodations to choose from. Whether you're looking for the picturesque views of Villa Poggiano or the contemporary feel at Lupaia, there's something special here for everyone.
For those seeking an authentic Tuscan paradise in style and comfort, The Hotel Villa Cicolina offers it all while Residenza Stuart provides guests with a luxurious yet homely getaway in the countryside. With these Montepulciano hotels as your starting point, you're sure to experience some unforgettable moments on your next getaway.