Moxy NYC Chelsea Review (2022): The Most Affordable Views in New York City?
Disclaimer: This article contains affiliate links. We may receive a small commission if you make a purchase through one of these links. Please read our Affiliate Disclosure for more information.
Thinking about staying at Moxy NYC Chelsea?
If you're looking for an affordable hotel in New York City with amazing views, look no further than the Moxy NYC Chelsea. This industrial-style hotel offers stunning views of the Manhattan skyline at a fraction of the price of other hotels in the area.
With 350 bedrooms featuring smart technology and sleek design, free Wi-Fi, and wall-to-wall windows with stunning skyline views, this hotel has everything you need and more. Plus, with new dining venues by TAO Group, you'll be able to experience some of the best food in the city. And don't forget about the rooftop lounge! With panoramic views of the skyline and nightly live DJs, it's a must-visit spot during your stay in Chelsea.
Check out our full review of Moxy NYC Chelsea below.
Location
Located in the heart of Manhattan's Chelsea neighborhood, Moxy NYC Chelsea offers guests a unique and affordable option for lodging in New York City. The hotel is situated on West 28th Street between Seventh and Eighth Avenues, just 8 minutes on foot from the iconic Empire State Building, and a 7-minute stroll from the restaurants and karaoke bars in Korea Town.
With meticulously-designed guest rooms and suites, Moxy NYC Chelsea provides travelers with a comfortable and stylish place to stay while exploring all that New York has to offer.
See also: 9 Hotels in New York City with Incredible Views
Style and Character
Moxy NYC Chelsea is a hip hotel that embodies the energy and vibrancy of its Manhattan neighborhood. The hotel's design is both stylish and edgy, with a cool industrial aesthetic. Exposed brick walls, dark wood floors, and exposed ductwork create a chic loft-like feel, while colorful art and vintage furniture add a touch of personality.
The rooms are compact yet comfortable, with plenty of amenities to make guests feel at home. The hotel's staff are friendly and helpful, and they are always on hand to offer suggestions on what to see and do in the city.
Rooms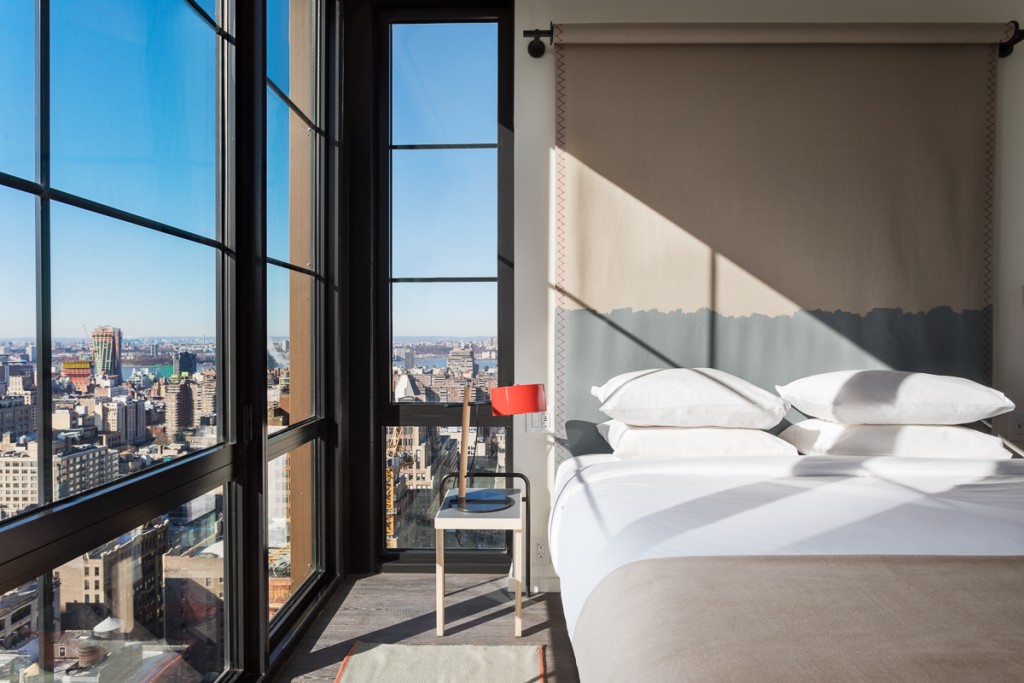 The rooms at Moxy NYC Chelsea are designed with an industrial-chic vibe, and come complete with free Wi-Fi and flat-screen TVs.
The King Room comes with everything you need for a comfortable and relaxing stay, including a king bed with views of the surrounding neighborhood and a walk-in rain shower.
However, if you're here for the views, we recommend upgrading to the King View Room, which offers stunning views of the Manhattan skyline.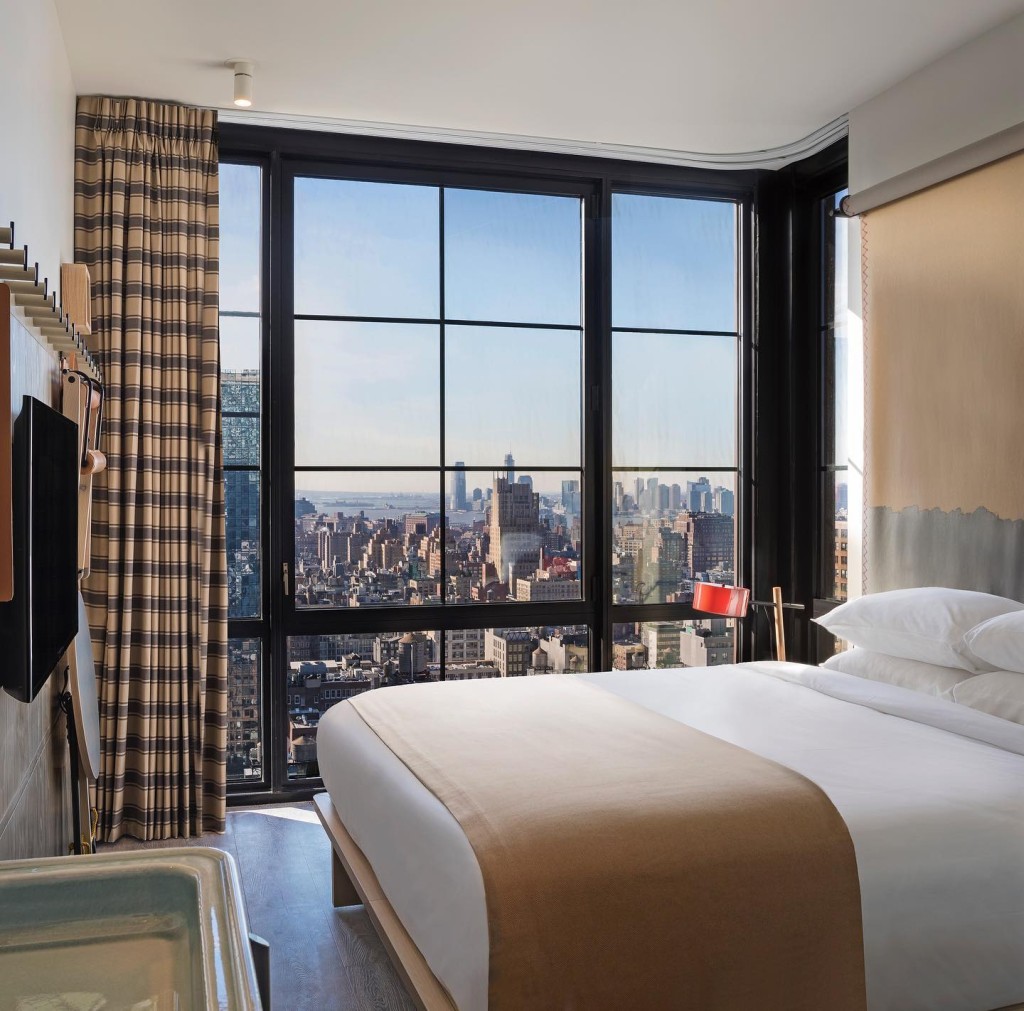 Featuring a king bed with floor-to-ceiling windows, this room is perfect for anyone looking to relax and escape the hustle and bustle of Manhattan. You'll also love features like the free access to streaming apps, individual climate control, complimentary Wi-Fi, personal safe, easy-to-reach USB ports and power outlets, garment steamer, and hairdryer.
You can book a King Room at Moxy NYC Chelsea starting from $289 per night, or upgrade to the King View Room starting from $347 per night.
Amenities
Looking for a place to get fit and stay productive during your stay in New York City? Moxy NYC Chelsea has a 24-hour gym and fitness classes to help you stay on track, as well as multiple co-working spaces throughout the hotel so you can keep working. And when you're ready to take a break, you can enjoy one of the many restaurants on-site or head up to the rooftop lounge for some amazing views.
Gym
Looking for a fitness center that's always up for a challenge? Moxy NYC Chelsea is your perfect match. With 24/7 access to cutting-edge equipment and wellness and fitness classes, you'll be able to break a sweat no matter what time of day you work out. Plus, the hotel's location near Mile High Run Club provides easy access to some of the best running routes in town.
Co-working
Moxy NYC Chelsea offers co-working spaces that are perfect for freelancers, entrepreneurs, and small business owners. The second-floor lobby provides plenty of seating and is ideal for collaborative work or casual networking. And with killer views of the cityscape, you'll be inspired to do your best work yet.
Food and Drink
Looking for an authentic Italian dining experience? Look no further than Moxy NYC Chelsea. A morning espresso and warm pastries will get your day started right, while a selection of afternoon salads is the perfect light bite. And don't forget to save room for delicious Italiano comfort dishes in the Feroce Restaurant – they're perfect for sharing with friends. But the best part of all? The view from the glass-enclosed rooftop lounge is unbeatable.
Bar Feroce & The Secret Graden
Whether you're looking for a quick snack or a full-blown Italian feast, Bar Feroce & The Secret Garden has got you covered. The mouth-watering bar bites are perfect for any time of day, and the Roman comfort dishes make for a delicious dinner option. Wash it all down with a signature Italian cocktail and you'll be in foodie heaven!
Café D'Avignon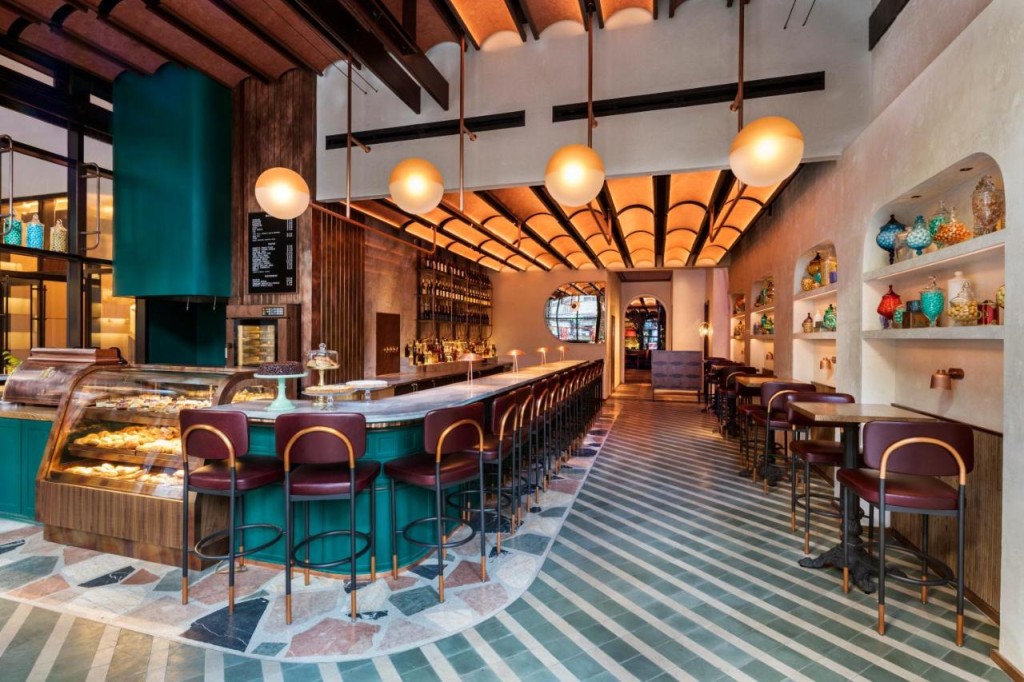 The menu at this artisanal bakery and café features fresh, homemade dishes that are sure to please. From authentic espresso and cappuccino to freshly baked pastries and breakfast dishes, there is something for everyone.
The Fleur Room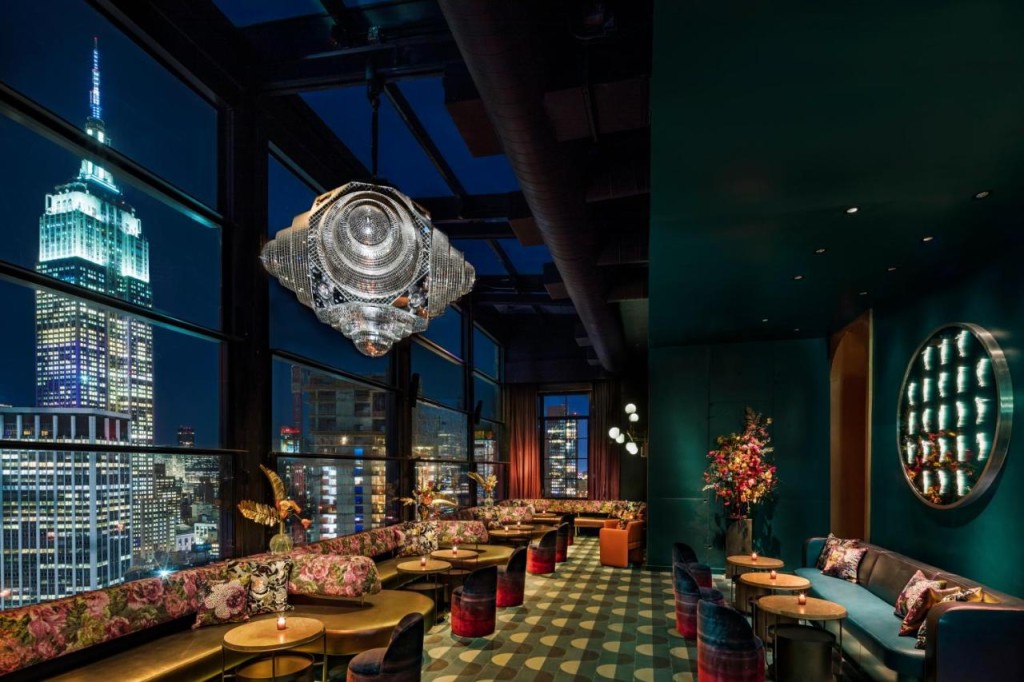 The Fleur Room is a luxurious rooftop lounge located on the 35th floor of Moxy NYC Chelsea. This intimate space offers stunning 360-degree views of Manhattan, with iconic skyline landmarks like the Statue of Liberty, New York Harbor, and the Empire State Building all within sight. It is the perfect place to relax and unwind after a long day exploring the city. The lounge offers an extensive menu of snacks and drinks to suit every taste. Dance the night away under the massive vintage disco ball or simply sit back and soak up the incredible views.
Feroce Restaurant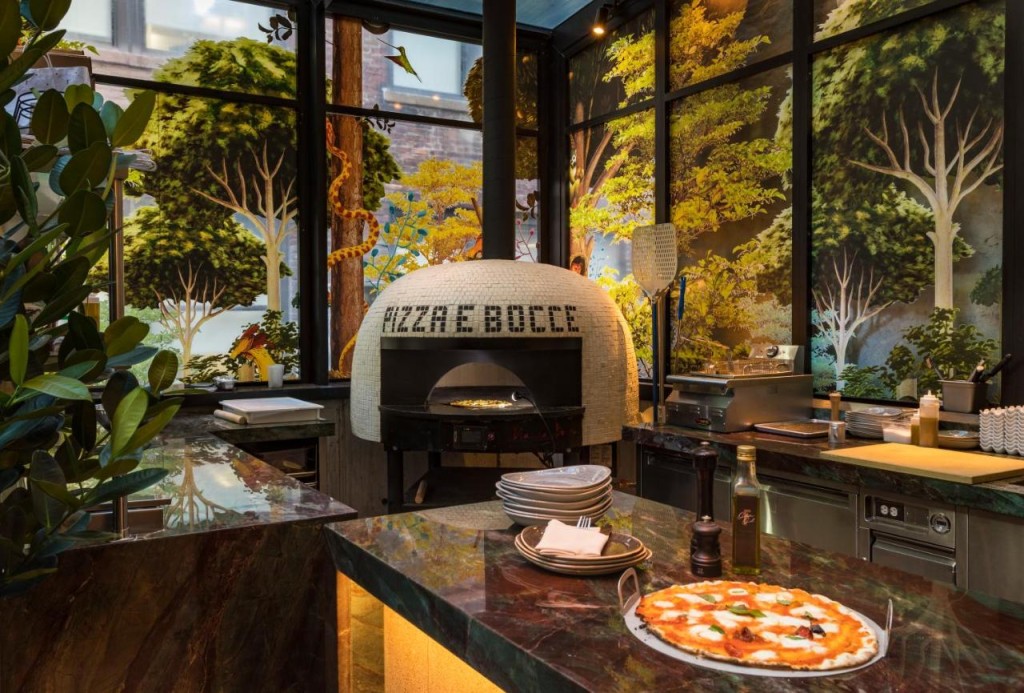 This lively and intimate indoor/outdoor destination fuses Italian traditions with contemporary innovations, providing guests with a unique and authentic Italian dining experience. The menu features both classic Italian dishes and modern interpretations, incorporating the freshest ingredients found across Italy right now. Whether you're looking for a classic pasta dish or something more innovative, there's something for everyone at Feroce. So make sure to stop by and enjoy a taste of Italy!
What are the Rates at Moxy NYC Chelsea?
Moxy NYC Chelsea is one of the most affordable hotels in New York City, with rates starting at just $289 per night. That's an unbeatable price for a hotel that offers such stunning views of the city!
Plus, with its convenient location near all of the best attractions, you'll be able to save even more money on transportation costs.
Click HERE to check rates and book a room at Moxy NYC Chelsea.
How to get the best deal at Moxy NYC Chelsea
There are a number of tips and tricks that can help you get the best deal. Our team of travel experts has compiled a list of their top tips to help you save money on your stay at the Moxy:
Book in advance
First, it's always a good idea to plan and book your trip well in advance, as this will give you access to the best rates. The most competitive rates for Moxy NYC Chelsea are typically released 60 days before arrival, so be sure to keep an eye out for them!
Stay in the off-season
Another important factor is timing: you can often get a much better deal by traveling during the "shoulder season" or off-season. For New York City, this means avoiding the summer months when everyone wants to visit. Instead, plan your trip for spring or fall, when rates are typically lower.
We discovered that the cheapest rates at Moxy NYC Chelsea are available in March, April, May, October, and November.
Stay on a Sunday night
Another way to save money on your stay is to book a room for Sunday night. Rates are typically lower on Sundays than any other day of the week, so this is a great way to get a deal.
On Sunday nights, our staff discovered that rates were typically 25% lower than the hotel's average nightly rate.
So, if you're flexible with your travel dates, booking a Sunday night stay can help you save a significant amount of money.
Use the Booking.com Price Guarantee
Booking.com offers a price guarantee that promises to refund the difference if you find a lower price for the same room on another website. This guarantee applies to hotel rooms booked through Booking.com, and it applies to both before and after you book.
If you find a lower price, simply contact Booking.com customer service and they will refund the difference.
With these tips in mind, you'll be sure to get the very best deal at Moxy NYC Chelsea.
Moxy NYC Chelsea Youtube Videos
You can learn a lot from YouTube, especially when you find informative vloggers who want to share how amazing Moxy NYC Chelsea is! Not only do they talk about their experience, but they also give some top tips on what to do on your trip to New York City.
Allyson Berger
Allyson Berger is a New York City-based travel vlogger & lifestyle influencer. In this video, she gives a tour of her room at Moxy NYC Chelsea and gives a sneak peak of the hotel's many amenities, including the 24-hour gym and the popular Italian restaurant, Feroce.
Tanique Q
Tanique is another New York native sharing her staycation at Moxy NYC Chelsea. In this video, she gives a tour of her King View Room on the 23rd Floor and her honest opinion of the hotel.
Frequently Asked Questions
To save you some time, we've gone ahead and compiled a list of some of the most frequently asked questions about Moxy NYC Chelsea:
Where is Moxy NYC Chelsea located?
The hotel is in the Flower District of Chelsea, just steps from 6th Avenue.
What time is check-in and check-out?
Check-in is at 16:00 and check-out is at 12:00.
Is parking available?
Yes! Valet parking is available at a daily charge of $70 for regular cars and $80 for SUVs and large vehicles.
Is there room service or a minibar in-room?
Although no minibar is available, there is Room Service provided by Butler Hospitality.
Is Moxy NYC Chelsea pet friendly?
Yes! There is a $150 fee for each dog, with a maximum weight of 20 pounds.
Does the Moxy NYC Chelsea have the most affordable views in New York City?
If you're looking for a truly affordable way to enjoy stunning views of New York City, you'll want to check out the Moxy NYC Chelsea.
Located in the heart of Chelsea, Moxy NYC Chelsea is the perfect base for exploring all that New York City has to offer. The hotel is just a short walk from major attractions like the Empire State Building and Madison Square Garden, and there are countless restaurants and bars in the area.
But the best part of Moxy NYC Chelsea is the views. The hotel has an outdoor rooftop bar with sweeping views of the city, and if you upgrade to a King View Room you'll be greeted by floor-to-ceiling windows that offer incredible views of Manhattan.
So if you're looking for a place to stay in New York City that won't break the bank, be sure to check out Moxy NYC Chelsea. You won't be disappointed!