Arlo Nomad Review (2022): New York City's Most Instagrammable Hotel
Disclaimer: This article contains affiliate links. We may receive a small commission if you make a purchase through one of these links. Please read our Affiliate Disclosure for more information.
Thinking about staying at Arlo NoMad in New York City?
If you're looking for an Instagram-worthy hotel in New York City, look no further than Arlo NoMad. This trendy hotel is located in the heart of Manhattan and offers guests a unique experience that can't be found anywhere else. From the chic decor to the amazing views of the city, Arlo NoMad is sure to impress.
Nestled in the heart of the popular NoMad district, Arlo NoMad offers guests prime access to all the sights and sounds of Midtown Manhattan. With rooms featuring floor-to-ceiling windows and expansive views of the cityscape, this hotel is perfect for those who want to experience New York City at its finest.
The chic rooms come with stunning floor-to-ceiling windows and unforgettable views of downtown Manhattan. Guests will love our rooftop bar with cocktails, delicious middle eastern snacks, and amazing views of the city skyline. Whether you're in town for leisure or business, Arlo NoMad is sure to provide you with an unforgettable stay in New York City.
Check out our full review of Arlo NoMad below.
Location
If you're looking for a stylish and convenient hotel in Midtown Manhattan, look no further than the Arlo NoMad Hotel. This thoughtfully designed hotel is located in the popular NoMad district, just a 4-minute walk from the Empire State Building and a 6-minute walk from Madison Square Park.
The NoMad district in Manhattan (short for "North of Madison Square Park") is one of the most vibrant and exciting areas of the city. In recent years, it has undergone a major transformation, with new shops, restaurants, and hotels popping up all over the place. The area is also home to a number of different cultural attractions, including the Museum of Modern Art and the New York Public Library. Whether you're looking for a place to shop, eat, or just explore, the NoMad district is worth a visit.
See also: 9 Hotels in New York City with Incredible Views
Style and Character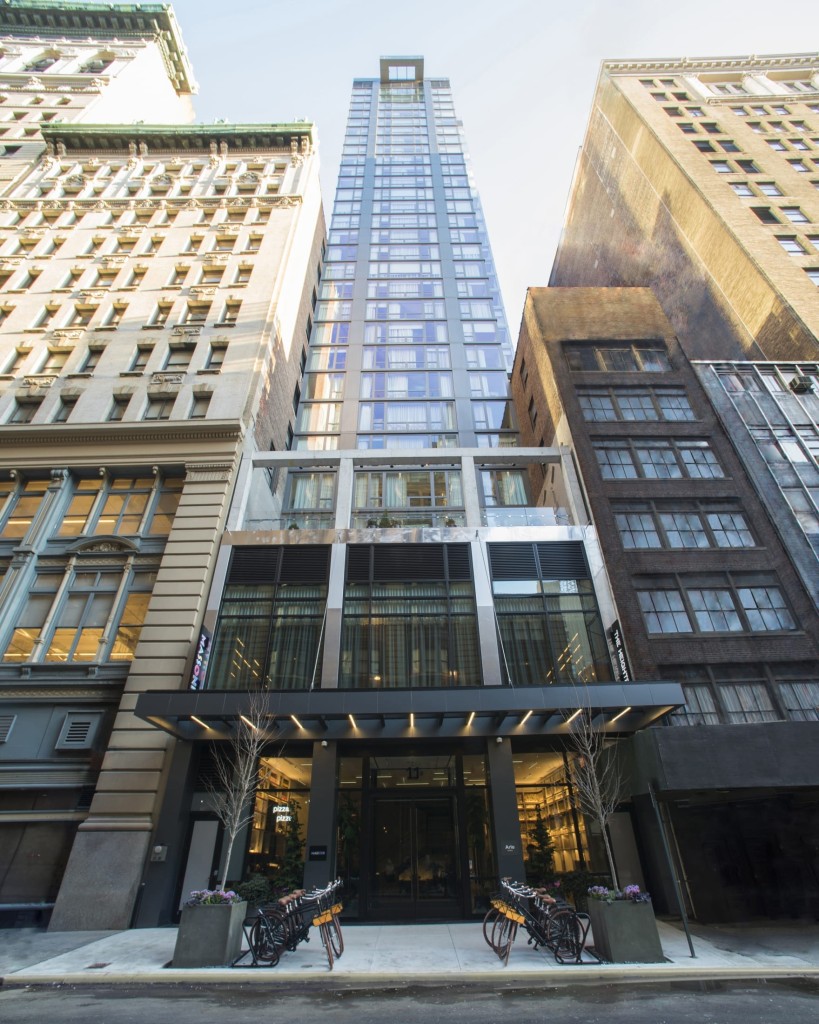 Located in the heart of the city, the Arlo Nomad Hotel is a stylish and modern oasis where style and character are celebrated at every turn. The contemporary, mid-rise building features sleek lines and clean architectural details that give it a sophisticated, modern feel. Inside, guest rooms are compact yet warm and welcoming, with bold colors and comfortable furnishings.
But what really sets this hotel apart is its attention to detail. From the personalized welcome tray upon check-in to the artfully designed signature cocktails at the rooftop bar, everything about this place oozes style and charm. Whether you're visiting for business or pleasure, the Arlo Nomad Hotel is the perfect place to stay – both stylish and comfortable, with a personality all its own.
Rooms
The rooms are thoughtfully designed, combining custom furniture with efficient storage spaces and a range of playful touches. And at just 150 square feet, they are the perfect size for couples or solo travelers looking to experience all that NYC has to offer.
Essential Rooms
The "Essential" rooms at Arlo NoMad are perfect for the busy traveler who wants to make the most of their time in New York City. With 150 square feet of space, this room has everything you need and nothing you don't. The warm walnut finishes and crisp linens add a touch of luxury, while the thoughtful design helps you relax and recharge.
You can book an Essential Room at Arlo NoMad starting from $275 per night.
Terrace Rooms
Take your seat right in the heart of NYC—on a private terrace that's as big as your room. The Terrace rooms give you the best of both worlds, indoors and out, with a 150 square foot terrace that's perfect for kicking back and recharging, yourself and your devices.
You can book a Terrace Room at Arlo NoMad starting from $399 per night.
Sky View Rooms
Looking for a room with a view? Look no further than the Sky View rooms at Arlo NoMad Hotel. Located on the higher floors, these rooms offer wraparound, floor-to-ceiling views of the New York City skyline, giving you an immersive experience of one of the world's most famous cities. They are also thoughtfully designed to make use of their 162 square feet. Whether you're in New York for business or pleasure, this room is sure to impress.
You can book a Sky View Room at Arlo NoMad starting from $440 per night.
Amenities
When traveling, finding the perfect accommodation is always a top priority. Whether you're looking for a scenic getaway, an urban retreat, or anything in between, Arlo Nomad Hotel has everything you need to make your trip memorable.
Arlo Bikes
Looking for a fun and easy way to explore the city? Look no further than Arlo NoMad's complimentary Bicycles! Available through the Lobby Host, these all-weather bikes have 3 speeds, a bell, front basket, and lock. So hop on and discover everything New York City has to offer.
Co-working
Looking for a unique and inspiring place to work? Look no further than The Studio. This beautiful space is perfect for getting those creative juices flowing, with plenty of natural light and stylish furnishings. And when the workday is done, The Studio transforms into the perfect place to unwind, with a variety of board games on offer and cocktail service from BARlo.
Food and Drink
Whether you're looking to enjoy a few cocktails with friends at BARlo or soak up the sun on the rooftop deck at A.R.T. NoMad, there is something for everyone at Arlo NoMad.
A.R.T. NoMad
Elevate your New York City experience with A.R.T. NoMad, an artful rooftop bar offering unparalleled views and unforgettable cocktails. With its lounge atmosphere and stunning views of the Empire State Building, A.R.T. is perfect for an unforgettable evening out in NYC.
BARlo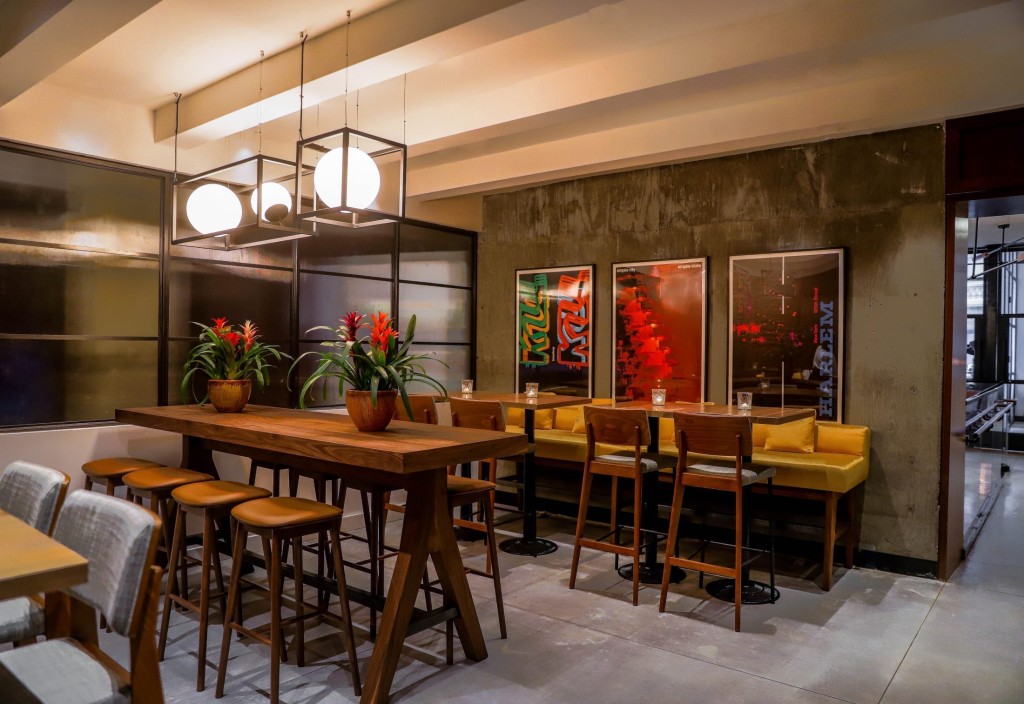 Looking for an intimate and inviting space to enjoy a few drinks? Look no further than BARlo at Arlo NoMad Hotel. This unique bar draws its inspiration from a modern Bedouin tent, creating a cozy and inviting atmosphere. The well-crafted cocktail menu features signature drinks with Middle Eastern flavors, sure to tantalize your taste buds. Whether you're looking to relax with a few friends or recharge after a long day, BARlo is the perfect spot to unwind.
Lamalo Restaurant
Lamalo is the newest spot in NoMad for Middle Eastern eats. This hidden gem offers an authentic taste of the region with a few nods to New York. The menu is designed for sharing and features a variety of Middle Eastern dips that fill the table minutes after guests are seated. The appetizers change seasonally and are always accompanied by the house-made Jerusalem Laffa.
NoMad Bodega
NoMad Bodega is your go-to spot for delicious snacks and hot coffee in downtown New York City. The curated selection of local snacks includes chips, cookies, and a variety of other sweets from some of the city's finest purveyors. Stop by for a quick caffeine fix or stay and explore the well-stocked pantry.
What are the Rates at Arlo NoMad?
The rates at Arlo NoMad start from just $275 per night for an "Essential" room and go up to $665 per night for a Sky View Room.
Click HERE to check rates and book a room at Arlo NoMad.
How to get the best deal at Arlo NoMad
There are a number of tips and tricks that can help you get the best deal. Our team of travel experts has compiled a list of their top tips to help you save money on your stay at Arlo NoMad:
Book in advance
First, it's always a good idea to plan and book your trip well in advance, as this will give you access to the best rates. The most competitive rates for Arlo NoMad are typically available 3-4 months before your arrival date.
Stay in the off-season
Another important factor is timing: you can often get a better deal by traveling in the shoulder or off-season when demand is lower. For New York City, this typically means avoiding peak times like Christmas, New York Fashion Week, and the Fourth of July.
We discovered that the cheapest rates at Arlo Nomad are currently available in August and January.
Stay on a Sunday night
Another way to save money on your stay is to book a room for Sunday night. Rates are typically lower on Sundays, so this is a great way to get a deal.
On Sunday nights, our staff discovered that rates were typically 15% lower than the hotel's average nightly rate.
So, if you're flexible with your travel dates, booking a Sunday night stay can help you save a significant amount of money.
Use the Booking.com Price Guarantee
Booking.com offers a price guarantee that promises to refund the difference if you find a lower price for the same room on another website. This guarantee applies to hotel rooms booked through Booking.com, and it applies to both before and after you book.
If you find a lower price, simply contact Booking.com customer service and they will refund the difference.
With these tips in mind, you'll be sure to get the very best deal at Arlo NoMad.
Frequently Asked Questions
To save you some time, we've gone ahead and compiled a list of some of the most frequently asked questions about Arlo Nomad:
Does the hotel have a gym?
Arlo NoMad does not offer an in-house gym, however, the hotel does have partnerships with several neighborhood gyms and can offer recommendations.
Does the hotel offer parking?
Street and valet parking options are available at Arlo NoMad. Valet parking prices start from $61 per night.
Is Arlo NoMad pet-friendly?
Unfortunately, pets are not allowed at Arlo NoMad, with the exception of service dogs.
Is Arlo NoMad family-friendly?
The guest rooms measure approximately 150 square feet, allowing for a maximum of 2 guests per room. Therefore, we would not recommend Arlo NoMad for families with young children.
What time is check-in/check-out?
Check-in time is after 3pm and check-out time is 12pm.
Is Arlo NoMad the most Instagrammable Hotel in New York City?
With its trendy industrial-chic design, Arlo NoMad is certainly one of the most Instagrammable hotels in New York City.
Situated in the heart of Midtown Manhattan, the hotel is just a short walk from some of the city's most iconic landmarks, including Times Square and Central Park. But it's not just the location that makes Arlo NoMad so popular with Instagrammers. The hotel's floor-to-ceiling windows in the Sky View Rooms provide the perfect backdrop for photos. And with a rooftop bar that offers stunning views of the Manhattan skyline, it's no wonder that Arlo NoMad has become a hotspot for influencers and fashion bloggers.
So, if you're looking for a hotel that will make your Instagram followers green with envy, Arlo NoMad is the place to stay.