The Hollywood Roosevelt Review (2022): LA's Most Iconic Hotel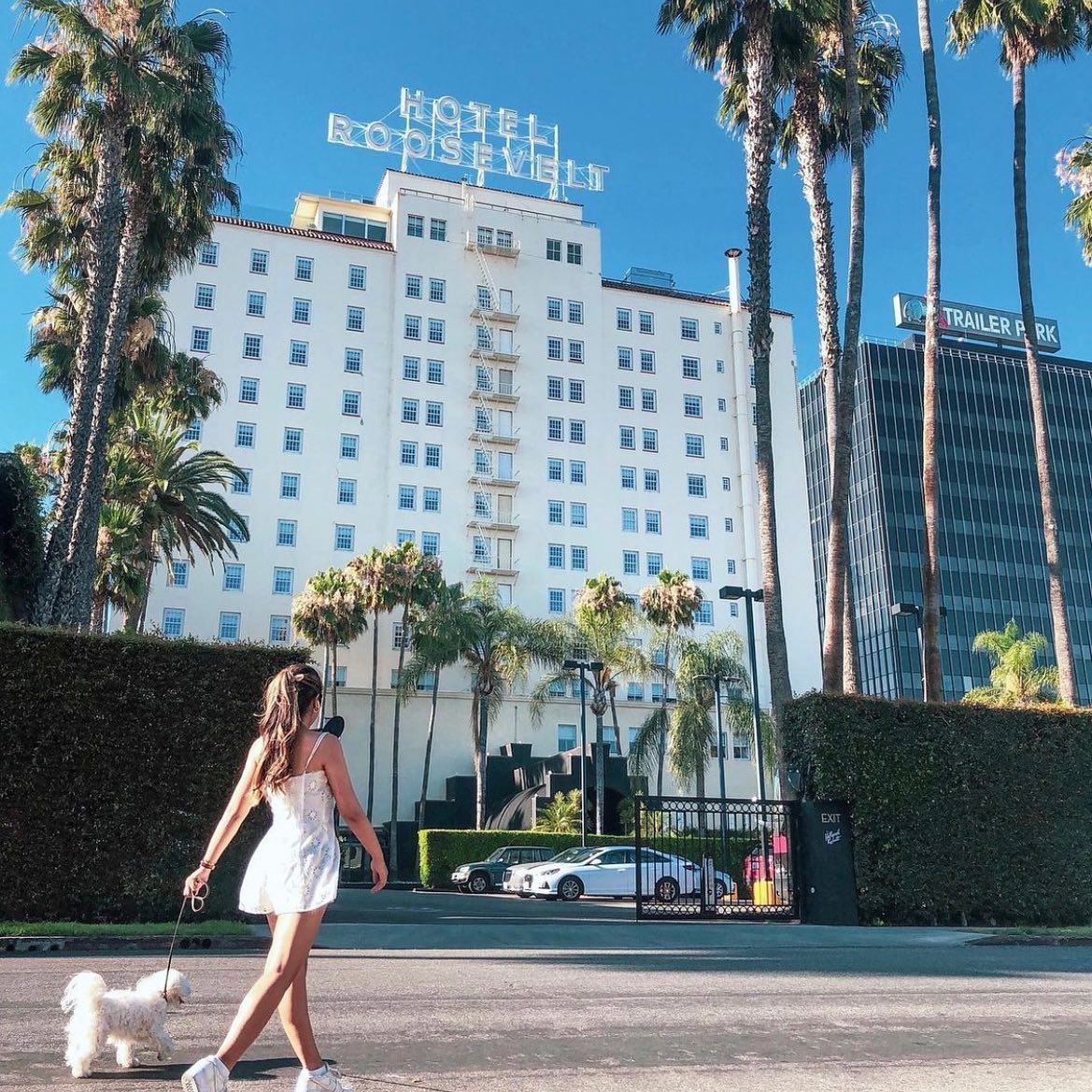 Disclaimer: This article contains affiliate links. We may receive a small commission if you make a purchase through one of these links. Please read our Affiliate Disclosure for more information.
Thinking about staying at The Hollywood Roosevelt?
We've got all the details on what you can expect when you stay at this Hollywood landmark.
The Hollywood Roosevelt is one of the most iconic hotels in all of Los Angeles. Located right on the Hollywood Walk of Fame, it has played host to a wide range of celebrities, from movie stars to business tycoons and politicians. With its luxurious accommodations and world-class amenities, the Hollywood Roosevelt draws people from all over the world who are looking for a taste of that glamorous old Hollywood lifestyle. Whether you're catching up on much-needed rest, enjoying a relaxing spa day, or listening to live music under the stars, there's truly something for everyone at this landmark hotel.
Check out our full review below to see why we think The Hollywood Roosevelt may well be the best hotel in Hollywood.
Location
The Hollywood Roosevelt is located in the heart of Los Angeles, just steps from the Walk of Fame and TCL Chinese Theatre.
This historic hotel has been a favorite of celebrities for decades, and it's easy to see why. The Roosevelt is located in the heart of the entertainment district, and it offers easy access to all of the city's best attractions. Whether you want to explore some of the city's premier museums, go shopping on Rodeo Drive, or dine at one of the many world-class restaurants, the streets surrounding this iconic hotel are filled with things to see and do.
For art lovers, there is the Los Angeles County Museum of Art (LACMA), which boasts over 100,000 works spanning thousands of years. And for those who love fashion, Rodeo Drive is home to all the top designers, such as Chanel, Louis Vuitton, and Gucci. Meanwhile, foodies can find everything from casual pubs to upscale steakhouses and celebrity chef hotspots. So whatever your interests are, the close proximity to all these attractions makes The Hollywood Roosevelt hotel a great choice for your next trip to LA.
See also: A Complete Guide to the Best Hotels in Los Angeles
Style and Character
The Hollywood Roosevelt is easily one of the most recognisable hotels in Los Angeles. Built in 1927, it was the first hotel in Hollywood and quickly became a gathering place for the city's movers and shakers. Over the years, it has been home to countless celebrities, including Marilyn Monroe, Charlie Chaplin, and Clark Gable. The hotel's storied history and glamorous reputation make it a popular choice for travelers looking for a taste of old Hollywood.
The Roosevelt is also known for its stylish decor, which features Art Deco elements and Hollywood memorabilia. The hotel's distinct character has made it a popular setting for films and TV shows, including The O.C., Pretty Woman, and Gangster Squad. Whether you're looking for a luxurious stay or a glimpse of Hollywood history, the Roosevelt is sure to please.
Rooms and Suites
This world-famous landmark offers guests a variety of elegant and well-appointed rooms, each designed with comfort and style in mind. Whether you're looking for an airy suite with panoramic views or a cozy hideaway tucked away in the hotel's lush courtyard, The Hollywood Roosevelt has something to suit everyone's needs.
The Tower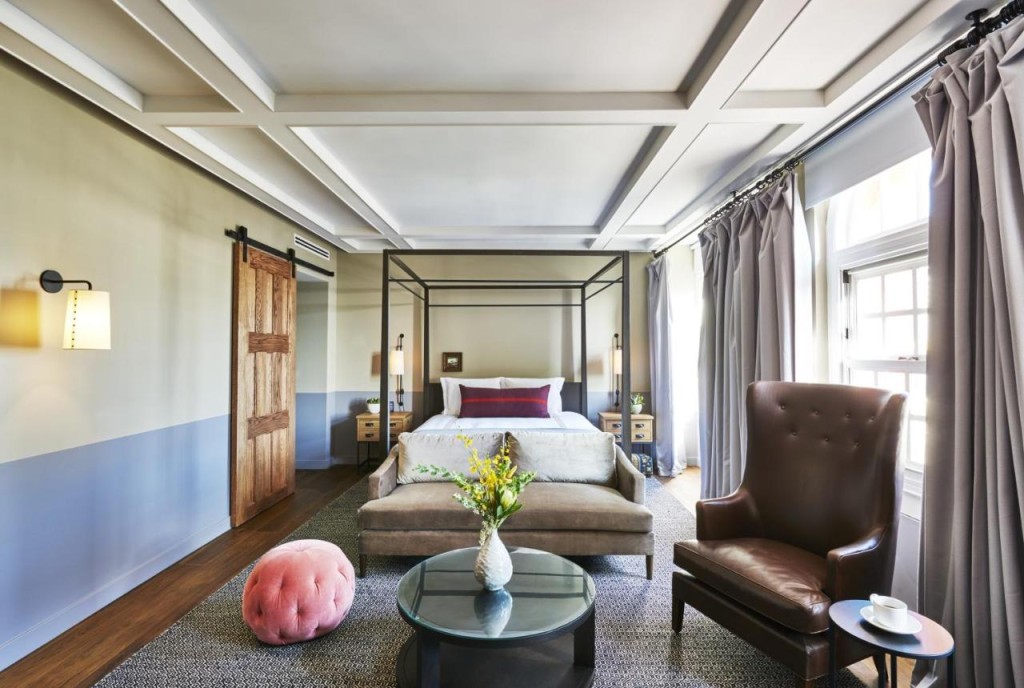 The Hollywood Roosevelt's Tower rooms offer a modern Hollywood experience that is perfect for any traveler. Guests can choose from deluxe or superior rooms, or upgrade to a suite for more space. The Roosevelt Suite and the Gable and Lombard three-storey Penthouse are also available for those who want the ultimate experience. Regardless of which room you choose, you'll enjoy stunning views of the Hollywood Hills and Los Angeles skyline.
You can book a Deluxe Room in the Tower starting from $311 per night.
Cabanas
Looking for a little more privacy during your stay at The Hollywood Roosevelt? The Cabana rooms offer luxurious, secluded accommodations surrounding the Tropicana pool. Most of the cabana rooms come with balconies or terraces, and some even lead right out onto the pool itself.
If you're looking for something really special, you can upgrade to the Marilyn Monroe suite – aptly named after the iconic actress who once called this hotel home. With sleek hardwood floors, white furniture, and a wrap-around balcony with a view of the pool, this suite is perfect for anyone who wants to feel like a star.
You can book a Poolside Cabana Suite starting from $294 per night.
Amenities
The Hollywood Roosevelt hotel offers a variety of amenities to its guests, including a heated swimming pool, a 24-hour fitness center, and a business center. The hotel also features a number of restaurants, bars, and cafes, as well as a wellness spa. Whether you're visiting for business or pleasure, The Hollywood Roosevelt hotel is sure to have everything you need for a comfortable stay.
Tropicana Pool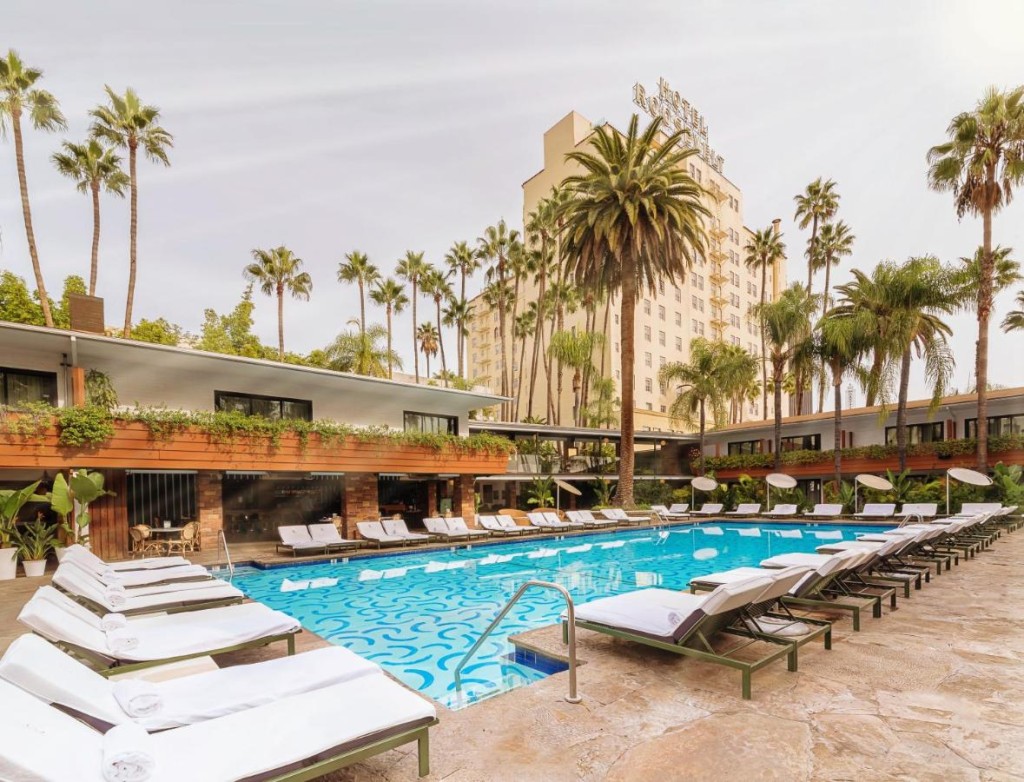 Looking for a perfect spot to relax and soak up the California sun? Look no further than the Tropicana Pool at The Hollywood Roosevelt hotel. This classic '60s-style pool and cafe is the perfect place to spend a day or night. Sunbathe on a daybed beside the David Hockney pool or warm up at night next to the fire pit with a custom cocktail. The pool is exclusive for guests staying at the hotel, so you can be sure to get the VIP treatment.
Massage Garden
Whether you're looking to indulge in a luxurious treatment or simply take a moment to escape from the hustle and bustle of daily life, The Massage Garden is the perfect place to unwind. Surrounded by tranquil fountains and rows of fragrant trees and flowers, you'll feel your worries melt away as you drift off into a state of deep relaxation. So if you're looking for an energizing pick-me-up or need some well-deserved rest and rejuvenation, be sure to stop by the Massage Garden at The Hollywood Roosevelt.
Click here to see the full list of treatments available at The Massage Garden.
Fitness Center
Looking for a fitness center that's luxurious, top-of-the-line, and never closes? Look no further than the Gym at The Hollywood Roosevelt hotel. This amazing fitness center comes complete with all the latest exercise equipment, so you can get in shape while you're on vacation. Whether you're a serious athlete or just looking to get started on your New Year's resolutions, this gym is perfect for you.
Food and Drink
When it comes to fine dining, few places can compare with the Hollywood Roosevelt hotel. Nestled in the heart of vibrant and bustling Los Angeles, this iconic hotel is a true Hollywood hotspot, offering a wide range of excellent restaurants and bars catering to every taste. Whether you're looking for exquisite seafood at The Barish, mouthwatering burgers at 25 Degrees, or some relaxing drinks at The Rosy Cafe, you'll find something to suit your appetite at the Roosevelt.
The Barish by Nancy Silverton
The Barish is Nancy Silverton's latest restaurant, and it's a modern take on the classic American steakhouse. The menu features a variety of cuts of beef, all of which are cooked to perfection over a wood-fire hearth. The sides and sauces are all inspired by Silverton's time spent cooking in the Italian countryside, and the 110-seat dining room is a beautiful space that blends classic Hollywood glamour with modern sensibilities. Whether you're looking for an intimate dinner for two or a night out with friends, The Barish is the perfect spot for a truly memorable dining experience.
The Lobby
This casual spot offers nibbles from The Barish kitchen, including house-made Kennebec potato chips with onion dip and smoked trout roe, and Caesar salad of individually dressed spears of chicories. Here you can lounge on comfortable couches or take a seat at the marble-topped bar. The Lobby is also the perfect place to enjoy a pre or post-dinner drink, with an extensive list of cocktails, wine, and beer available.
25 Degrees
If you're looking for a delicious burger in a glam setting, 25 Degrees Restaurant at The Hollywood Roosevelt is the place for you. The menu offers something for everyone, whether you're craving a hearty breakfast or a late-night snack. The burgers are cooked to perfection at precisely 25 degrees, and there are a variety of toppings and sauces to suit your taste. So pull up a seat at the mahogany leather booths or saddle up to the bar and enjoy the best burger in town.
The Spare Room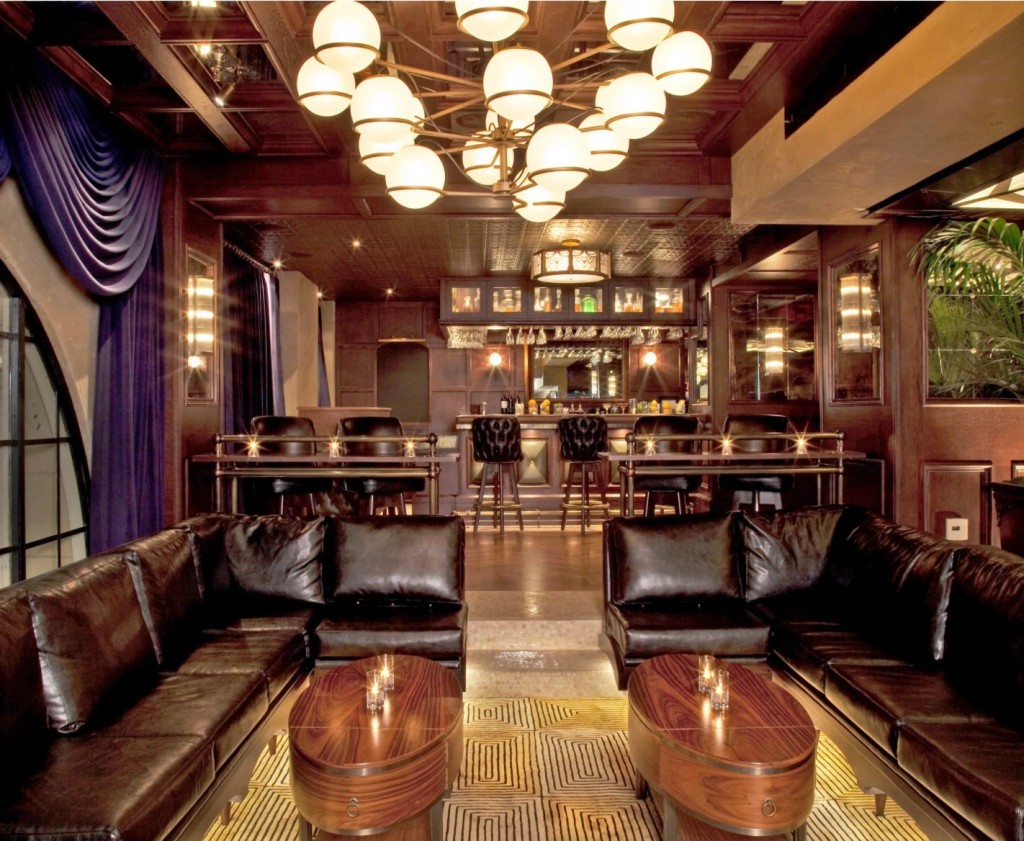 Looking for a unique and fun night out? Look no further than The Spare Room at The Hollywood Roosevelt. This prohibition era-style cocktail lounge has a vintage two-lane bowling alley and custom-made wooden board games – perfect for a night of cocktails and entertainment.
The Rosy Cafe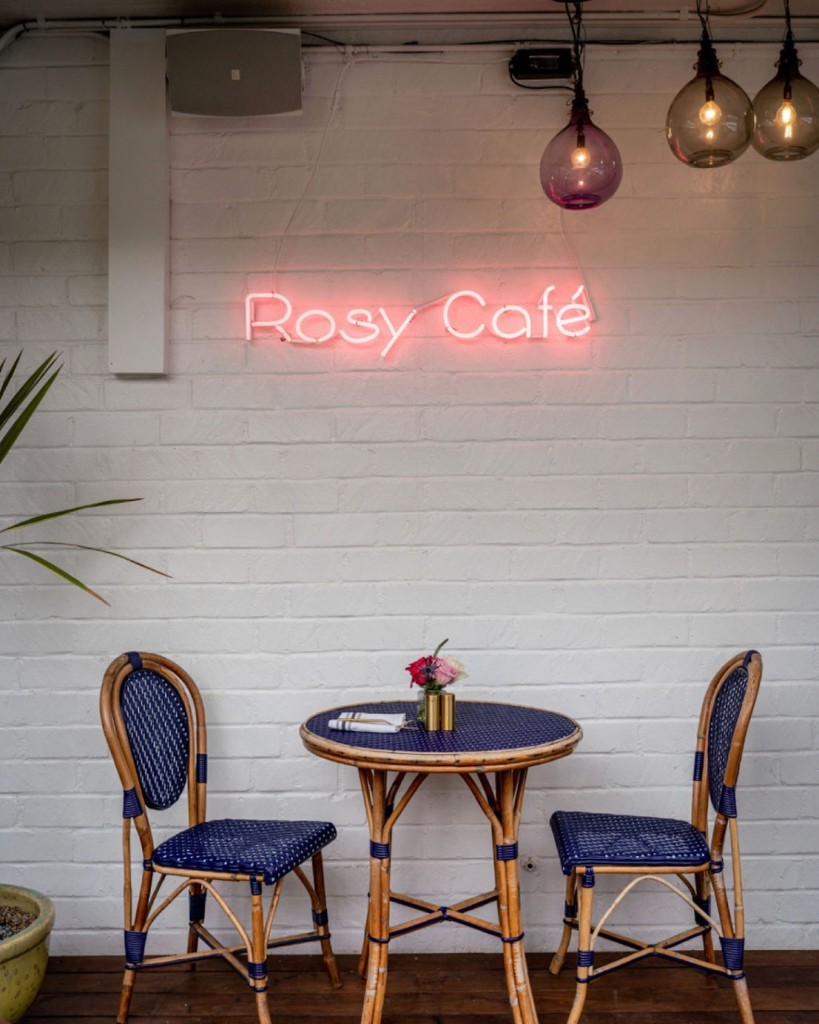 Nestled poolside at The Hollywood Roosevelt, The Rosy Café is a stylish new dining destination that offers fresh, healthy fare for breakfast, lunch and dinner. Whether you're enjoying a leisurely brunch with friends or a power lunch with colleagues, you'll find something to suit your taste. And if you're just looking for a light evening bite or a refreshing cocktail, The Rosy Café has you covered.
The menu features gluten free almond flour pancakes, smoked Scottish salmon tartare, and other delicious dishes. And the full bar offers handcrafted cocktails that are perfect for sipping by the pool. You can dine outside under bright fringed umbrellas or inside in an intimate space punctuated with tropical pinks and greens.
What are the Rates at The Hollywood Roosevelt?
The Roosevelt has a variety of room types to suit your needs, whether you're looking for a luxurious suite or a more affordable option. Rates start at $294 per night for a standard room and go up to $818 per night for the Roosevelt Suite.
Click HERE to check rates and book a room at The Hollywood Roosevelt.
How to get the best deal at The Hollywood Roosevelt
There are a number of tips and tricks that can help you get the best deal. Our team of travel experts have compiled a list of their top tips to help you save money on your stay at the Roosevelt:
Book in adavance
First, it's always a good idea to plan ahead and book your trip well in advance, as this will give you access to the best rates. The most competitive rates for The Hollywood Roosevelt may be found by booking three or more months in advance.
Stay in the off-season
Another important factor is timing: you can often get a better deal by traveling during the "shoulder" or "off" seasons, when demand is lower. For example, rates at The Hollywood Roosevelt are typically lower from mid-September to early January.
We learned that the most affordable rates at The Hollywood Roosevelt begin in December, when cabana rooms go as low as $211 per night.
Stay mid-week
Another way to save money on your stay is to visit during the week, as rates are typically lower Tuesday through Thursday.
On Tuesday and Wednesday nights, our staff discovered that rates were typically 30% lower than on weekends.
So, if you're flexible with your travel dates, booking a mid-week stay can help you save a significant amount of money.
Use the Booking.com Price Guarantee
Booking.com offers a price guarantee that promises to refund the difference if you find a lower price for the same room on another website. This guarantee applies to hotel rooms booked through Booking.com, and it applies to both before and after you book.
If you find a lower price, simply contact Booking.com customer service and they will refund the difference.
With these tips in mind, you'll be sure to get the very best deal at The Hollywood Roosevelt.
Frequenty Asked Questions
To save you some time, we've gone ahead and compiled a list of some of the most frequently asked questions about The Hollywood Roosevelt:
Is The Hollywood Roosevelt family-friendly?
Yes, The Hollywood Roosevelt is a great choice for families. The hotel offers a number of amenities that are perfect for kids, including a heated outdoor pool, a children's menu at The Rosy Café, and babysitting services.
What is the best way to get to The Hollywood Roosevelt?
The best way to get to The Hollywood Roosevelt is by car. The hotel offers valet parking for guests, and there is also a public parking garage located nearby.
What are the check-in and check-out times at The Hollywood Roosevelt?
The Hollywood Roosevelt has a flexible check-in policy, with 24/7 check-in available upon request. Check-out is typically at 11 AM, though guests can request to have their room for an extra hour before checkout time.
What is the best time to visit The Hollywood Roosevelt?
The weather in Los Angeles is beautiful year-round, so the best time to visit The Hollywood Roosevelt really depends on your travel preferences. If you're looking for the best deals and lower crowds, we recommend visiting during the off-season, typically from September to early January. However, if you're flexible with your dates and looking to avoid the crowds, mid-week stays are typically much cheaper than weekend stays.
Is there Parking at The Hollywood Roosevelt?
Yes, The Hollywood Roosevelt offers valet parking at a charge of $45 plus tax nightly. You can also find street parking in the area, though it can be difficult to find a spot during busy times.
Is The Hollywood Roosevelt pet friendly?
Yes, The Hollywood Roosevelt is pet-friendly and welcomes pets up to 80 lbs for a $75 one-time cleaning fee.
What Attractions Are Walking Distance From The Hotel?
The Hollywood Roosevelt Hotel is located in the very heart of Hollywood. The Hollywood Walk of Fame, Grauman's Chinese Theatre, and the Dolby Theatre are all within walking distance from the hotel.
Final Thoughts
The Hollywood Roosevelt has long been a destination for the rich and famous, and it's easy to see why. The hotel boasts impeccable service, luxurious accommodations, and a prime location in the heart of Hollywood.
We recently had the opportunity to stay at the Roosevelt, and we have to say, it really lived up to our expectations.
From the moment we walked through the door, it felt like stepping back in time. The lobby was decorated with vintage furniture and photos of Old Hollywood royalty, and the elevator operators were decked out in period-appropriate uniforms. Our room was spacious and comfortable, with a beautiful view of Hollywood Boulevard. But what really made our stay special was the level of service we received from the hotel staff. Everyone we interacted with was friendly and professional, and they went out of their way to make sure we had a memorable experience.
Overall, if you're searching for a genuinely one-of-a-kind experience on your next trip to Los Angeles, we highly recommend the Hollywood Roosevelt.