Korakia Pensione Review (2022): The Sexiest Hotel in America?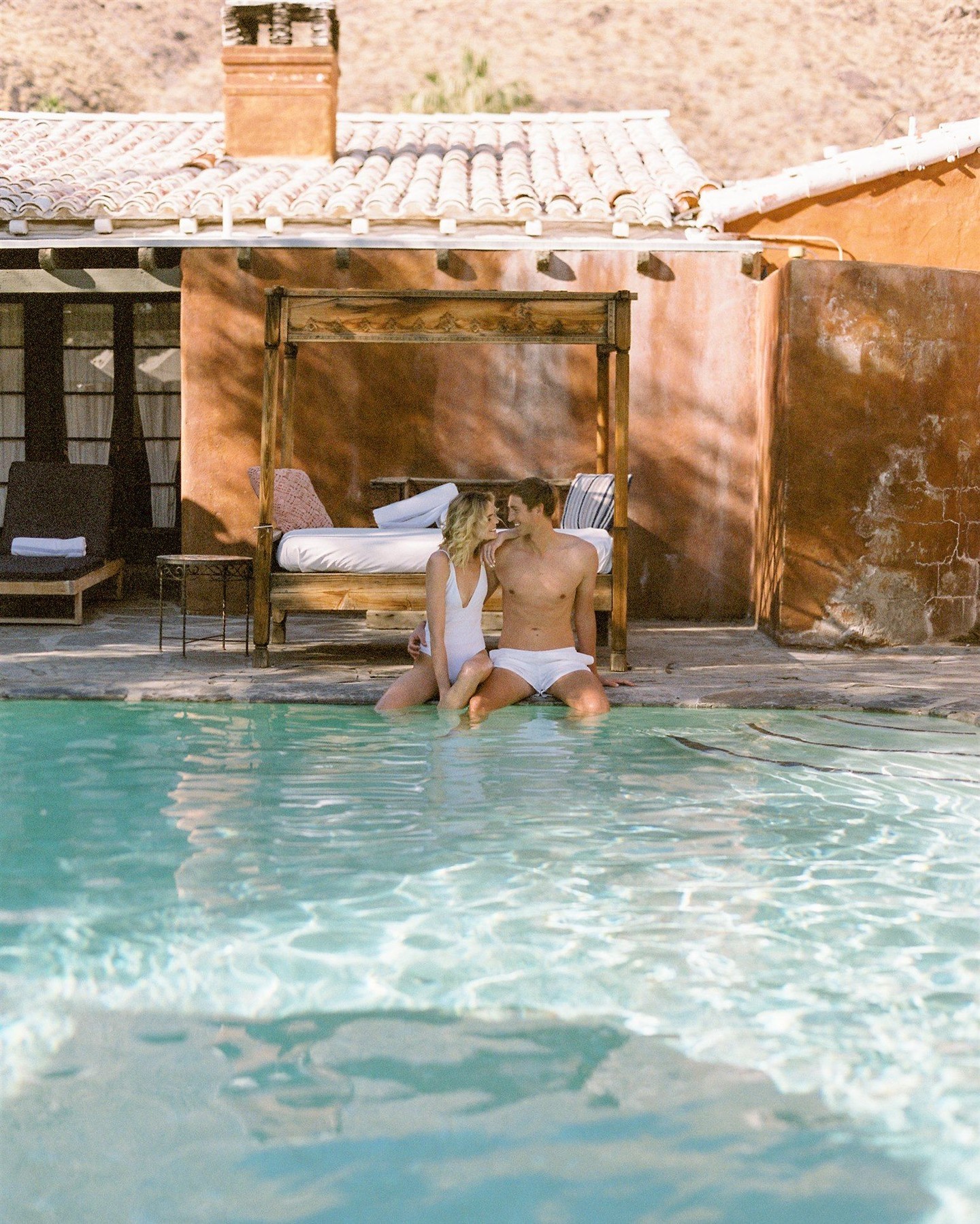 Disclaimer: This article contains affiliate links. We may receive a small commission if you make a purchase through one of these links. Please read our Affiliate Disclosure for more information.
Thinking about staying at Korakia Pensione?
The Korakia Pensione Hotel is a unique, one-of-a-kind property located in Palm Springs, California.
Modeled after a traditional Moroccan riad, this boutique hotel features lush gardens, fountains, and courtyards. Guests can stay in one of the twenty-eight guest rooms or suites, all of which are decorated in Moroccan style with colorful tiles and fabrics.
It is the perfect place to relax and escape the hustle and bustle of everyday life. Whether you spend your days lounging by the pool, exploring the nearby Desert Hot Springs, or getting pampered at the on-site spa, you're sure to have an unforgettable experience here.
But is it "the sexiest hotel in America" as it was once called by the New York Times?
Check out our full review below to find out!
Location
Nestled at the base of the San Jacinto Mountains in Palm Springs, Korakia Pensione is an oasis of tranquility and luxury. The Moroccan-inspired hotel is the perfect place to escape the hustle and bustle of everyday life and enjoy some much-needed rest and relaxation.
With its lush gardens, tranquil pools, and serene spa, Korakia Pensione Hotel offers everything you need for a relaxing getaway. And with its convenient location just minutes from downtown Palm Springs, you'll have plenty of opportunities to explore all that this vibrant city has to offer.
See also: 6 of the Best Hotels in Palm Springs
Style and Character
The Korakia Pensione Hotel is a unique and characterful hotel, with a style that sets it apart from any other accommodation in the area. The building itself is made up of two grand villas with intricate arched ceilings and sweeping archways, giving it an air of elegance and old-world charm.
In addition to the building's architecture, the hotel also exudes style through its decor and furniture choices. Here you will find luxurious silk cushions, beautiful hanging laterns, Mission-style furnishings, and opulent rugs that compliment the rich red walls. All of these elements come together to create an overall aesthetic that is both elegant and exotic, exuding sophistication and luxury at every turn.
If you are looking for a place to stay that is full of character and oozing style, then look no further than Korakia Pensione Hotel.
Rooms and Suites
The accommodation at Korakia Pensione is split between two beautiful villas, one in a Moroccan style and one in a Mediterranean style. Guests can enjoy a variety of rooms and suites within each villa, including bungalows, guesthouses and studios, each beautifully appointed with luxurious amenities.
Moroccan Villa
Step inside the Moroccan villa at Korakia Pensione Hotel and experience a taste of North Africa right in the heart of Southern California. This beautifully restored villa, originally built in 1924, is one of the most unique and charming properties in Palm Springs. From the moment you walk through the door, you'll be transported to another world, surrounded by alluring Moroccan decor and breathtaking views of the San Jacinto Mountains.
Whether you're looking for a romantic escape or a unique place to host your next gathering, the Moroccan villa is sure to impress.
You can book a Queen Room in the Moroccan villa starting from $463 a night.
The Mediterranean Villa
This gorgeous villa was once owned by J. Carol Naish, an early silent-screen star. The property blends the charm of Southern Europe with North African accents throughout its structure. Using a variety of textures and colors, the outdoor area of the Naish property lends an exotic feel to its poolside experience. Within the sun-drenched pool area itself, the villa and bungalows' exterior walls greet visitors with a vivid blend of earth-tone hues, that range from deep ocher, rusts to tawny yellows and stone.
You can book a Studio in the Mediterranean villa starting from $553 a night.
Staff and Service
When you stay at Korakia Pensione, you can expect to be treated like royalty. The staff is dedicated to offering attentive, yet non-intrusive service that will make your stay as comfortable and relaxing as possible. From serving up a delicious home-cooked breakfast to setting up poolside or lighting lanterns for a magical evening, the team go above and beyond to make sure you have a memorable experience.
Amenities at Korakia Pensione
When it comes to finding the perfect place to stay on your next vacation or getaway, there are certainly no shortage of options. But if you're looking for an experience that is both luxurious and unique, you simply can't beat the amenities offered by the Korakia Pensione. From its spectacular Mediterranean architecture and beautifully landscaped gardens, to its impressive selection of spa treatments and gourmet dining options, the Korakia Pensione really does have something for everyone.
Whether you're looking to relax with a massage or take a late night dip in the indoor pool, this upscale hotel has all of the top-notch features that discerning travelers crave.
Cruiser bikes
Looking for a unique and convenient way to explore Palm Springs? Then hop on one of the stylish cruiser bikes!
The bikes are available for unlimited use by guests throughout their stay, and come complete with baskets for shopping convenience. Plus, if you're looking to tour the town or get a glimpse of the nearby residential architecture, the front desk will happily provide you with a map of bike-friendly routes around Palm Springs.
Swimming Pools
Looking for a refreshing escape? Take a dip in one of Korakia Pensione's saltwater heated pools. Surrounded by enchanting Moroccan architecture, the pools are perfect for relaxation day or night. With views of the majestic San Jacinto Mountains, you can enjoy a peaceful swim under the stars or take a soothing dip in the morning sun. Open 24 hours, the pools are always ready for a refreshing swim.
Spa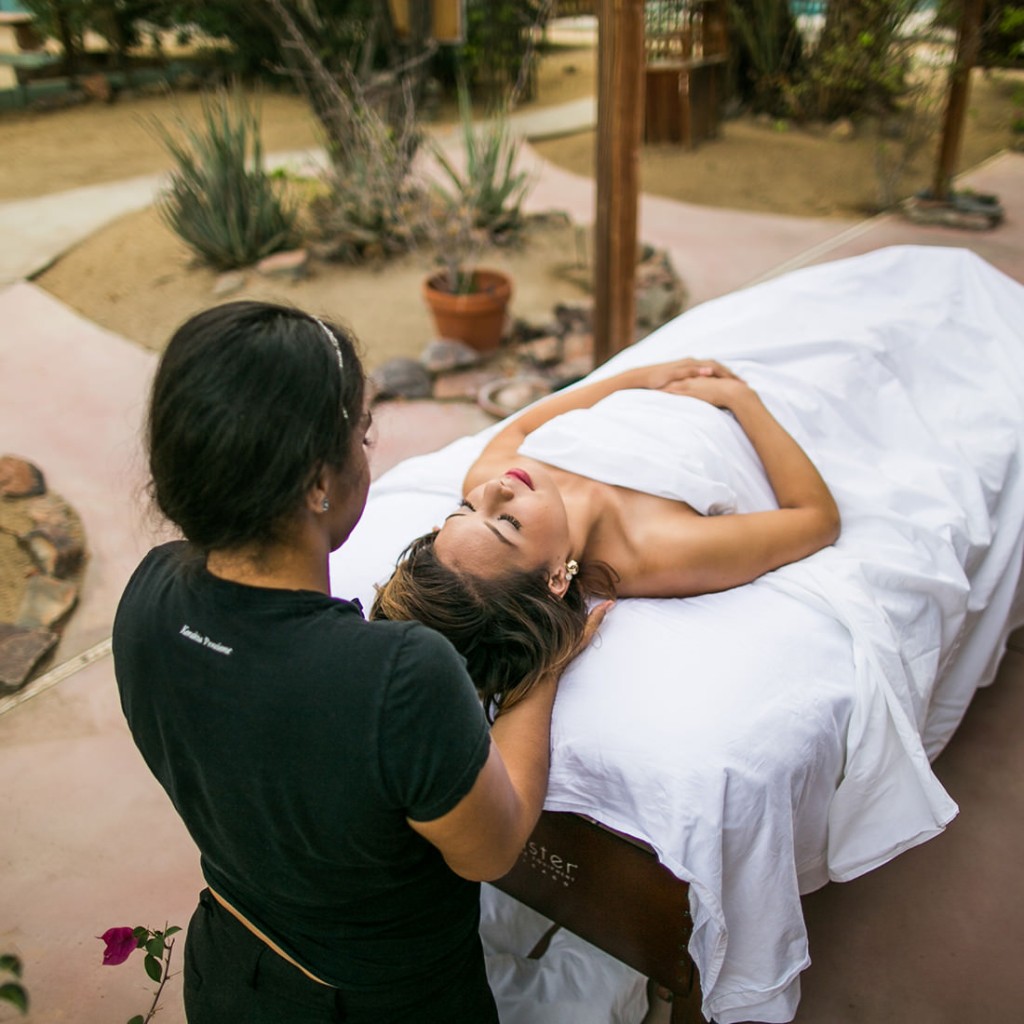 Step into a world of tranquility and renewal at the luxurious spa. Expertly trained therapists will help you melt away your stress and leave you feeling refreshed and rejuvenated. Indulge in a treatment in our peaceful indoor/outdoor spa lodge, or opt for an in-room session for added privacy.
Whatever your preference, you are sure to leave feeling relaxed and revitalized.
Click here to see the full list of treatments available at Korakia Pensione.
Yoga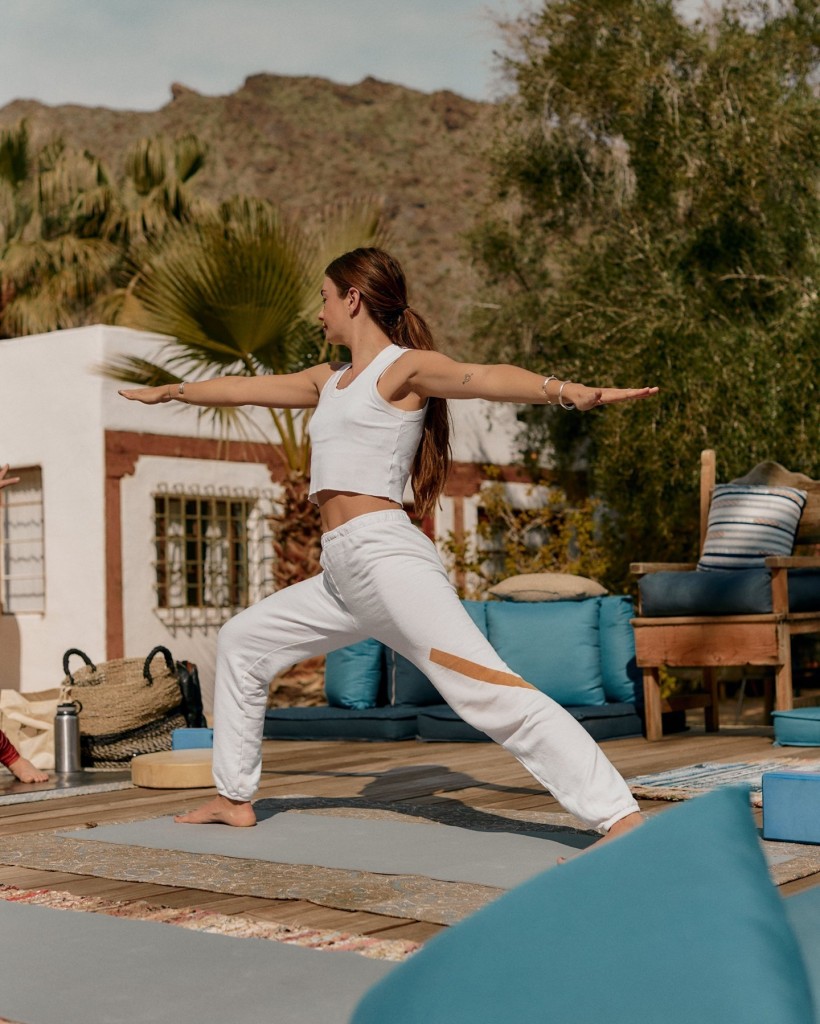 Start your day with a yoga class at Korakia Pensione Hotel. Experienced instructors will guide you through a series of sun salutations and other poses that will help you center and calm yourself before the day begins. Classes are adapted to the energy and experience of all guests, so no matter what your level of experience is, you'll feel right at home.
Private sessions are also available if you want more one-on-one attention.
Meditation
Need to clear your head? Take a break from the noise of everyday life with a morning meditation session at Korakia Pensione. Escape to the quiet calm of the desert and let the sun fill your senses while you focus on finding peace within yourself.
Outdoor Cinema
After a long day of exploring Palm Springs, there's nothing better than kicking back and watching a classic movie under the stars. Korakia Pensione's outdoor cinema is the perfect spot to do just that. Relax in the warm desert night air as you watch your favorite actors on the big screen. It's a truly unique experience that you won't want to miss.
Food and Drink
If you are looking for a luxurious and relaxing way to enjoy all the culinary delights of southern California, look no further than the Korakia Pensione. This enchanting resort offers a fusion of traditional Mediterranean cuisine with new, innovative twists on the classics.
Whether it's a freshly baked croissant in the morning or exquisite tapas in the afternoon, Korakia Pensione carries all your favorite food and drink options. And best of all, the luxurious garden setting provides an idyllic environment for you to truly unwind and savor every bite.
Breakfast
Start your day in paradise with a delicious breakfast. Indulge in a variety of home cooked options including the signature Moroccan pancakes, while sipping on fresh ground coffee. If you're not an early bird, no problem! Your breakfast can be delivered straight to your room.
Lunch
If you're looking for a leisurely lunch option during your stay at Korakia Pensione, look no further than the poolside lunch menu. Have your meal in your room or private courtyard, so you can soak up all the sun and serenity that Korakia has to offer. With a variety of fresh and delicious options to choose from, we're sure you'll find the perfect dish to enjoy while relaxing by the pool.
Moroccan Tea
Moroccan Tea time is the perfect way to refresh each afternoon and indulge your senses. With the traditional service every afternoon at Korakia Pensione, you'll feel right at home in the Moroccan culture of hospitality and friendship. So pour yourself a glass and lounge by one of our fire pits, and enjoy the conversation with other guests.
What are the Rates at Korakia Pensione?
The rates at Korakia Pensione vary depending on the season and the type of room you book. Rates start at $463 per night for a Queen Room, and they can go up to $2,543 per night for an King Suite.
Click HERE to check rates and book a room at Korakia Pensione.
How to get the best deal at Korakia Pensione
There are a number of tips and tricks that can help you get the best deal. Our team of travel experts have compiled a list of their top tips to help you save money on your stay at Korakia Pensione:
Book in adavance
First, it's always a good idea to plan ahead and book your trip well in advance, as this will give you access to the best rates. The most competitive rates for Korakia Pensione may be obtained by booking three or more months in advance.
Stay in the off-season
Another important factor is timing: you can often get a better deal by traveling during the 'shoulder season' or low season. For Palm Springs, this typically means avoiding the winter months when rates are at their highest.
We discovered that the cheapest rates at Korakia Pensione begin in May and continue through September.
Stay mid-week
Another way to save money on your stay is to visit during the week, as rates are typically lower Tuesday through Thursday.
On Tuesday and Wednesday nights, our staff discovered that rates were typically 15% lower than on weekends.
So, if you're flexible with your travel dates, booking a mid-week stay can help you save a significant amount of money.
Use the Booking.com Price Guarantee
Booking.com offers a price guarantee that promises to refund the difference if you find a lower price for the same room on another website. This guarantee applies to hotel rooms booked through Booking.com, and it applies to both before and after you book.
If you find a lower price, simply contact Booking.com customer service and they will refund the difference.
With these tips in mind, you'll be sure to get the very best deal at Korakia Pensione.
Korakia Pensione YouTube Videos
You can learn a lot from YouTube, especially when you find informative vloggers who want to share how amazing Korakia Pensione is! Not only do they talk about their experience, but they also give some top tips on what to do on your vacation in Malibu.
Annamae Joy
In this video, Vlogger Annamae Joy gives a tour of the Korakia Pensione and shares her top tips for visiting Palm Springs.
Abby Lee
Abby Lee is a California-based wedding planner. In this video, she gives a tour of the Korakia Pensione and discusses why it's the perfect venue for a romantic getaway.
Frequenty Asked Questions
To save you some time, we've gone ahead and compiled a list of some of the most frequently asked questions about Korakia Pensione:
How much does it cost to stay at Korakia Pensione?
The rates at Korakia Pensione vary depending on the season and the type of room you book. Rates start at $463 per night for a Queen Room, and they can go up to $2,543 per night for an King Suite.
What is the best time to visit Korakia Pensione?
The best time to visit Korakia Pensione depends on your budget and your preferences. If you're looking for the best deal, we recommend booking in advance and staying during the off-season or shoulder season.
If budget is no concern and you're looking for the best experience, we recommend visiting during the winter months.
Is Korakia Pensione family-friendly?
Korakia Pensione is not a family-friendly hotel, as it does not have any room types that are suitable for families or children. This hotel is best suited for couples, friends, or solo travelers.
What is the best way to get to Korakia Pensione?
The best way to get to Korakia Pensione is by car. To get there from the center of Palm Springs, simply head south on 10th Avenue until you reach the main exit for Steiner Road. From here, follow Steiner until you come to the Summer Place entrance on your left. Take this road for about a mile, then turn left onto Caliente Road. Follow this road for about a half mile until you see the Pensione sign on your right.
Parking is available in front of the front gate or to the left behind the bamboo wall.
Is there Parking at Korakia Pensione?
Yes, Korakia Pensione offers free parking for all guests.
Is Korakia Pensione pet friendly?
No, Korakia Pensione is not a pet-friendly hotel.
What are the check-in and check-out times at Korakia Pensione?
The standard check-in time at Korakia Pensione is from 16:00, and the standard check-out time is by 11:00. However, early check-in and late check-out is be possible for an additional fee.
Are there any restaurants at Korakia Pensione?
No, there are no restaurants at Korakia Pensione. However, there is a café on site that serves breakfast and lunch. In addition, there are several restaurants located within walking distance of the hotel.
Is there a pool at Korakia Pensione?
Yes, Korakia Pensione has two pools – a main pool and a smaller, more intimate pool located in the Moroccan courtyard. Both pools are heated and open year-round.
Is Korakia Pensione the sexiest hotel in America?
Korakia Pensione is a beautiful, romantic hotel that is perfect for couples or solo travelers. The hotel offers stunning views of the Palm Springs area, and it is within walking distance of several restaurants and cafes. While the rates can be expensive, they are well worth it for the experience.
So, is Korakia Pensione really the sexiest hotel in America?
We think so! With its unique blend of Moroccan and bohemian style, stunning setting, and luxurious amenities, it's easy to see why this hotel is considered one of the sexiest hotel in America. So if you're looking for a relaxing vacation with your significant other, be sure to book a room at Korakia Pensione!