6 of the Best Hotels in Palm Springs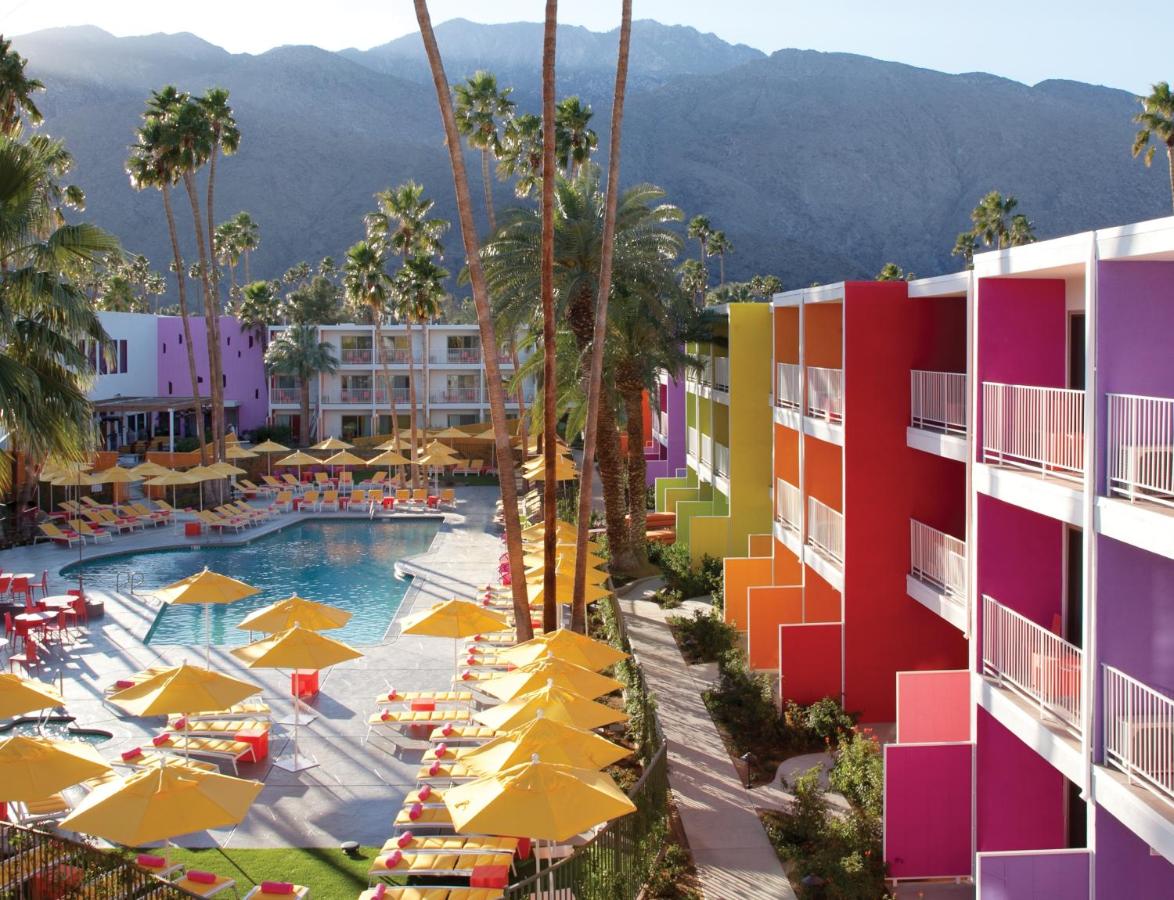 Disclaimer: This article contains affiliate links. We may receive a small commission if you make a purchase through one of these links. Please read our Affiliate Disclosure for more information.
Are you looking for the Best Places to Stay in Palm Springs?
Great, let's get started!
Palm Springs is one of the worlds most unique destinations, located in the Coachella Valley of California and surrounded by the San Jacinto mountains. It was recently named the "Coolest Small Town in America" by Budget Travel magazine and is consistently ranked among the best places to live, work and visit in the United States.
Just a few miles from popular tourist destinations like Joshua Tree National Park, Mecca, and Anza-Borrego State Park, Palm Springs is the perfect escape from the hustle and bustle of Los Angeles and San Diego. Also, it's proximity to Los Angeles (only an hour drive away) makes it the perfect weekend trip for Angelenos looking to get away for a day or two.
With year-round sunshine, undeniable vintage glamour and countless celebrity connections, the city has long attracted those in the film, music and fashion industries. There's more than enough to keep visitors occupied here for days, from a hike in the mountains to a drink at one of the many rooftop bars or lounges.
Palm Springs Hotels
If you're looking for a sunny getaway, Palm Springs is the perfect place to stay. This Southern California desert oasis is home to many hotels, each with its own unique style. You can find historic hotels with old-Hollywood glamour, luxury resorts with world-class amenities, and budget-friendly properties that are perfect for families.
No matter what your preferences are, you're sure to find a hotel in Palm Springs that's just right for you.
So let's get into it! Here's our pick of the Best Hotels in Palm Springs:
ARRIVE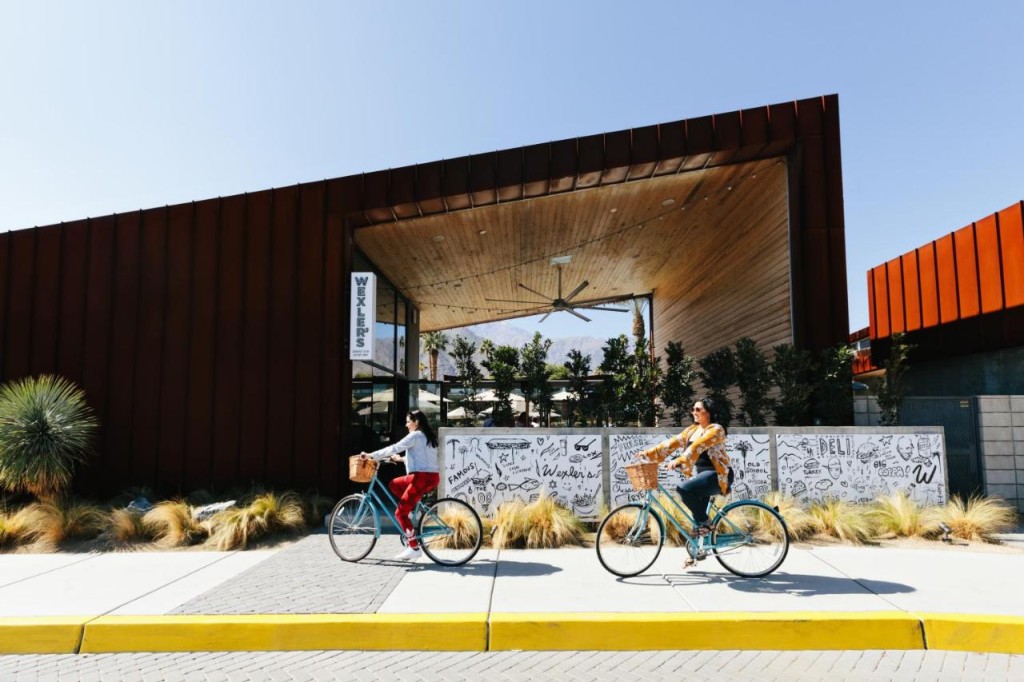 First on our list of the best hotels in Palm Springs is ARRIVE.
Located in Palm Spring's trendy downtown design district, ARRIVE is within walking distance of the best shopping, food, and fun in town.
Founded by Ezra Callahan, the sixth employee of Facebook, This unique and quirky hotel is an ode to modern architecture. The color palate is inspired by the city's iconic modernist architecture, but the vibrancy of its bright and bold designs keeps it contemporary.
The rooms are funky and modern with plenty of natural light. All rooms come with complimentary WiFi and an Apple TV, as well as a minibar priced the same as the local store, so you can party all weekend without worrying about your hotel bill racking up.
Within the main courtyard there is a pool and hot tub. There are also lounge areas, tables and chairs, and free bicycles available for guests to explore the neighbourhood.
The main restaurant, Reservoir, serves up modern Californian cuisine in an open-air setting. With mix and match tacos, fresh seafood, and a huge breakfast/brunch menu.
Craft beer and cocktails are available at the poolside bar all day and long into the night. On site there's an organic coffee shop, homemade ice cream parlour, gastropub and more — everything you could possibly need to enjoy your stay in Palm Springs.
Korakia Pensione
Our second pick of the best hotels in Palm Springs is Korakia Pensione.
If you're looking to unplug for the weekend in complete tranquility, this is the perfect hotel for you.
The Korakia Pensione hotel is situated on the edge of town, but a short walk takes you into the heart of downtown.
The resort is made up of two villas. The first, the Moroccan Villa is decorated with an eclectic collection of North African decor and colorful tiles. The second villa, the Mediterranean, features white washed walls and terracotta tiles throughout, making you feel like you're waking up in the hills of Tuscany, rather than the desert of California.
Each of the villas has a pool and selection of secluded outdoor seating areas and fireplaces. In the evenings, you can bask in the resort's romantic atmosphere when 150 white votive candles are lit and a movie is shown on the outdoor cinema screen.
Guests are provided with free bicycles so you can easily explore the neighborhood, and a weekly yoga and meditation class is offered for those looking to relax.
Every room at Korakia Pensione is completely unique. The rooms are divided among studios, one-bedroom suites, and two-bedroom houses. To allow you to fully disconnect, there are no TVs or telephones in the rooms. However, don't worry you can still make use of the complimentary Wi-Fi!
Breakfast is served every morning in the Moroccan courtyard. You can choose from a selection of fresh fruit, breads, yogurt and pastries. And if you're feeling like a lazy morning, you can also order breakfast straight to your room.
A complimentary Moroccan tea service is served each night with fruit and nuts. There is no dinner served on-site, but the nearby award-winning French restaurant Le Vallauris can drop off a delicious Moroccan dish from their menu to your room.
One thing to note if choose to stay at Korakia Pensione is that you cannot purchase alcohol at the resort, however, you are allowed to buy alcohol in the town and keep it in your room.
See also: Korakia Pensione Review (2022): The Sexiest Hotel in America?
The Saguaro Palm Springs
Next on our list of the best hotels in Palm Springs is The Saguaro Palm Springs.
If you're looking for a weekend of fun in the sun, make sure to put this hotel on your Palm Springs wish list.
Located just outside of downtown, you won't have trouble finding this resort. The bright hues of its exterior are made to resemble the flowers found in the desert of southern California. After spending a few years as a Holiday Inn, it was completely renovated into the luxury oasis now known as The Saguaro Palm Springs.
The most popular area of the hotel is the pool. In the summer months, there's always a DJ playing and it often becomes an after-party hotspot during the Coachella music festival.
The resort hosts 242 rooms, each different depending on whether you want a view of the pool, the mountain, the gardens, or the city. Every room in the resort is just as colorful as the outside and each has a private balcony and a workstation.
If you find yourself needing a break from the poolside party, you can make use of the resort's full-service spa. Book in for a manicure, pedicure, or a full body massage.
The onsite El Jefe restaurant serves breakfast, lunch and dinner from 8am to 11pm and specializes in tacos, burgers, quesadillas. It also has a large tequila bar.
L'Horizon Resort & Spa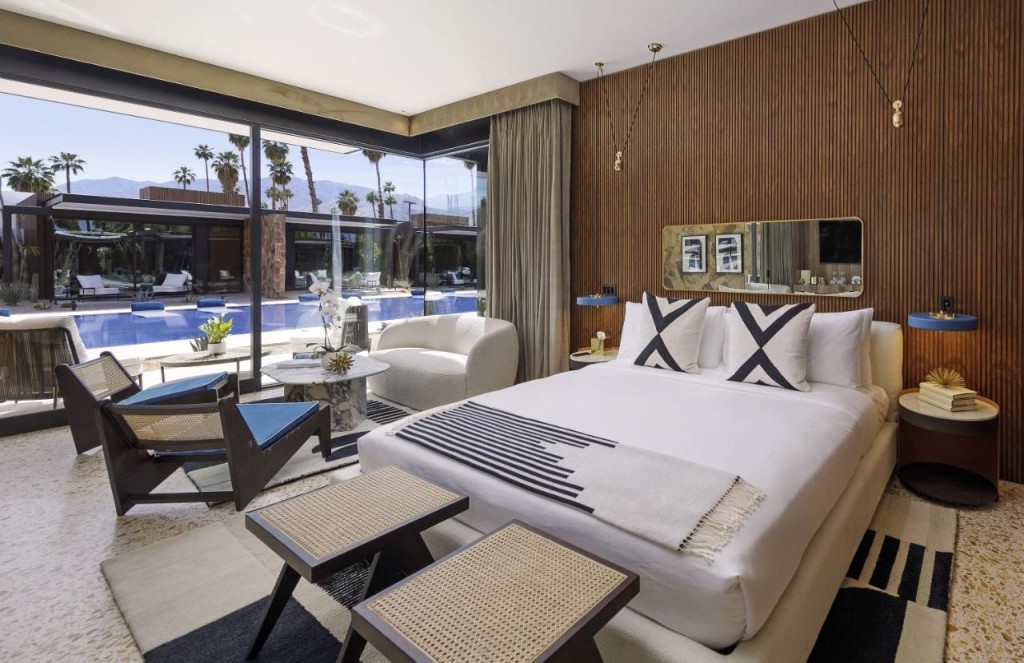 If you're looking for secluded luxury, look no further than L'Horizon Resort & Spa in Palm Springs.
Located just south of Downtown, L'Horizon Resort & Spa is an expansive three-acre resort with 24 luxurious bungalows and every amenity you could ever want.
The property was originally a private home, built as a Hollywood hideaway for the likes of Marilyn Monroe and Betty Grable, until the current owner Steve Hermann decided to fully renovate and turn it into an exclusive luxury resort.
Each of the rooms are designed to feel like a private residence and reflect the clean lines of a modern space. They feature mid-century silhouettes, and include eco-friendly materials such as wood and bamboo with minimal design.
A beautiful infinity pool lies at the heart of the resort, surrounded by lounge chairs, umbrellas and cabanas.
If you choose to stay here, be sure to make use of the resort spa where you can choose from multiple massage options, as well as facial and body treatments.
The resort's upscale al fresco restaurant SO•PA serves a variety of meals, with options for breakfast, lunch, and dinner. The Executive Chef, Jason Niederkorn, describes the menu as globally inspired, seasonal, and carefully sourced.
Ace Hotel Palm Springs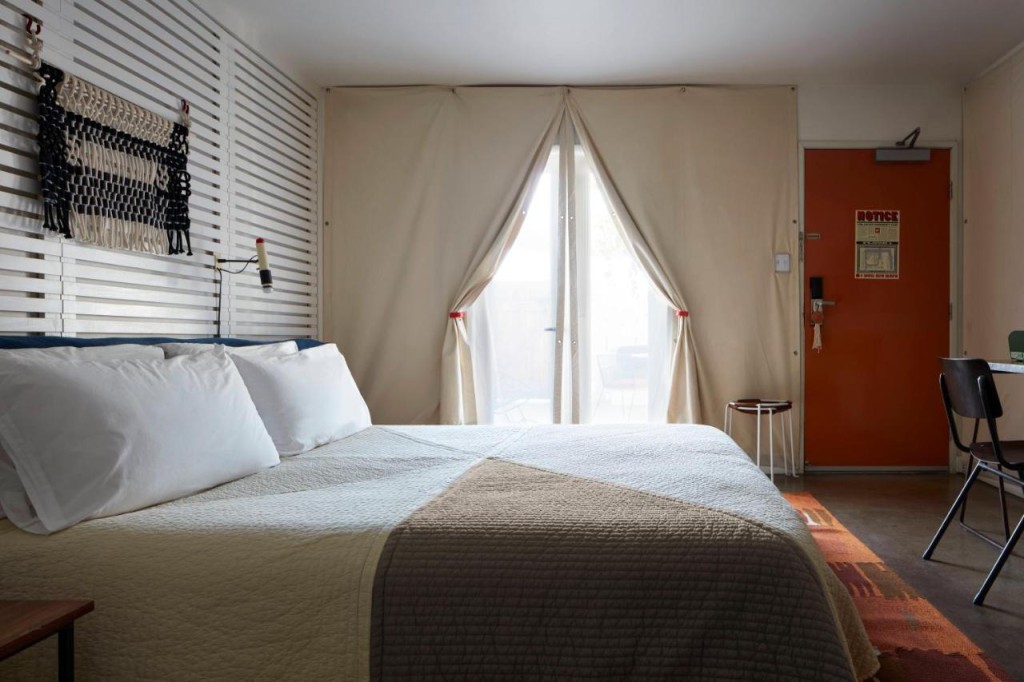 How could we put together a list of the best hotels in Palm Springs and not include the Ace Hotel?
The Ace is one of the most popular resorts in Palm Springs. Conveniently located less than a mile south of downtown, you'll find all the amenities you need nearby as well as some of the best hiking trails in the area.
With two large pools, spa facilities, an upscale restaurant and bar, and a live entertainment venue, this hotel is truly a full-service resort.
From live music to DJs, bingo, trivia contests, karaoke, and more, you can find something to enjoy every night at the Ace Hotel.
If you do find yourself needing a break from all the entertainment, the onsite spa offers a relaxation room, steam room, sauna, and four treatment rooms. Whether you're looking for a facial or some sort of massage, you can find it at this resort.
The 176 rooms are spacious, comfortable and each is individually decorated in a 'trendy' style to enhance your stay. All rooms come with a king-sized bed as standard and you can upgrade to enjoy garden views, outdoor fireplaces and private patios. Every room is architecturally unique — no two are identical in décor or furnishings.
The King's Highway restaurant is open daily from 7am-11pm. You can choose from a variety of locally sourced, organic dishes or order room service. The Amigo Room bar serves an eclectic mix of cocktails and light bites daily from 9pm-1.30am.
Kimpton The Rowan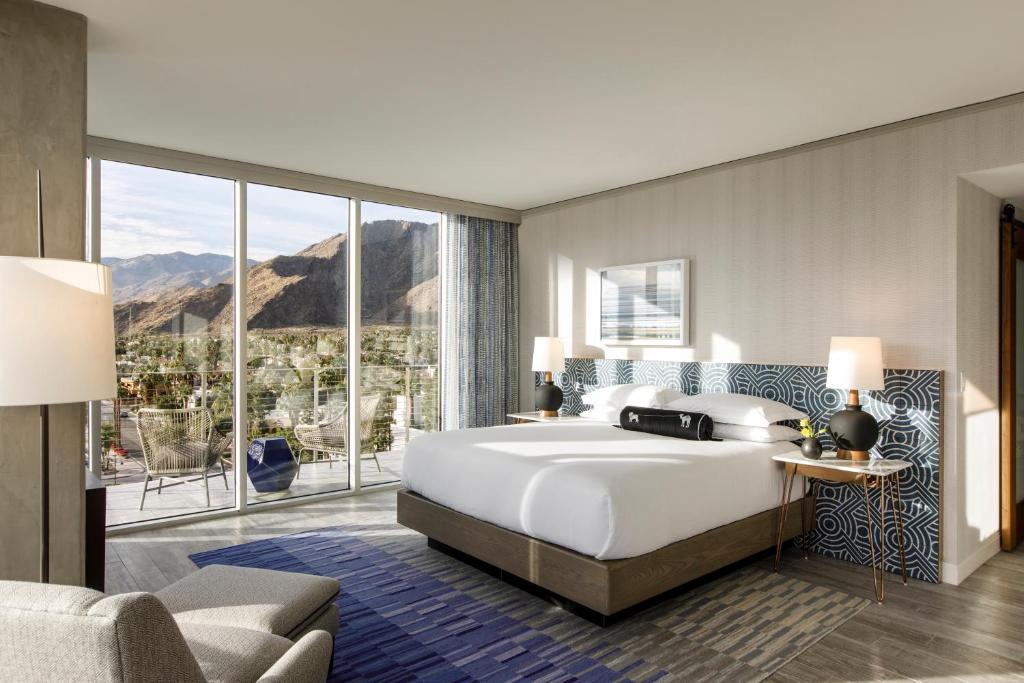 Last but not least on our list of the best hotels in Palm Springs is Kimpton The Rowan.
Kimpton The Rowan is one of the newest hotels in town, bringing with it urban sophistication, high-quality dining, and the first rooftop pool in Downtown Palm Springs.
The hotel has all the amenities you could possibly need for a comfortable stay, including complimentary wine tastings, free parking, bike rental, a fitness centre and yoga mats are all available. In-room spa services can also be arranged and concierge services are available 24/7.
And of course, there's the rooftop pool, which features rentable cabaña beds with unparalleled views of the nearby San Jacinto mountains.
Rooms are modern, spacious and bright, decorated with a neutral color palette of white and blue. You can upgrade for a private balcony, or go all out and book the hotel's presidential suite which covers the full width of the building.
Executive Chef Stephen Wambach has elevated the standard of fine dining in Palm Springs at Kimpton The Rowan with his passion for top-quality ingredients, bold flavors, and exceptional service. From the signature grilled octopus to the seared beef tenderloin, Chef Wambach's menu is nothing short of exemplar.
Hotels in Palm Springs California
Palm Springs is a city that offers something for everyone. If you're looking to relax by the pool, take in some history, or explore the great outdoors, this town has it all. We hope our list of the best hotels in Palm Springs helps you find the perfect place to stay on your next trip, but if not be sure to use the search box below:
Enjoyed our guide to the 6 Best Hotels in Palm Springs? Take a look at our other California Hotel Guides here.