8 of the Best Luxury Hotels in Maine
Disclaimer: This article contains affiliate links. We may receive a small commission if you make a purchase through one of these links. Please read our Affiliate Disclosure for more information.
For discerning travellers seeking a luxurious experience in Maine, our pick of the 8 best luxury hotels make for an unforgettable stay. Whether you're looking for an idyllic, peaceful getaway or something more bustling with plenty of entertainment and sightseeing within easy reach, these exceptional luxury hotels all offer guests exquisite accommodation in one of America's most beautiful states.
Why Maine is the Perfect Luxury Vacation Destination
When you're looking for a luxurious getaway, there's no better place to go than Maine! With its picturesque shoreline, quaint fishing villages, and fresh seafood galore, it's hard not to feel fully revitalized after a vacation here. Not to mention the many wonderful outlets for indulging your inner shopaholic: from high-end boutiques downtown to local artisan shops in the countryside, you won't be at a loss for exclusive finds.
And don't forget the incredible outdoor activities; given Maine's diverse geography, you can thrill seekers can find adventure in everything from whitewater rafting to island hopping. It all comes together to make one amazing experience – packed with relaxation and excitement alike – that will have you feeling like royalty throughout your stay.
The Best hotels in Maine for a Luxurious Stay
Whether you're looking for a romantic getaway or a family vacation, Maine has plenty of Luxury hotels to offer. From the luxury beachfront properties in Kennebunkport to the historic inns in Portland, there's something for everyone. Here are our top picks for luxury hotels in Maine.
Kennebunkport Captains Collection
The Kennebunkport Captains Collection Hotel in Maine is the perfect spot for a luxurious getaway. Located just one block from the beach and an 8-minute walk to Dock Square, this historic B&B exudes sophistication and style. Its rooms feature modern amenities like iPod docks, Wi-Fi, minifridges and fireplaces, while select rooms and suites come with heated marble bathroom floors and 4-poster beds.
And if you're looking to stay active during your stay, this property offers plenty of options with its lovely manicured lawn complete with bocce courts and sun loungers. Plus, a complimentary breakfast bar is available each morning. A luxurious retreat in beautiful Maine awaits at the Kennebunkport Captains Collection Hotel.
Check the latest rates at Kennebunkport Captains Collection on Booking.com.
16 Bay View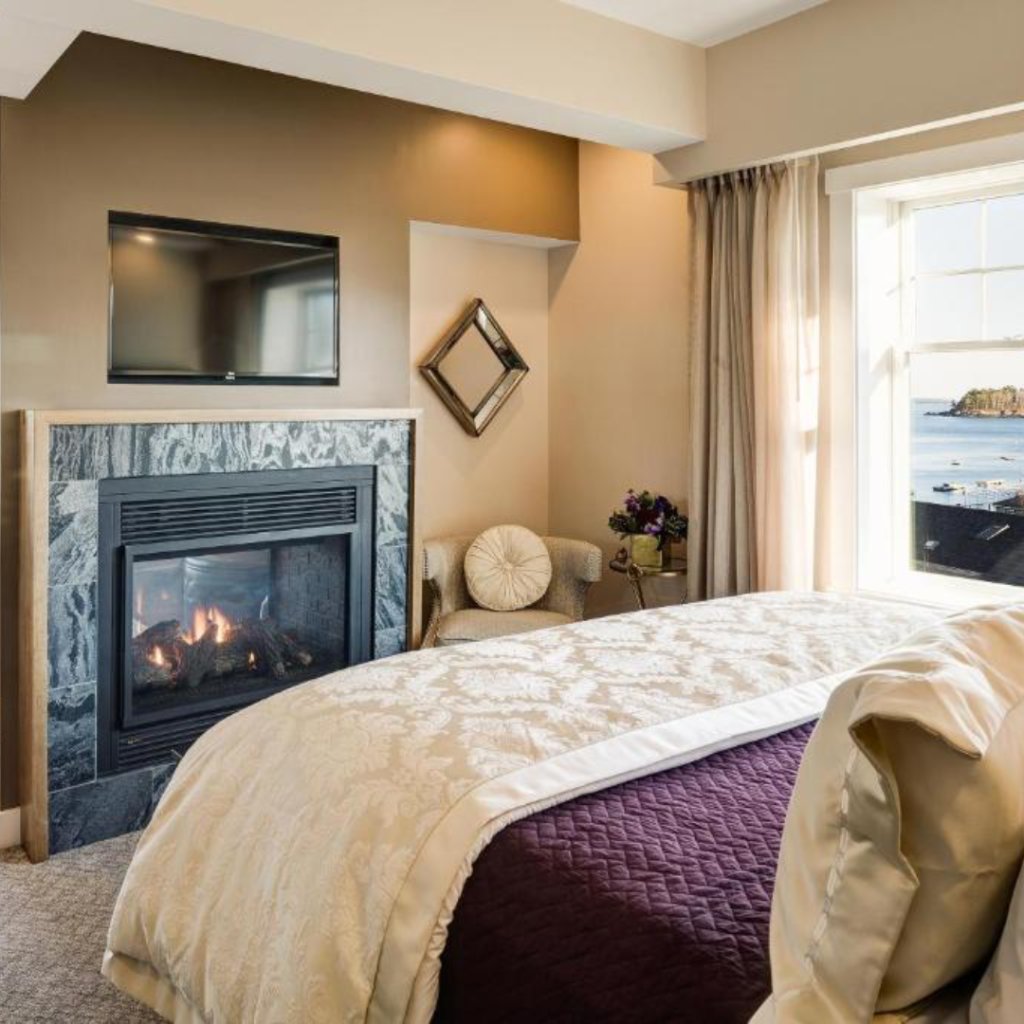 16 Bay View Hotel in Maine offers unparalleled views of Camden Harbor from a luxurious redbrick building just off Highway 1. Guests can take a short stroll down to Laite Memorial Beach, or meander up the verdant slopes of Mount Battie Trail just 3 miles away. Inside, chic rooms and suites boast wrought-iron balconies, gas fireplaces and flat-screen TVs; plus an array of indulgences such as microwaves, minifridges and sumptuous free-standing soaking tubs in the bathrooms.
A complimentary breakfast buffet and parking may be enjoyed, while the rooftop bar boasts a terrace with magnificent harbor views – perfect for champagne toasts with friends! Back inside, sip on gourmet cocktails surrounded by leather furniture and a romantic brick fireplace at the cozy lounge bar.
Check the latest rates at 16 Bay View on Booking.com.
Cliff House Maine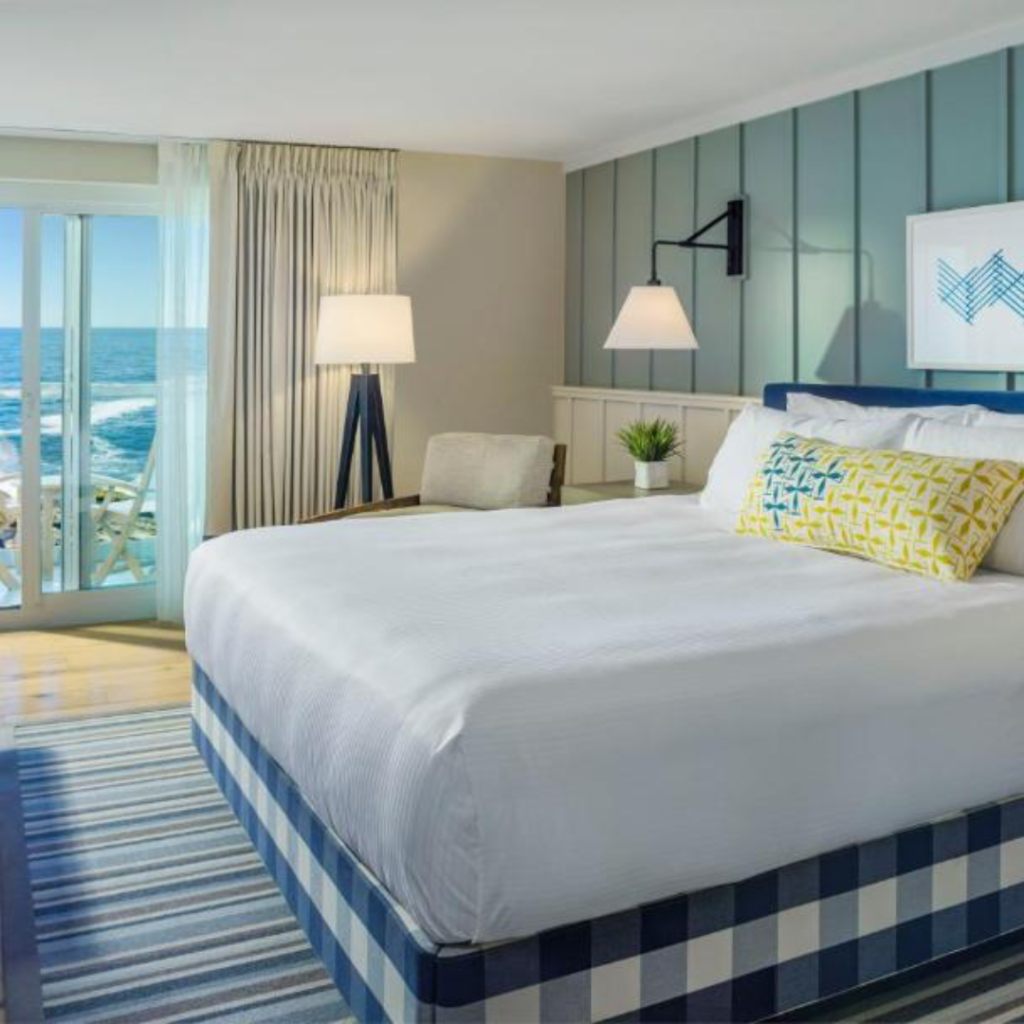 Located upon a cliff that overlooks the photo-worthy Atlantic, Cliff House Maine is a 70 acres resort and spa that will make anyone feel like a VIP. Rooms come equipped with flat-screen TVs and free Wi-Fi access to stay connected, as well as partial and full ocean or coastline views for added indulgence. Moreover, upgraded rooms for adults only are guaranteed to provide an extremely luxurious experience, featuring private balconies complete with wet bars, gas fireplaces, and workdesks.
The resort offers 4 dazzling pools plus an incredibly calming outdoor meditation labyrinth in its adults only full-service spa; one can also find a 2,500 sq ft fitness center on the property offering all sorts of classes. With delicious restaurants ranging from fine dining to poolside grills as well as comfy lounges available onsite, this retreat will surely be an unforgettable experience that should not be missed.
Check the latest rates at Cliff House Maine on Booking.com.
The White Barn Inn & Spa
Surrounded by lush foliage and a mere five-minute walk from the tranquil Kennebunk River, the family-run White Barn Inn & Spa exudes luxury and charm. Combining the rustic vibes of a former farmhouse with modern amenities, guests are blessed with a choice of bright country-style rooms, riverside suites and inviting cottages.
Not to forget the complimentary valet parking, tea time in the afternoon, loaner bikes and more – it's no wonder why this inn lives up to its reputation as one of Maine's high-end getaways. With an acclaimed restaurant, bistro, poolside dining experiences and cooking classes – there really is something for everyone! And if you're looking to treat yourself after a long day out – be sure not to miss their renowned spa.
Check the latest rates at The White Barn Inn & Spa on Booking.com.
Portland Harbor Hotel
Situated in the heart of downtown Portland, the Portland Harbor Hotel is an upscale experience for those looking for refined accommodations with modern amenities. Boasting individually decorated rooms and suites, guests will enjoy all the luxuries of home from their pillow-top beds to their own private bathrooms with soaking tubs and Wi-Fi access.
For added comfort, some rooms and all suites feature views of the courtyard garden, as well as separate sitting areas, fireplaces and whirlpool tubs. Plus, visitors can take advantage of a free car shuttle to the airport or train station as well as an on-site fine-dining restaurant and spa treatments. All these features make this hotel perfect for those venturing out for a romantic getaway weekend in Maine.
Check the latest rates at Portland Harbor Hotel on Booking.com.
Blind Tiger Guest House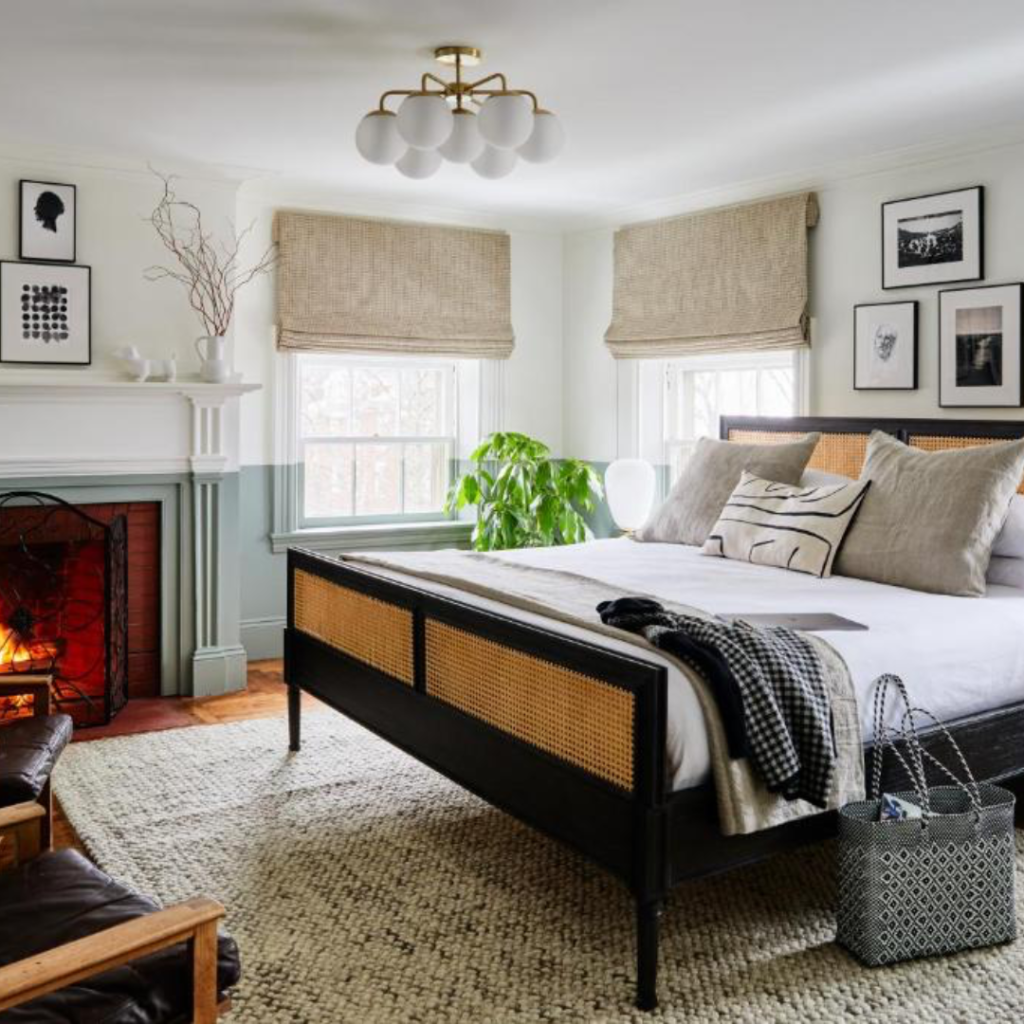 Blind Tiger Guest House beckons the city's most discerning guests with a luxurious experience. Situated in an 1823 Federal-style mansion complete with rooftop cupola, visitors who stay here will find themselves only a short walk from the classic Portland Museum of Art and just 1 mile away from all the restaurants, bars, and boutique shopping that the charming Old Port has to offer.
From elegantly designed rooms featuring private bathrooms, complimentary wireless internet connection, and flat-screen televisions to a luxurious suite offering a distinguished living room; Blind Tiger takes comfort to new heights. Guests also have access to its sumptuous conservatory, billiards room, and enclosed garden as well as its breakfast menu. For those looking for the ultimate holiday escape or simply wanting to soak up the cultural flair of downtown Portland—Blind Tiger Guest House awaits…
Check the latest rates at Blind Tiger Guest House on Booking.com.
Captain Nickels Inn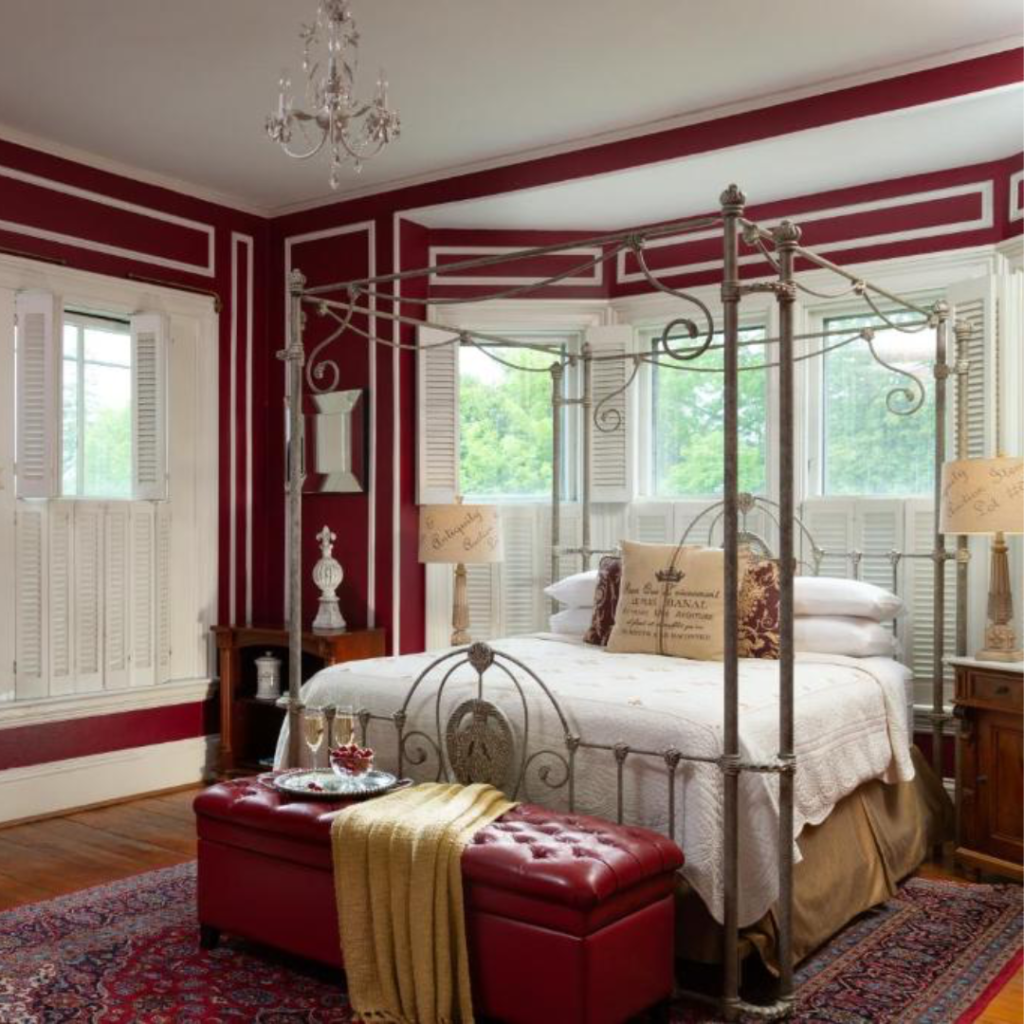 Captain Nickels Inn is certainly no ordinary getaway. This luxurious 19th-century in is surrounded by sprawling gardens and offers an exquisite selection of 8 rooms and suites, each exuding an old-world charm with the added modernity of en suite bathrooms, flat-screen TVs, free Wifi and Keurig coffeemakers. Not to mention that some provide private balconies with picturesque views of the bay!
Guests can unwind in the fine dining room and local restaurant serving homemade fare or tuck into a complimentary cooked breakfast served in the conservatory. What's more, wind down with a taste of cheese and wine while enjoying lively yet elegant conversations held in the guest lounge. Captain Nickels Inn has got it all for you to make truly wonderful memories.
Check the latest rates at Captain Nickels Inn on Booking.com.
The Tides Beach Club
Last but not least on our list of the best luxury hotels in Maine is The Tides Beach Club.
The Tides Beach Club in Maine is the ultimate destination for a luxury getaway. Located just steps away from Goose Rocks Beach, this airy clapboard house is the perfect spot for relaxation and indulgence after exploring Clock Farm or Rachel Carson National Wildlife Refuge.
Boasting chic bedrooms with modern amenities such as flat-screen TVs and Wi-Fi as well as marble bathrooms and high-end linens, guests can soak up the lush ocean views from the suite balconies while they enjoy the communal atmosphere of happy hour at the bustling farm-to-table restaurant plus bar.
For further luxe experiences a resort fee gives access to two pools, a spa and a wellness center at a nearby sister resort; furthermore, SUP trips, morning yoga classes, watercolor painting and mixology lessons are available to book within your stay to make it truly unforgettable.
Check the latest rates at The Tides Beach Club on Booking.com.
Luxury Hotels in Maine
All in all, Maine is the perfect luxury vacation destination for anyone who desires both peace and adventure. From luxurious stays to exquisite restaurants, from designer shopping to natural wonders, you are guaranteed the most memorable time of your life.
Whether you're looking for classic accommodations such as Blind Tiger Guest House, the refined elegance of Captain Nickels Inn or beachside relaxation at The Tides Beach Club—Maine is the perfect place to indulge your senses and escape from the hustle and bustle of everyday life. So don't hesitate any longer and book yourself into one of these luxurious hotels for an unforgettable experience.