6 of the Best Luxury Hotels in New Hampshire
Disclaimer: This article contains affiliate links. We may receive a small commission if you make a purchase through one of these links. Please read our Affiliate Disclosure for more information.
Escape the hustle and bustle of your everyday life and treat yourself to a luxurious stay at one of New Hampshire's many upscale hotels. Whether you're looking for a romantic getaway or a spa weekend with the girls, these luxury hotels will have you feeling pampered and refreshed in no time. So check out our list of the best luxury hotels in New Hampshire and start planning your next glass-of-Champagne-in-hand vacation today.
Why New Hampshire is the Perfect Luxury Vacation Destination
New Hampshire is quickly becoming one of the most sought-after luxury vacation destinations. With its natural northern New England beauty, four distinct seasons, and ever-growing offerings of high-end experiences, it is no wonder so many travelers are now calling it home away from home. From pristine beaches to crystal clear mountain lakes for swimming and boating – and of course hiking- there's something for every traveler willing to explore this idyllic landscape.
And from world-renowned breweries to gourmet restaurants, New Hampshire has upscale accommodations for dining and lodging that complete any luxe getaway package. So if you're looking for a luxurious nature escape to relax and recharge, be sure to add New Hampshire to the top of your 'must go' list.
The Best hotels in New Hampshire for a Luxurious Stay
For a luxurious stay, there's no better place than New Hampshire. Home to some of the grandest, most alluring lodgings in the Northeast, the state is filled with options that promise comfort and sophistication. Whether you wish for unbridled adventure or pure relaxation during your stay in New Hampshire, these 6 luxury hotels will be sure to delight you!
Wentworth by the Sea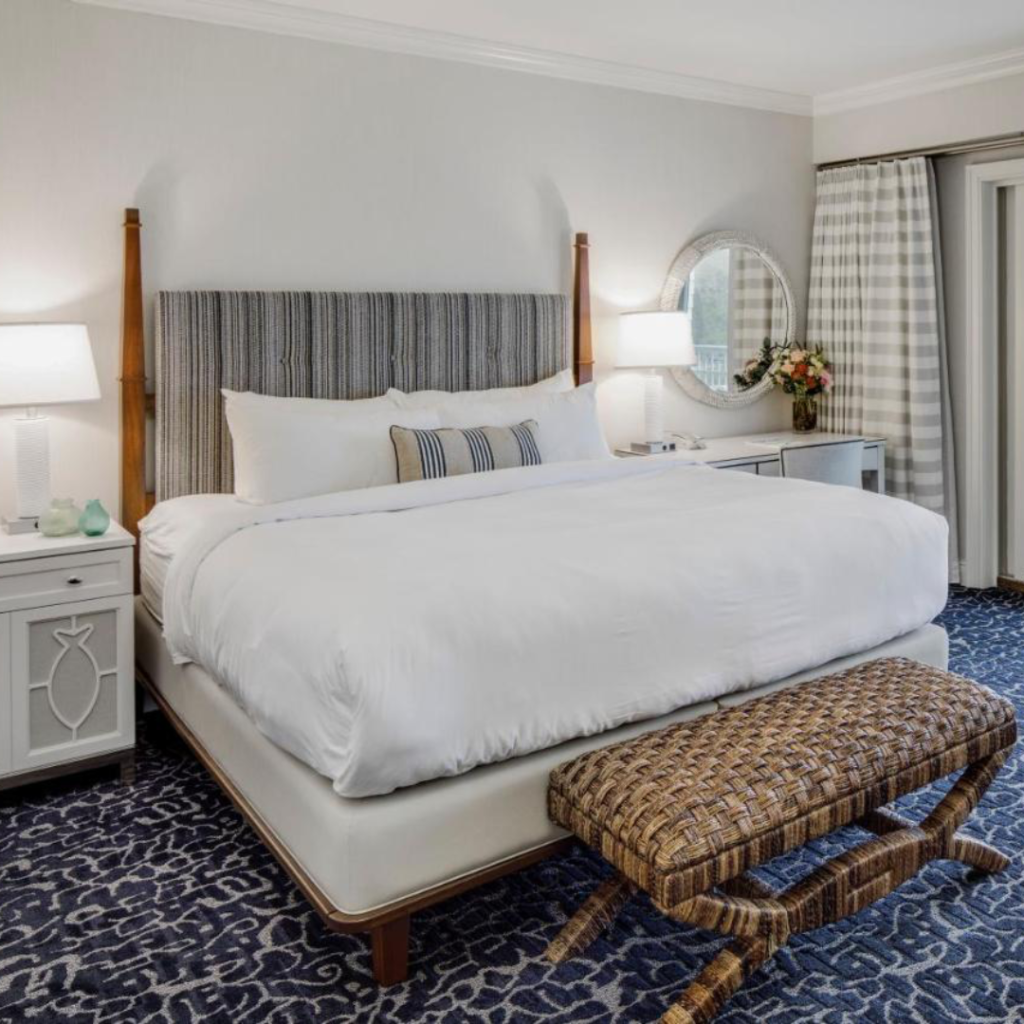 For an unforgettable seaside escape, look no further than Wentworth by the Sea, A Marriott Hotel & Spa in New Hampshire. Luxuriate in oceanfront views as you sip a cocktail at one of the two on-site restaurants or take a refreshing dip in either the indoor or heated outdoor pool.
Choose from a range of refined rooms featuring free Wi-Fi, flat-screens and desks, plus minibars and coffeemakers; select upgraded rooms even boast ocean views. Suites feature separate living areas with amenities such as fireplaces and tour balconies, while some come complete with kitchens and whirlpool tubs to further enhance your stay.
Check the latest rates at Wentworth by the Sea on Booking.com.
Hanover Inn Dartmouth
The exclusive Hanover Inn Dartmouth in New Hampshire is the ultimate destination for a stylish getaway. Discreetly located on the beautiful Dartmouth campus, this historic hotel boasts chic interiors and all the modern amenities you could wish for. From free Wi-Fi to flat-screen TVs and minifridges readily available on request; there is truly no better accommodation.
Don't miss out on their delicious selection of farm-to-table fare at their restaurant, as well as fresh-baked cookies in the lobby and delightful wines offered at their cozy bar. If that isn't enough, you're just steps away from Appalachian Trail hiking or a short drive from Whaleback Mountain skiing – you won't regret it!
Check the latest rates at Hanover Inn Dartmouth on Booking.com.
Mountain View Grand Resort & Spa
Nestled in New Hampshire's beautiful mountainous landscape, the Mountain View Grand Resort & Spa is an all-inclusive 19th-century getaway experience. With luxurious rooms boasting picturesque views and access to Wi-Fi, this one-of-a-kind resort offers an unforgettable stay with effortless amenities from golf courses and tennis courts to indoor and outdoor pools.
A yoga studio provides the perfect space for relaxation, while the spa will let you indulge yourself. At this haven between the woods and the State Park, guests can choose from 3 eateries before winding down in a movie theater or cozy up by a fireplace in one of the sumptuous suites. With something for everyone, Mountain View Grand Resort & Spa has become a beloved location for not just vacationers but event planners looking for something special too.
Check the latest rates at Mountain View Grand Resort & Spa on Booking.com.
Squam Lake Inn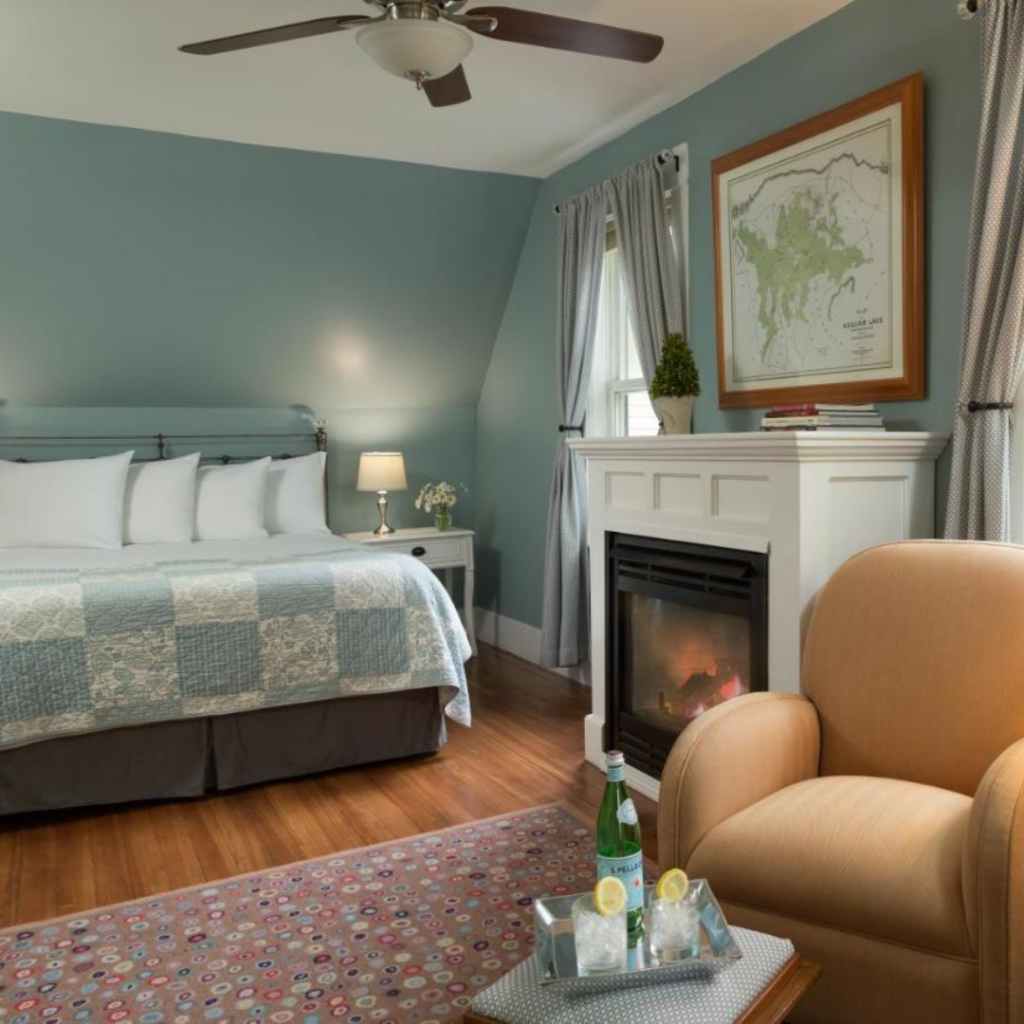 Squam Lake Inn is the ideal bed-and-breakfast destination for those looking to relax and unplug. This 19th-century farmhouse, nestled off the Daniel Webster Highway, offers guests a chance to experience tranquil lakeside views with modern conveniences. Each of its 9 rooms are filled with pleasant country-chic decor and offer flat-screen TVs, private bathrooms, and free Wi-Fi. Plus, some have additional seating areas or fireplaces, so guests can cozy up by the warmth of a flame for a perfect evening in.
The property also offers complimentary amenities such as parking and afternoon tea and dessert. To complete the cozy experience, indulge in a made-to-order gourmet breakfast in the dining room or on a picturesque garden-view deck. If you're feeling slightly more adventurous, you can explore hiking trails at the nearby Squam Lakes Natural Science Center, just 11 minutes away.
Check the latest rates at Squam Lake Inn on Booking.com.
Inn at Pleasant Lake
Savour a unique getaway at the magnificent Inn at Pleasant Lake, brimming with charm and character from its storied history. Discreetly located in the beautiful New England landscape, guests are afforded stunning views of Mt Kearsarge, Pleasant Lake, and beyond. Curated for discerning travellers, every room is tastefully furnished with classic designs and equipped with complimentary Wi-Fi and all the necessary amenities one requires to enjoy their stay.
Guests can choose to relax in their suite's elegant living room or luxuriate in an indulgent whirlpool tub while taking in the picturesque view. Free parking and hot breakfast: served elegantly in a refined restaurant — as well as afternoon tea — are also included along with access to a private lake beach and bar. Experience New England living combined with modern luxury at The Inn At Pleasant Lake; you won't be disappointed.
Check the latest rates at Inn at Pleasant Lake on Booking.com.
The Manor on Golden Pond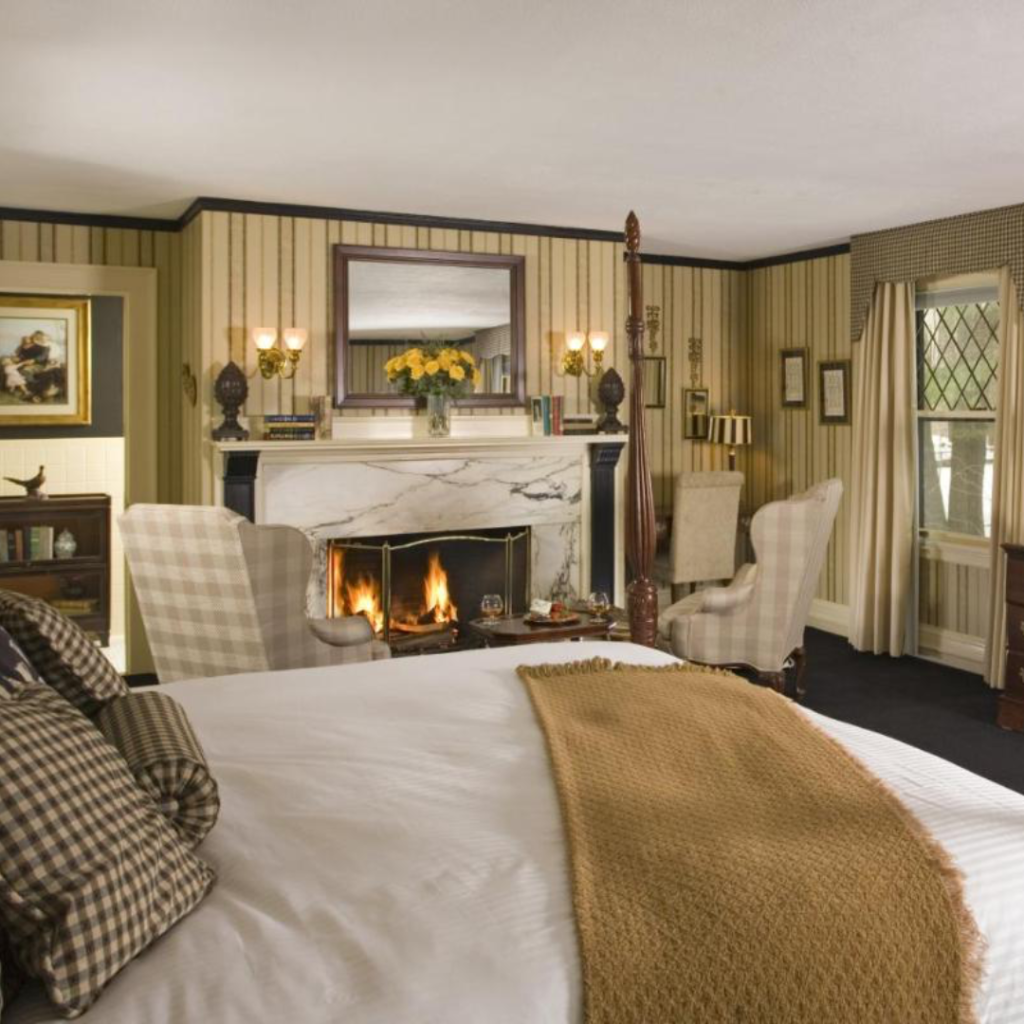 Immerse yourself in luxury and serenity at the unique and historic Manor on Golden Pond. Set on 14 acres overlooking Squam Lake, this exemplary inn from the turn of the century is an ideal spot to escape for a weekend or take an extended stay. Lovingly appointed guest rooms feature period furnishings, free Wi-Fi, Italian linens, and stunning views.
An array of amenities await you, from an elegant restaurant and a pub to a cozy spa and outdoor pool. Visit nearby attractions such as Squam Lakes Natural Science Center and Museum of White Mountains at Plymouth State University; or simply relax into a world of beauty, blissful rest, and refined service.
Check the latest rates at The Manor on Golden Pond on Booking.com.
Luxury Hotels in New Hampshire
New Hampshire has no shortage of luxury hotels to choose from. Whether you're looking for an elegant 19th-century farmhouse, a bed and breakfast with modern conveniences, or a historic inn by the lake, there's something perfect for every kind of traveler in this beautiful state.
From complimentary amenities like afternoon tea and parking to gourmet restaurants and private lakeside beaches, these luxurious properties offer everything you need for a memorable stay. So if you're planning your next getaway in New Hampshire, be sure to check out one of these exquisite destinations — it will surely make your trip even more special!