Hotel Joaquin Review (2022): The Best Kept Secret in Laguna Beach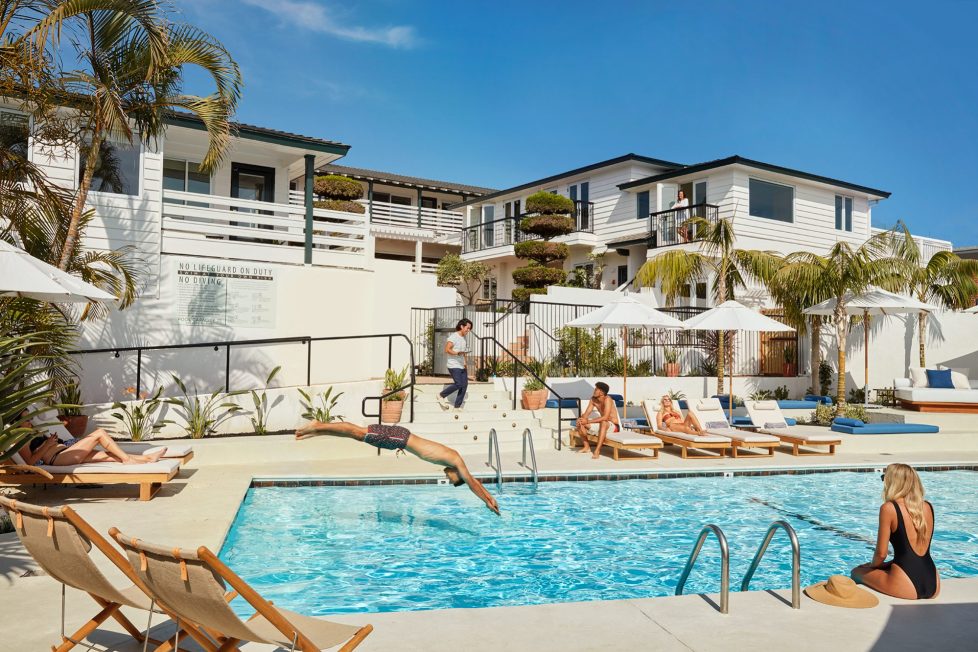 Disclaimer: This article contains affiliate links. We may receive a small commission if you make a purchase through one of these links. Please read our Affiliate Disclosure for more information.
Thinking about staying at Hotel Joaquin in Laguna Beach?
We recently had the pleasure of staying at Hotel Joaquin and absolutely loved it. Check out our full review below to see why we think this Laguna Beach Hotel is such a hidden gem.
If you're looking for a stylish and sophisticated hotel in Laguna Beach, look no further than Hotel Joaquin. This beautiful property offers a range of modern amenities, including an on-site restaurant and bar, an outdoor pool and terrace, and a treasure trove of complimentary amenities. The guest rooms are spacious and airy, with views of the surrounding gardens or the ocean. And the location is simply unbeatable – Hotel Joaquin is just steps from the beach, and close to all of the shopping, dining, and entertainment that Laguna Beach has to offer.
Hotel Joaquin
Everything you need to know about Hotel Joaquin is right here. You'll discover all you need to know about the hotel, such as rooms and amenities, as well as how much it costs per night and how to get the best deal.
Location
Hotel Joaquin is centrally located in the heart of Laguna Beach. This prime location allows guests to easily explore all that the area has to offer. The hotel is just a short walk from the beach, as well as the main shopping and dining areas.
In addition, Hotel Joaquin is within walking distance of many popular local attractions, including the Laguna Art Museum and Heisler Park. Whether you are looking to relax on the beach or explore all that Laguna Beach has to offer, this is the perfect place to stay.
See also: 5 Best Hotels in Malibu California
Style and Character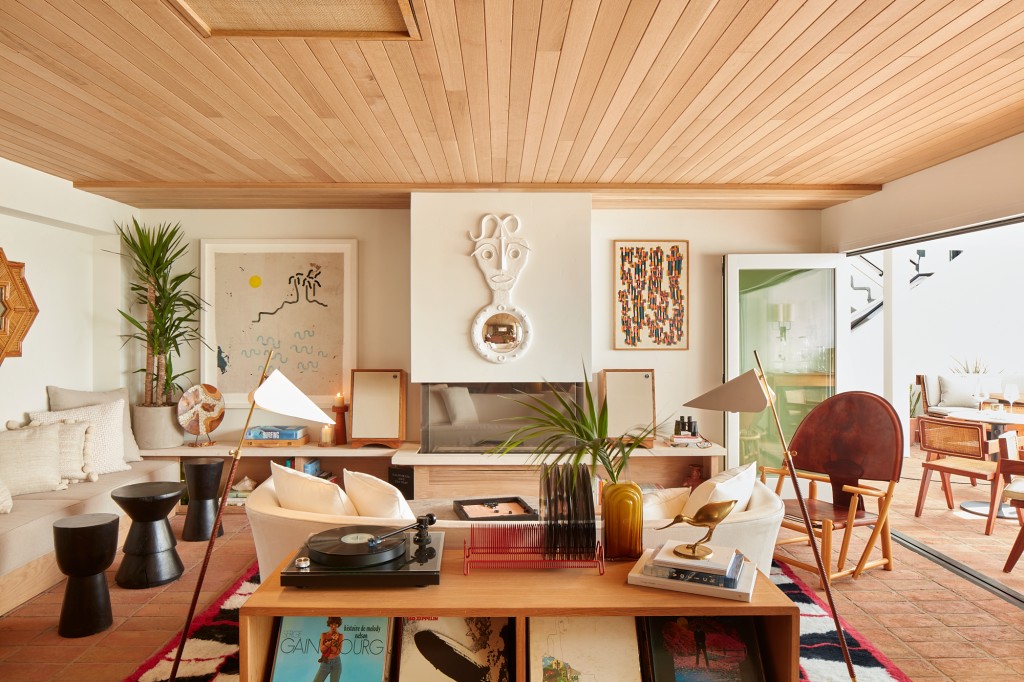 Located within the charming seaside town of Laguna Beach, Hotel Joaquin embodies the relaxed and understated style that is so typical of the area. From its streamlined furnishings to its soothing earthy tones, every aspect of this hotel has been designed with simplicity and understatement in mind.
Yet despite this subdued quality, there is also a sense of luxury and glamour to the hotel's design. This mix of casual elements with glimpses of elegance perfectly encapsulates the distinctive character of Laguna Beach, crafting a dynamic and inviting space for guests to enjoy.
Whether you're looking for a getaway from the hustle and bustle of city life or simply in need of relaxing by the sea, Hotel Joaquin is sure to hit all the right notes.
Rooms
Hotel Joaquin was designed by Studio Robert McKinley to embody chic, playful, and layered décor. With inspiration from the island of St.Barths, the 1950s Southern California beach culture, and the timeless aesthetic of the Mediterranean coast, each of the 22 rooms is uniquely designed with vintage pieces, customized furniture, and curated artwork.
If you are on a budget, the Serra Room is the perfect place to take in the magic of Laguna Beach. With its hillside view, you can delight in a king bed, open concept bathroom with marble vanity, bathtub, and hand-painted tile shower.
You can book the Serra Room starting from $542 per night.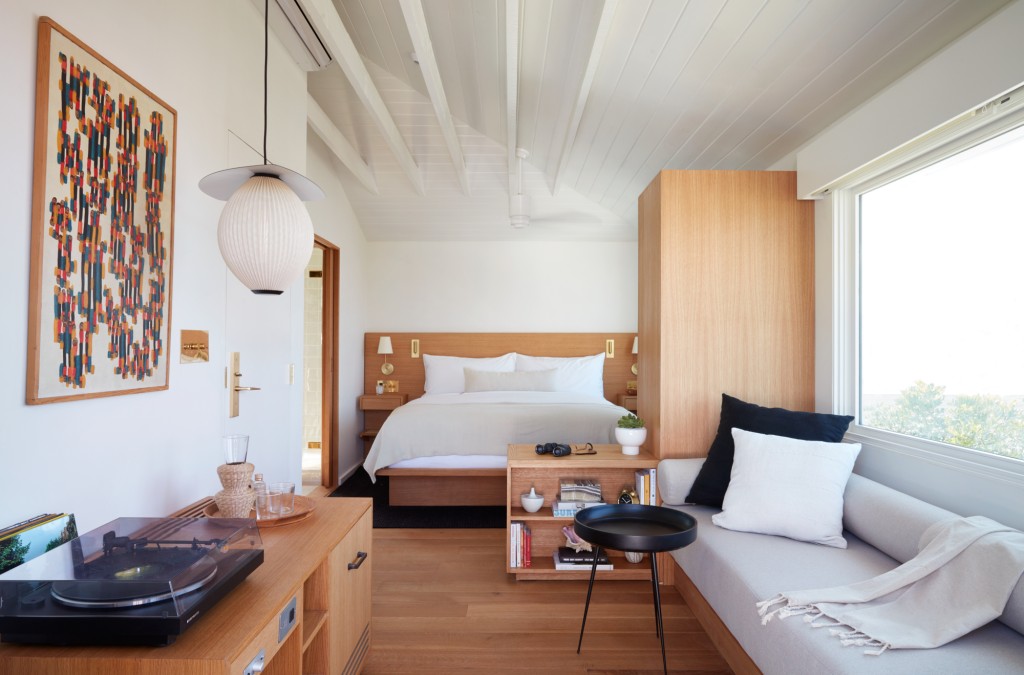 For unbeatable ocean views, be sure to book La Vue. Meaning "the view" in French, it is the perfect name for this premium room at Hotel Joaquin. With its giant picture window overlooking the ocean and Catalina Island, La Vue is one of the best places on the property to watch the sunset.
You can book the La Vue Room starting from $737 per night.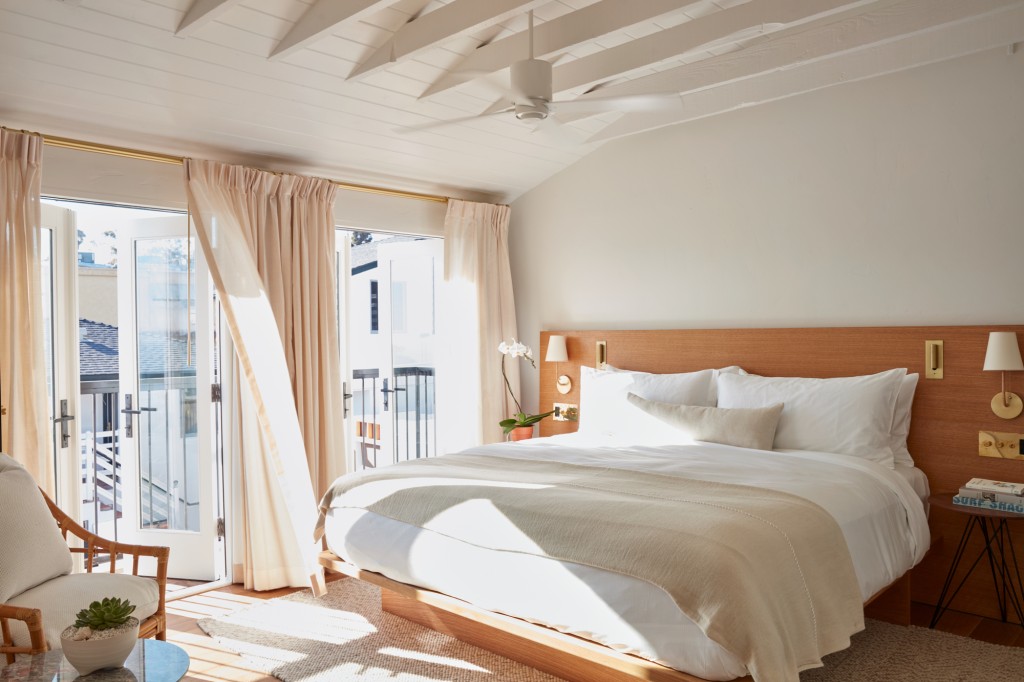 The Soleil Room is the perfect place to enjoy a peaceful getaway. With two sets of French doors that open out to a private Juliette balcony, you can take in stunning views of the garden, pool, and the Pacific Ocean. Vaulted ceilings and a stone-wrapped vanity add a touch of luxury, while the king bed ensures a good night's sleep.
You can book the Soleil Room starting from $737 per night.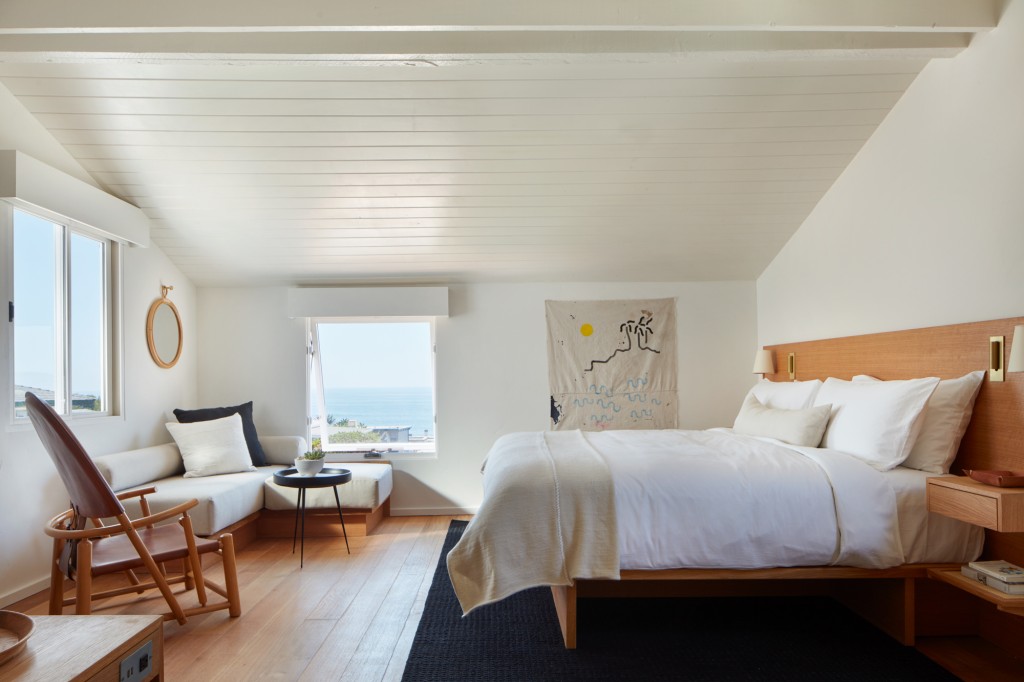 Descend into the Shaws room and you'll feel like you've been transported to a European flat, with its cozy yet chic atmosphere and stunning views of the ocean and gardens. Lounge on the chaise set beneath a window open to the fresh air, and let all your cares melt away as you gaze over the beachside rooftops.
You can book the Shaws Room starting from $775 per night.
Amenities
Guests at Hotel Joaquin benefit from a number of complimentary amenities. These include breakfast, all the gear you need for a fun-filled day of adventure, morning yoga sessions, and access to the hotel's eclectic vinyl collection. Whether you're looking to relax or explore everything Laguna has to offer, Hotel Joaquin has got you covered.
Morning Yoga
Looking to add some zen to your week? Complimentary yoga sessions take place every Wednesday and Saturday at 10 am on the Garden Deck. They're the perfect way to stretch and relax your body and mind.
Certified yoga instructors will guide you through a series of sun salutations and mindful breathing exercises, helping you to connect with your body and find your center. Whether you're a beginner or a seasoned yogi, you'll appreciate the serene atmosphere and beautiful setting.
Morning Coffee Service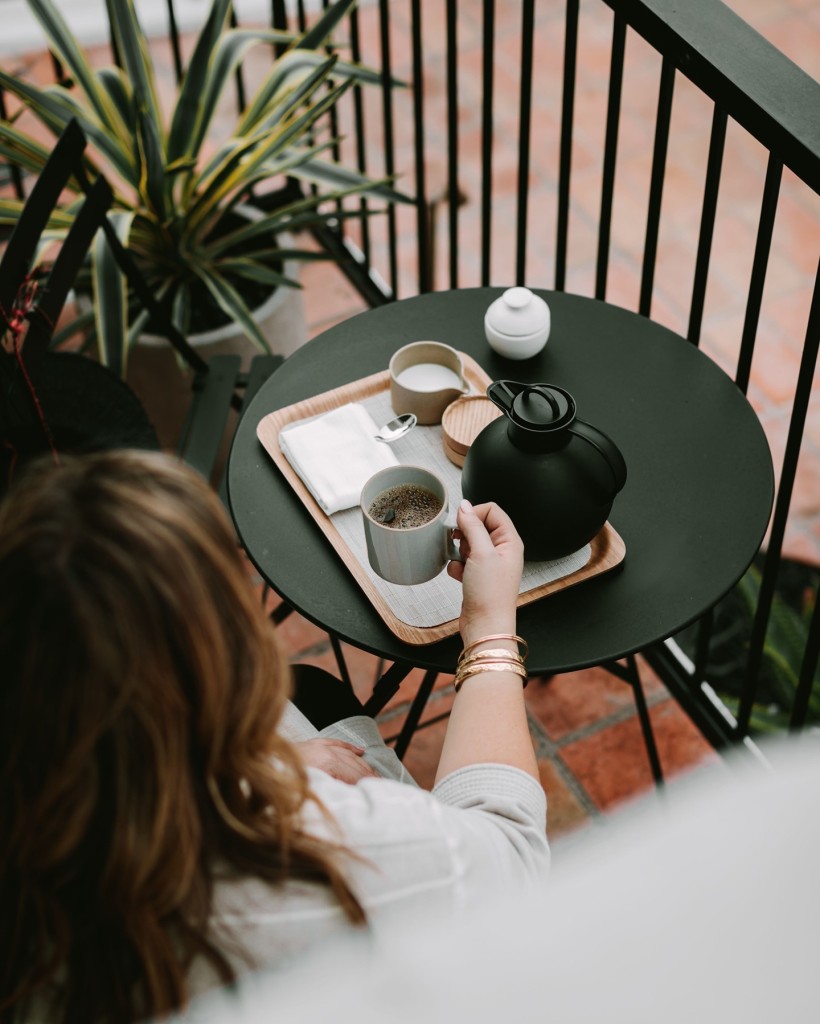 Start your day off right with a cup of joe. A morning coffee service delivers freshly brewed coffee or tea to your room, so you can enjoy a hot drink without even leaving your bed. Just specify your desired delivery time and whether you would like cream or almond milk. You'll receive a text the night before to confirm your order.
Adventure Collection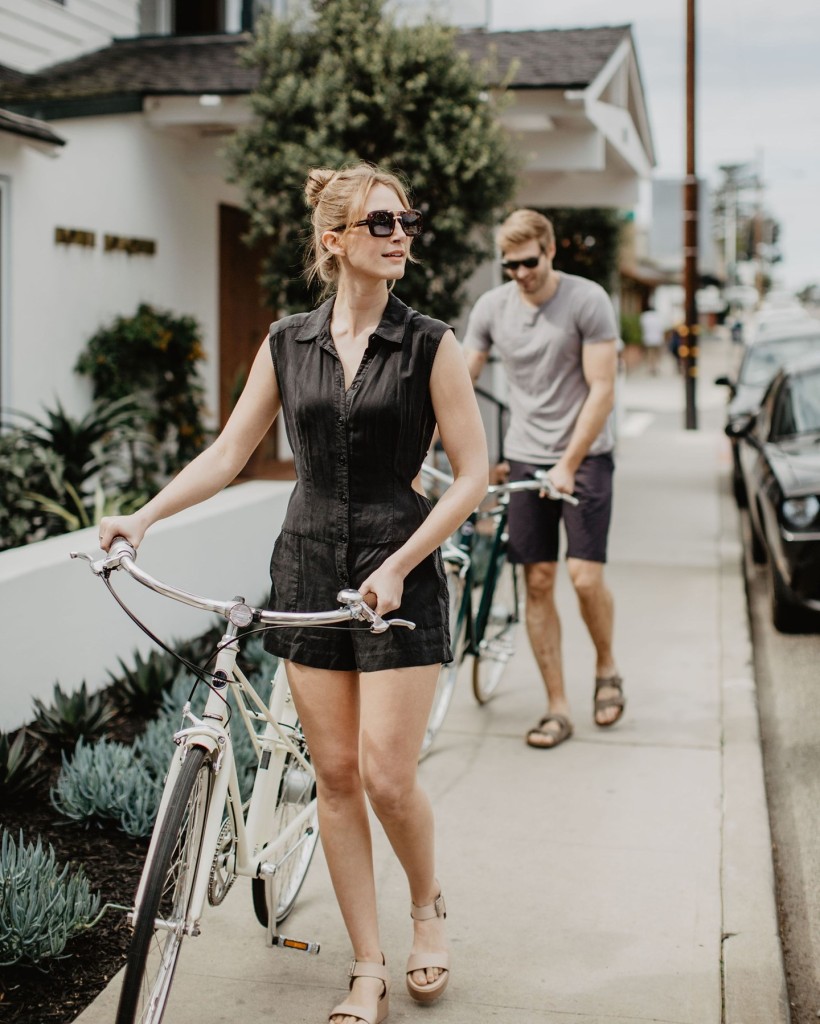 Looking for an adventure? With complimentary access to the Adventure Outpost, you can enjoy beach time like never before. There are bicycles, bodyboards, and beach games all available for your enjoyment.
Pool
Looking to take a refreshing dip in something other than the ocean? No problem! Hotel Joaquin offers a gorgeous swimming pool that is perfect for a sunny day. Lounge on one of the comfortable sun loungers, or take a swim and soak up some Vitamin D. There is also a bar serving delicious spritzers so you can stay refreshed while enjoying some fun in the sun.
Beach Picnics
Just a 2-minute walk from the hotel's garden gate lies Shaw's Cove – a stunning stretch of sand that's perfect for an afternoon picnic. The team at Hotel Joaquin will set up your chairs and umbrellas and pack you a delicious picnic lunch, so you'll be all set to enjoy the Romance of the Pacific. Whether you're chasing frisbees or reading your favorite book under an extra-large umbrella, you'll have everything you need for a perfect day at the beach.
Food and Drink
Saline is Hotel Joaquin's onsite restaurant, serving Mediterranean-inspired cuisine and inventive cocktails. Whether you're stopping by for breakfast, grabbing a light bite, or settling in for dinner, the expert chefs at Saline have crafted a menu that will tantalize your taste buds.
Breakfast
Start your day with a complimentary delicious and nutritious breakfast. The Berkshire pork sausage is the perfect way to satiate your hunger. While the Rawnola with blue Majik almond milk provides a light and refreshing way to begin your day.
Lunch
Looking for a healthy, filling lunch that will tide you over until dinner? Look no further than Saline's grab-and-go lunch menu. Centered around wholesome salads, snacks, and shareables – it's perfect for an active day on the beach, biking, or hiking. And with plenty of options to choose from, you're sure to find something to satisfy your hunger.
Dinner
Dinner at Saline is an experience not to be missed. The talented chefs have created a menu of shareable plates that are inspired by French and Mediterranean flavors, but also include local and global ingredients. This means that you'll be able to enjoy a truly unique and flavor-packed meal no matter what your taste preferences are.
Plus, the beautiful setting is the perfect backdrop for a romantic dinner or a night out with friends. Whether you're looking to celebrate a special occasion or just want to enjoy a delicious meal, Saline at Hotel Joaquin is a perfect choice.
What are the rates at Hotel Joaquin?
Rates at Hotel Joaquin start at $542 a night for standard rooms and go up to $1,200 a night for premium rooms.
Click HERE to check the latest rates and book a room at Hotel Joaquin.
How to get the best deal at Hotel Joaquin
There are a number of tips and tricks that can help you get the best deal. Our team of travel experts has compiled a list of their top tips to help you save money on your stay at Hotel Joaquin:
Book in advance
First, it's always a good idea to plan and book your trip well in advance, as this will give you access to the best rates. The most competitive rates for Hotel Joaquin are released 60 days before arrival, so make sure to keep this in mind when planning your trip.
Stay in the off-season
Another important factor is timing: Hotel Joaquin rates are highest in the summer months, so if you're looking to save money, aim for a visit during the shoulder season or winter months.
We discovered that the cheapest rates at Hotel Joaquin were available for stays between September and January.
Stay on a Sunday night
Another way to save money on your stay is to book a room for Sunday night. Rates are typically lower on Sundays, so this is a great way to get a deal.
On Sunday nights, our staff discovered that rates were typically 20% lower than the hotel's average nightly rate.
So, if you're flexible with your travel dates, booking a Sunday night stay can help you save a significant amount of money.
Use the Booking.com Price Guarantee
Booking.com offers a price guarantee that promises to refund the difference if you find a lower price for the same room on another website. This guarantee applies to hotel rooms booked through Booking.com, and it applies to both before and after you book.
If you find a lower price, simply contact Booking.com customer service and they will refund the difference.
With these tips in mind, you'll be sure to get the very best deal at Hotel Joaquin.
Hotel Joaquin YouTube Videos
You can learn a lot from YouTube, especially when you find informative vloggers who want to share how amazing Hotel Joaquin is. Not only do they talk about their experience, but they also give some top tips on what to do in Laguna Beach.
Allegra Rose
Allegra is a recently graduated art student with a passion for graphic design, photography, and traveling. In this video, she shares her experience at Hotel Joaquin and what it's like to stay in Laguna Beach. She also gives some great tips on things to do in the area, including where to find the best coffee, smoothie spots, and shopping boutiques.
Hilary Ansell
Hilary is a California native who loves to travel and explore new places. In her Hotel Joaquin review, she gives an in-depth look at the property, including the rooms, lobby, restaurant, and bar. She also talks about the staff and how they made her feel welcome during her stay.
Frequently Asked Questions
To save you some time, we've gone ahead and compiled a list of some of the most frequently asked questions about Hotel Joaquin:
What time is check-in and check-out?
Check-in is at 15:00 and check-out is at 12:00.
Is parking available?
Yes, Hotel Joaquin offers free parking just outside the hotel.
Is the hotel pet-friendly?
No, Hotel Joaquin is not a pet-friendly hotel.
Is Hotel Joaquin family-friendly?
No, Hotel Joaquin is an adults-only hotel, so it is not suitable for families.
Final Thoughts on Hotel Joaquin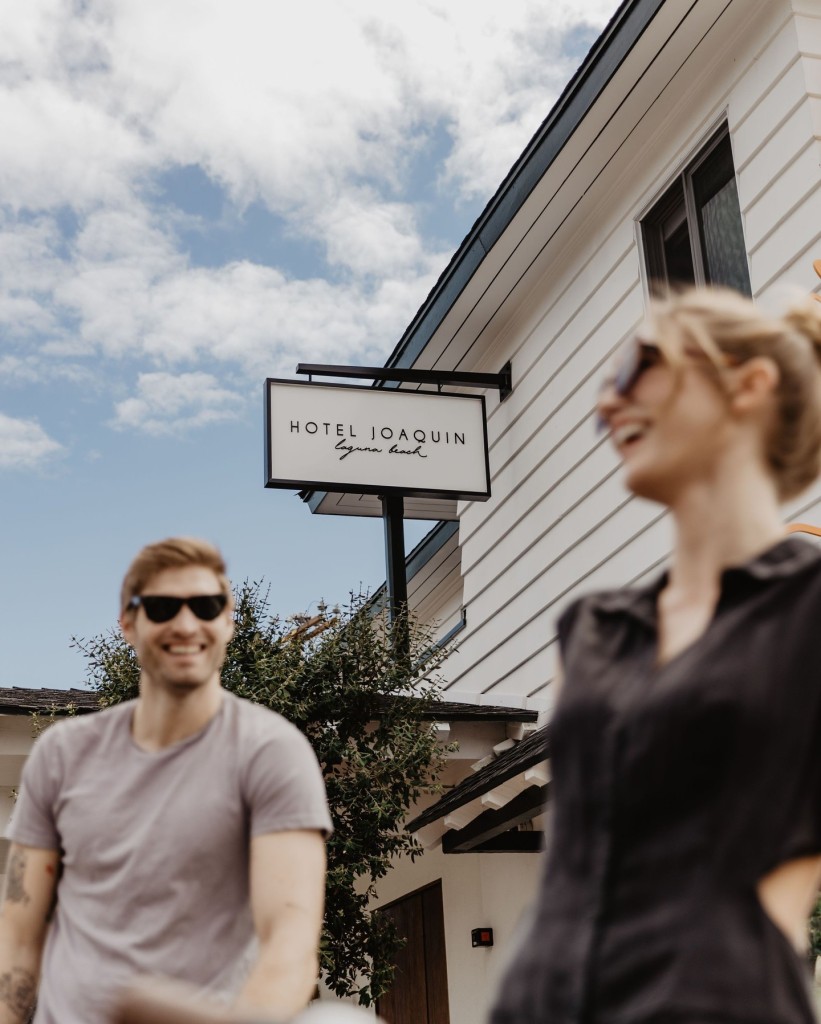 Hotel Joaquin is a great choice for those looking for a luxurious and relaxing experience in Laguna Beach. With its prime location, beautiful rooms, and attentive staff, Hotel Joaquin is sure to make your stay a memorable one.
We recently returned from a weekend getaway at Hotel Joaquin and it was an absolutely amazing experience. This charming boutique hotel offered everything we could have hoped for in a relaxing coastal vacation: beautiful, comfortable rooms with luxurious linens and views of the ocean; wonderful free amenities; and a fantastic on-site restaurant with delicious food and breathtaking ocean vistas.
Overall, we felt warmly welcomed and pampered during every aspect of our stay, making this hotel one of the most memorable and enjoyable vacation spots that we have ever visited. If you're looking for a relaxing retreat near the beach, look no further than Hotel Joaquin!